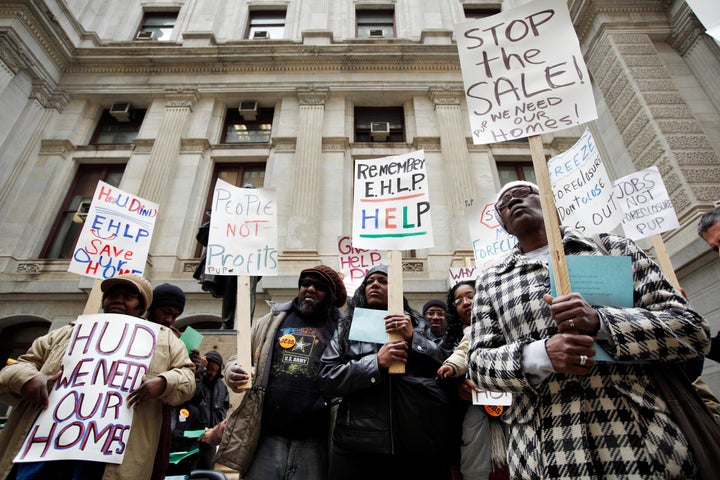 With the nation in the grips of a punishing foreclosure crisis, one local program has found success in allowing struggling borrowers to stay in their homes.
A Philadelphia initiative started in 2008 requires the two parties in a foreclosure case to meet face-to-face and attempt to reach an agreement. That tactic, it turns out, can work. Of the homeowners who made deals through the program, nearly 85 percent are still in their homes 18 months later, according to an independent analysis released Tuesday.
The results offer a glimmer of hope in a bleak national situation. Of the eligible homeowners contending with foreclosure in Philadelphia, 70 percent went through the Residential Mortgage Foreclosure Diversion Program, and a third of those borrowers reached agreements with their mortgage companies to allow them to stay in their homes, according to the study from the Reinvestment Fund, a Philadelphia-based community investment group.
One-and-a-half years later, most of those agreements have stuck.
"The success is we set the table. And we require the guests to come to the table," said Judge Annette Rizzo, who set up the program with the president judge of the Philadelphia Court of Common Pleas. "Once you get that one-on-one, where the case's facts come to light, that's when individual deals come."
Nationwide, the volume of distressed properties appears to be growing. In 2009, more than 2.8 million homes received a foreclosure filing, and last year that number rose to nearly 2.9 million, according to data-provider RealtyTrac.
Amid this crisis, the Obama administration's signature foreclosure-prevention effort is widely considered to be a failure. More homeowners have been kicked out of the program than are receiving assistance, according to data from the Treasury Department. The program will fall short of achieving President Barack Obama's promise of helping up to 4 million homeowners avoid foreclosure, auditors have determined.
Troubled borrowers who attempt to contact their lenders often describe a nightmarish process where they become lost in a maze of recorded phone messages, failing to speak to a real person. Banks claim to lose paperwork, as trial mortgage modifications can in some cases lead to foreclosure. Nearly 60 percent of housing counselors said borrowers have contacted them because a mortgage company had claimed to have lost documentation, according to a recent Government Accountability Office survey.
"There are all these robotic processes and nobody to make any intelligent business decisions," said attorney Margery Golant, a principal at the law firm Golant & Golant. "There's just nobody home."
Which is where Philadelphia's program comes in. That system, which has been publicized throughout the city, requires representatives of the mortgage company and the borrower to meet in person before a foreclosure moves forward to discuss possible alternatives to a sale at auction. These options could include a mortgage modification or a forbearance plan. If the two sides fail to reach an agreement at the first meeting, they go before a judge for a conference and again attempt to find a workable solution.
That approach has met success, as the portion of homes sold at sherriff's auctions for distressed properties in Philadelphia has fallen. Of foreclosures going through the diversion program, less than 6 percent of foreclosures filed in the second half of 2009 ended in sales at sheriff's auctions, down from over 27 percent of foreclosures filed before the program began, the Reinvestment Fund's study found.
"Once in, it looks like people are getting a reasonable shot at being able to achieve an agreement," said Ira Goldstein, Director of Policy Solutions at the Reinvestment Fund, "and those agreements seem to be lasting."
A "shadow inventory" of foreclosed properties yet to hit the market threatens to keep prices from rising, as the supply of homes outpaces demand. In some regions, banks are repossessing more homes than they sell, suggesting that lenders are ill equipped to deal with the sheer size of the crisis. Banks now hold more than 872,000 homes, nearly twice as many as in 2007, according to RealtyTrac.
As the pace of the home-price decline accelerates, Americans are losing their grip on their most valuable asset. The number of homeowners who owe more on their home than it's worth reached a new high in the first quarter of this year, at 28.4 percent of all single-family homes with mortgages, according to data-provider Zillow. Americans' home equity has hit a two-year low, new data from the Federal Reserve show.
While Philadelphia's program seems to have helped that city avert some repossessions of homes, it hasn't solved the fundamental problems: The broader economy is still weak, and the unemployment rate is hovering around 9 percent.
"People are still in the unemployment cycle. That hasn't broken," Judge Rizzo said. "As much as we can get a good deal crafted, if you still have no capacity to maintain it at whatever level, that's going to be a problem."
REAL LIFE. REAL NEWS. REAL VOICES.
Help us tell more of the stories that matter from voices that too often remain unheard.