PHILADELPHIA ― A lawyer representing the Philadelphia Republican City Committee on Tuesday tried to run out the clock on more than a dozen of the city's voters who were hospitalized on Election Day and wanted to vote. He almost succeeded.
Dorothy Charles, a 23-year-old med student at the University of Pennsylvania who is currently rotating through Penn Presbyterian Medical Center, organized an effort to help voters hospitalized on Election Day complete emergency absentee ballot applications so they would get the chance to participate in the American democratic process.
But less than two hours before the time Charles had to bring the completed absentee ballot applications back to City Hall, the lawyer representing the Philadelphia Republican City Committee was asking detailed questions about each of the 17 notarized emergency applications Charles collected.
Vito Canuso, the former chairman of the Republican City Committee, engaged in what clearly seemed like a stalling effort during a hearing before Judge Holly Ford. Canuso asked detailed questions about patients' medical history, the definitions of their diagnoses, the length of their hospital stay, etc.
When was the patient admitted? Why are they at the hospital? What, exactly, is a UTI? (Yes, he actually asked that.)
"A lot of it was pretty irrelevant," Charles told The Huffington Post. "It felt like he was stalling for time."
Charles said Canuso's approach was "really unfortunate," especially because the voters could not have predicted that they would be in the hospital on Election Day.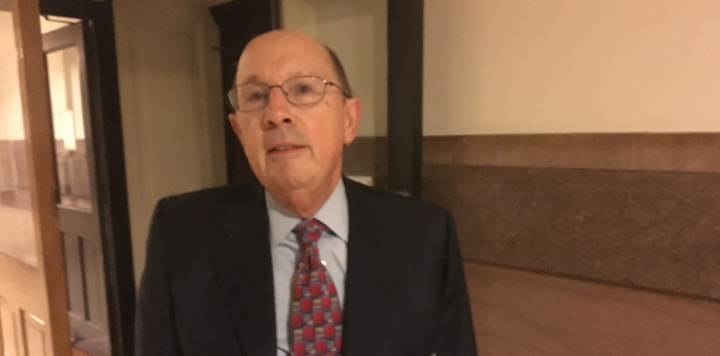 Charles told The Huffington Post she had read a story on STATnews.com about voting from the hospital and was inspired to give patients the opportunity.
"Many of them are actually pretty enthusiastic, or really nervous or upset that they couldn't vote," Charles said. "Giving them the option and presenting them the form to essentially allow them to get a ballot today really was exciting for a lot of people."
Canuso said he wasn't trying to prevent hospitalized individuals from casting a ballot.
"I wasn't trying to stop people from voting," Canuso said. "I was just asking different questions."
He insisted that there was something "improper" about the effort to help hospitalized patients vote, and suggested there was something sinister happening. He referred to the effort as a "scheme" and questioned why the hospital didn't get a lawyer to come down and advocate on its patients' behalf if it was "so worried" about their votes.
"All the voters were all Democratic registrations," Canuso said. (Democrats outnumber Republicans 7 to 1 in the City of Brotherly Love, although there are plenty of Trump voters in the city.) "I don't know why that is, or how that is."
After more than a half-hour of objections from Democratic lawyers to Canuso's line of questioning, Charles finally got approved, picked up her ballots and rushed over to the hospital.
Charles sprinted back to City Hall with 15 completed absentee ballots in hand and four minutes to spare. Canuso was already gone.
Popular in the Community