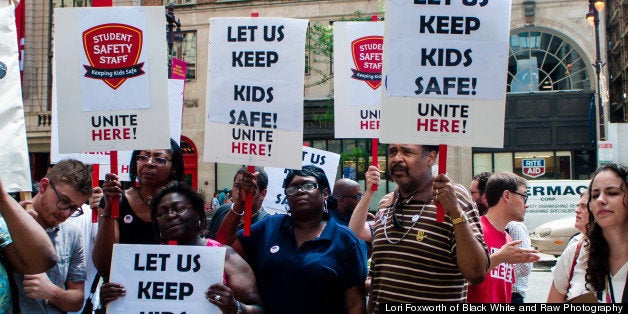 Earlene Bly, 46, is fasting and quitting cigarettes at the same time, but she said the simultaneous cold turkeys aren't bothering her. Instead of focusing on the deprivation, she concentrates on her goal of keeping Philadelphia schools safe.
"I think right now the fast is the right thing to do," said Bly, who has a child and a grandchild attending Philadelphia public schools. "This situation is serious and in order for [authorities] to realize how serious it is, we need to do this. I am willing to put my health and life on the line to save my child."
Local parents and advocates have been protesting the closures for weeks.
Bly is fasting with Mike Mullins, a fellow Philadelphia school parent, and with Marcia Teagle and Patricia Norris, both Philadelphia school food service workers. Though neither Teagle nor Norris have been laid off, they say their positions help keep the cafeteria safe. Their "Fast for Safe Schools" hunger strike campaign was organized by school safety workers union Unite Here.
The fasters have been drinking water and plan to reject food for as long as their bodies allow.
If the decision is not reversed, the protestors worry that the children of Philadelphia will be forced to attend schools with greater instances of violence. Indeed, according to a report from Unite Here, Philadelphia schools reported more than 10,000 "serious incidents" this past year, including 1,330 assaults, 472 weapons infractions and 13 rapes or rape attempts.
"Children will be in a unsafe environment, and it will be virtually impossible for [authorities] to run a school," said Teagle, 54. "I need to control the lunch line before [kids] get their food and keep them from fighting. Sometimes they're fighting in the cafeteria. They need adult supervision."
When asked about the hunger strike, Governor Corbett's press secretary, Timothy Eller, said the Governor "remains focused on finding a long-range solution for the Philadelphia School District that puts the children and their education at the forefront of all discussions," although he did not speak directly to the protestors.
The hunger strike comes during a season of school closures and layoffs in other troubled districts around the country. The situation in Philadelphia bears a resemblance to the schools crisis in Chicago, where 49 schools are set to close. In solidarity with the Philadelphia workers, four food service workers in Chicago have declared their own 24-hour hunger strike, which will take place from 4 p.m. on Thursday until 4 p.m. on Friday.
"There's a lot of similarities between Chicago and Philadelphia, obviously lunch room workers are aware of that," said Claire Tinley, a Chicago-based researcher for Unite Here. "Philadelphia schools are our schools and Philadelphia's kids are our kids."
The national implications of the situation in Philadelphia are not lost on Earlene Bly. She worries that the situation in Philadelphia is a symptom of widespread problems affecting school systems across the U.S.
Bly said she would like to ask lawmakers to put themselves in the shoes of everyday people whose children attend public schools.
"Every city in this country has an education problem, but the big people, their children are in private school," she said. "Why don't they put their children in public school and see what they're going through. If their children were in public school they wouldn't hesitate to make their children safe, so why not do the same for our children?"
Before You Go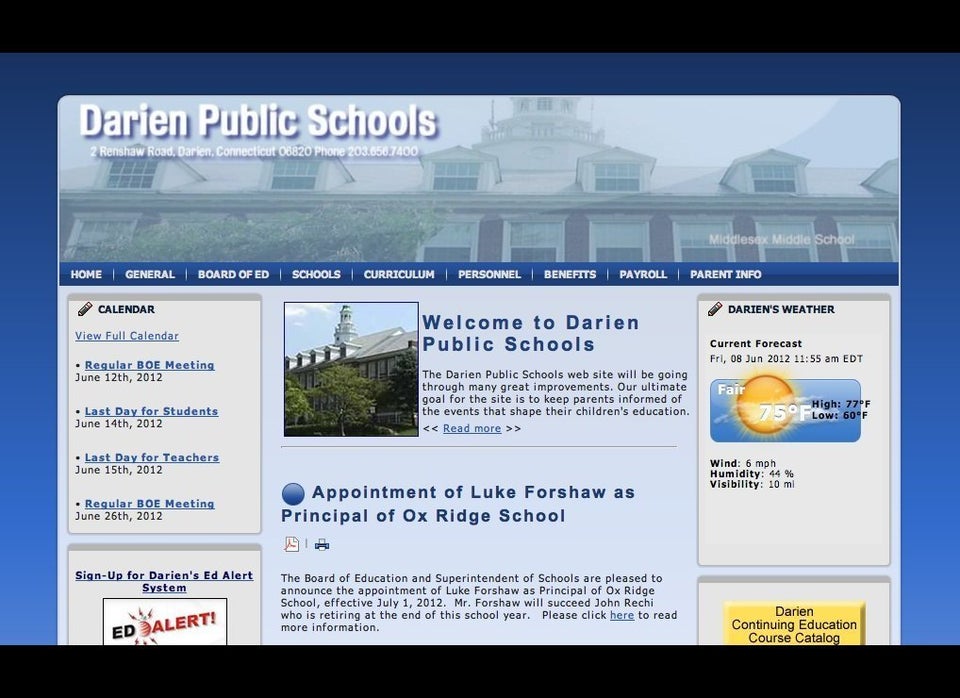 The Richest School Districts in America
Popular in the Community