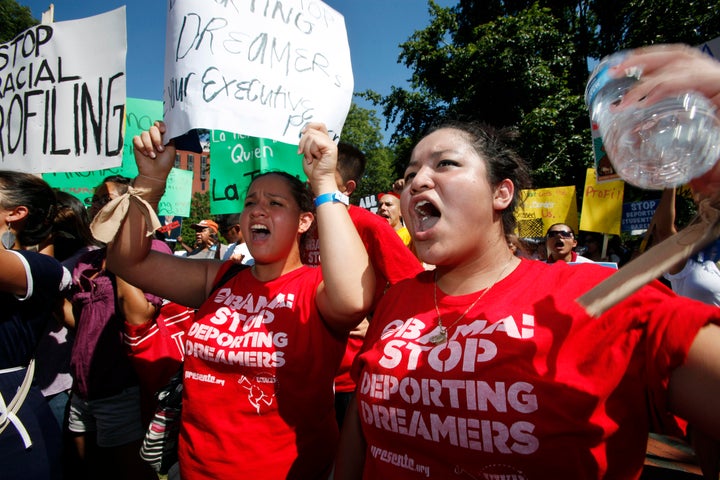 WASHINGTON -- Immigrant rights groups in Philadelphia are pushing back against an immigration enforcement program, hoping they can convince Mayor Michael Nutter to end the city's contract with immigration authorities.
The city signed an annual contract in 2008 with immigration authorities to participate in Preliminary Arraignment Reporting System, or PARS, an enforcement program that allows Immigration and Customs Enforcement to access some local police records. The contract expires Aug. 31, and immigrant advocacy groups are working to persuade Nutter that continuing the program will hurt public policing efforts and damage the immigrant population of Philadelphia.
"There are going to be people swept into the system unjustly; it's going to compromise relationships with the immigrant community; and it's going to continue to tear families apart," said Jen Rock of the New Sanctuary Movement, an immigrant advocacy group.
PARS is similar to Secure Communities, a program in more jurisdictions that uses local police work to net undocumented immigrants. But unlike Secure Communities, which uses fingerprints to screen for undocumented immigrants, the Preliminary Arraignment Reporting System automatically releases information about those who come under the purview of police as perpetrators or witnesses to crime.
While the program nets some undocumented immigrants who are guilty of serious crimes, immigrant advocacy groups warn it also picks up people who commit minor, non-violent crimes, such as driving with a broken tail light -- and even those who report domestic violence.
The City Council of Philadelphia voted in June 17-0 on a non-binding resolution to end the city's information-sharing with Immigration and Customs enforcement under Secure Communities and PARS, citing concern over the program creating fear of police in the immigrant community.
But Nutter has remained mum over whether he will continue the program.
"This is not about being able to round up people," Edward Kowalski, director of 9/11 Families for a Secure America, told HuffPost. "But if they are here illegally and they are breaking the law, how wrong is it to just put checks in place?"
But, immigrant rights groups argue that too many non-criminals are caught up in the process -- even after an attempt to improve the information-sharing program last year.
"PARS works the same way as Secure Communities, but it's even broader than Secure Communities," Rock said. "So in the same way that Secure Communities has become a dragnet for deportation rather than addressing problems of serious crime, we see PARS as sort of an exacerbation of that problem"
Support HuffPost
The Stakes Have Never Been Higher
Popular in the Community