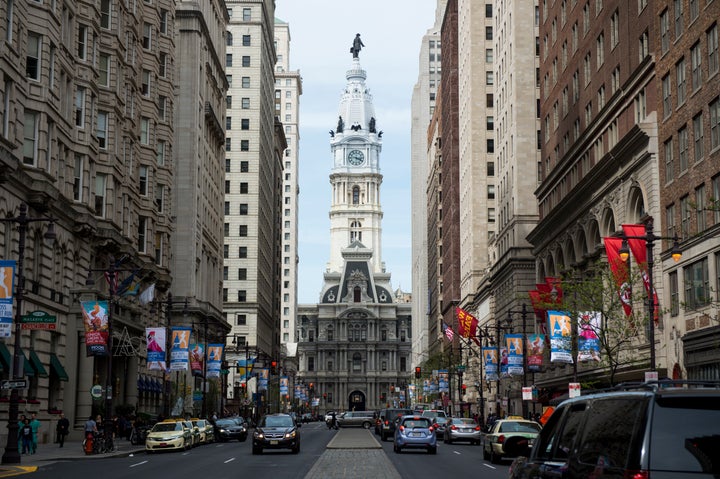 Philadelphia announced Friday that it will conduct new tests for lead in the city's water, apparently in response to activists' cries that the city wasn't doing enough to assure residents their taps are safe.
The city's water department said it will collect samples this summer from at least 50 homes classified as having the highest water lead risks. Previously, the city had not planned to do any lead testing this year. Like many big water systems with a history of meeting federal standards, Philadelphia only has to look for lead every three years.
Though the department said it's making the changes because it received updated guidance from the state, the announcement seems designed to ease activist pressure.
This summer, for instance, a small band of Philadelphians calling themselves the Philly Unleaded Project plan to independently verify the city's assurances.
"It came to our attention because of all the stuff that was happening in Flint," Philly Unleaded's Tony Spagnoli told HuffPost. "That was a really big wake-up call."
Spagnoli, a 33-year-old urban planner, said he welcomes the city's water department's newly announced testing regimen, but he's not going to call off his independent testing effort. He said he and his team of volunteers hope to get some 400 Philadelphia residents to fill liter bottles from their kitchen sinks this summer. Then they'll send the samples to Virginia Tech's lab for analysis by civil engineer Marc Edwards.
Why Edwards? Because last summer, Edwards oversaw a similar independent sampling effort in Flint, Michigan, leading him to warn residents not to drink the water because it was tainted with lead, a brain-damaging metal used for water pipes in many American cities. The Michigan government pooh-poohed Edwards' warnings, but subsequent testing of Flint kids' blood proved him right: There was lead in the water.
Edwards is not directing the sampling effort in Philadelphia. And just because the activists want to test the water doesn't mean it's unsafe ― just that the city hasn't done enough to assure them it isn't. 
Flint's water became brown and funky after the state changed the city's water source, something very unusual for a water system to do. It was obvious to Flint residents that their water was weird, but the real problem was lead, which is colorless and tasteless. The only way to detect lead in water is by sending the water to a lab. 
Federal regulations require big cities to test for lead in water samples from people's homes. At least half of those homes are supposed to be connected to water mains via lead service lines, so the sampling pool can give a picture of how bad the lead contamination might be in water from the riskiest possible faucets. But despite an abundance of such homes in the Philadelphia, fewer than half of the city's 134 samples taken in 2014 came from high-risk addresses.
The city's sampling that year showed 90 percent of homes had less than 5 parts per billion of lead in their water, well below the 15 parts per billion threshold set by the Environmental Protection Agency. What Spagnoli wants to know is, what would the numbers be if the city sampled at more sites with lead pipes? Now, the city plans to find out the answer.
Avoiding the highest-risk homes is a tactic that actually resulted in criminal charges in Flint. In May, the Michigan attorney general charged two former state officials with several crimes, including a misdemeanor because they failed "to collect required samples included in the Tier 1 category of serviced lines."
Both the Pennsylvania Department of Environmental Protection and the federal Environmental Protection Agency had given their blessing to Philadelphia's testing procedures, but in June some Philadelphia residents filed a class-action lawsuit. Among other things, the suit alleges that the city's sampling methods are "diluting its testing pool and skewing the results in such a way as to paint a woefully inaccurate picture of the City's overall lead contamination." The case also complains that the city's instructions for taking samples aren't ideal for catching the most lead. 
The Pennsylvania Department of Environmental Protection, which oversees city water systems throughout the state, recently cited two other Pennsylvania towns for failing to collect samples from the riskiest homes. HuffPost asked the agency why Warwick Township and Lititz Borough received citations for avoiding lead pipe samples, but Philadelphia hasn't.
"There is no one-size-fits all approach to resolving violations, and enforcement actions are taken according to the nature and severity of the violation," spokesman Neil Shader said in an email, noting the agency doesn't comment on possible future enforcement actions.
Activists applauded Philadelphia's announcement about the new testing.
"This change is very welcome, and also we must keep in mind it is the result of painstaking work by ordinary people who have taken it upon themselves to do oversight," said Yanna Lambrinidou, a water expert and affiliate faculty member at Virginia Tech. 
Lambrinidou is part of a group of activists and experts that has been pushing the EPA to crack down on Philadelphia. (Lambrinidou said she's given informal advice to Philly Unleaded, though she and Edwards aren't overseeing Spagnoli's testing drive.)
If Philadelphia was not complying with the Safe Drinking Water Act, it wouldn't make the city that unusual ― the Natural Resources Defense Council, an environmental nonprofit, reported last week that more than 5,000 community water systems broke the rules last year, and only 5.7 percent were officially sanctioned by state or federal regulators. Even Flint's water got a pass under the regulation, at least until the EPA issued an emergency order in January, almost a year after serious problems came to light. 
The city of Philadelphia has insisted all year that its water is safe to drink because it meets federal standards. In a statement Friday, Water Commissioner Debra McCarty said the agency "strives to go above and beyond for its customers every day."
But Gary Burlingame, the director of laboratory services for the Philadelphia Water Department, told HuffPost in April that the Flint crisis may have been a bit overblown, and that it's not clear that drinking water can pose a serious risk of lead exposure.
"What we don't have from Flint is a peer-reviewed published study to look at the science of Flint," Burlingame said then. "All we have is what the news media's reporting and some of the policy and management issues."
The blood lead research that forced the government to admit Flint's water was dangerous actually had been peer-reviewed at the time of Burlingame's statement. Last month, the Centers for Disease Control and Prevention essentially confirmed those findings in a new paper.
"Published peer-reviewed papers help put the pieces together, so the nation can understand and apply that understanding," Burlingame said in an emailed statement for this story. "This paper provides an important step in that understanding. We will carefully study this paper ― and others that we expect have yet to be published ― involving the science behind Flint's unfortunate events."
Calling all HuffPost superfans!
Sign up for membership to become a founding member and help shape HuffPost's next chapter
BEFORE YOU GO