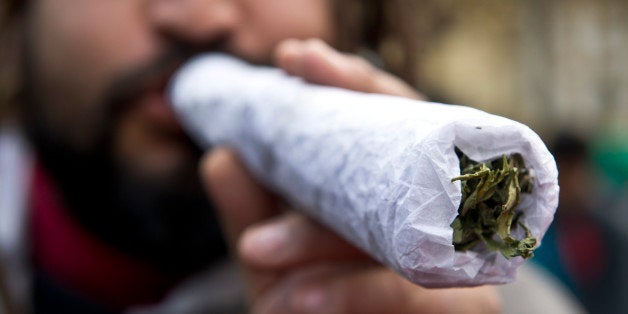 Pretty soon, you won't be considered a criminal for carrying around a little weed in Philadelphia.
Philly Mayor Michael Nutter confirmed Monday that he will sign a bill into law that will make his city the largest in America to decriminalize marijuana possession, Philly Mag reports. Essentially it softens the penalty for such an offense from possible jail time to a $25 fine.
"So I think the agreement ends up putting the city and our citizens in a much better place," Nutter told CBS News, noting that signing the bill won't be the same as condoning marijuana use.
Though earlier reports have stated that Nutter would sign the bill this week, it'll likely take another two. He arrived at a compromise with City Councilman Jim Kenney, who originally sponsored the bill in May. Nutter's tweak will tack on a $100 fine for smoking in public, which can be waived with a few hours of public service. Kenney's bill will be amended Thursday by the council and get a final vote two weeks later before it shows up on Nutter's desk again.
"We've gotten to a place where it is out of the criminal realm," Kenney told KYW Newsradio. "There's no more handcuffs, no more bookings, no more criminal record ... We have so many people that we are putting in the prison pipeline, and the poverty pipeline, because a criminal record is a debilitating thing."
Anyone who gets cited would be summonsed to appear before a Municipal Court judge, but they won't leave with a criminal record.
It could save the Philadelphia Police Department about $4 million each year, as well as spare some 4,000 people from being arrested, Kenney says.
READ THE FULL BILL HERE:
Like Us On Facebook |

Follow Us On Twitter |

Contact The Author
Related
Popular in the Community