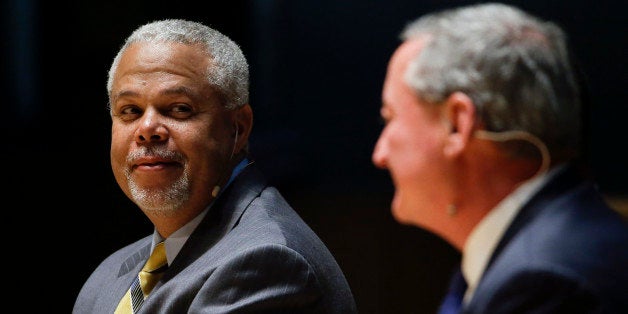 WASHINGTON -- Voters will cast ballots in the Democratic primary for Philadelphia's mayoral race on May 19, but three libertarian donors from the suburbs could really influence the contest.
According to city campaign finance records, Arthur Dantchik, Joel Greenberg and Jeff Yass -- heads of the trading firm Susquehanna International Group -- have pumped almost $7 million into the American Cities super PAC, which backs state Sen. Anthony H. Williams (D). The total contributed by the three financial executives through May 4, the cutoff for the latest reports, not only dwarfs the amount spent by each candidate in the race, but also is nearly equal to all candidate and other super PAC fundraising combined.
The contributions come amid a continued uptick in large campaign donations from financial investors to city, state and municipal elections sent through super PACs in recent years. The funds are largely given in support of market-based education reforms including the privatization of public schools, the diversion of public school funds to charter schools and the breaking of teachers unions.
"There is a trend right now toward increased outside spending on lower-ticket races," said Denise Roth Barber, managing director at the National Institute on Money in State Politics, a group tracking campaign finance at the state level.
The $7 million contributed by just three individuals in the Philadelphia mayoral race stands out as one of the largest financial investments at the city level since the Supreme Court's 2010 Citizens United ruling opened the door for unlimited independent spending by corporations, unions and, ultimately, wealthy individuals.
A super PAC that was largely funded by supporters of charter schools and school privatization spent $4 million in support of Chicago Mayor Rahm Emanuel's winning re-election campaign this year. A hedge-fund-backed group in New York that successfully helped elect a Republican state Senate majority in 2014 also spent $4 million. And in Newark's 2014 mayoral election, supporters of market education reform similarly spent $4 million in a losing campaign to elect a successor to Sen. Cory Booker (D-N.J.).
The Susquehanna International Group investors are major backers of these policies through their political and charitable donations, and as a staunch supporter of these types of policies, Williams is a perfect fit with these priorities.
In the state Senate, Williams was the architect of an expansion of the state tax credit diverting public funds to charter schools by allowing corporations and wealthy individuals to be refunded with public money when they pay for a scholarship, or "voucher," for a public school student to attend a charter school. He also served on the education commission created by former Republican Gov. Tom Corbett, a proponent of charter schools and vouchers.
Williams is not a new commodity for the investors based in Bala Cynwyd, Pennsylvania. Dantchik, Greenberg and Yass spent at least $6 million through their Students First PA PAC to support Williams' bid for the Democratic Party's gubernatorial nomination in 2010.
Susquehanna International Group did not respond to a request for comment from Dantchik, Greenberg, Yass or the company itself.
Barbara Grant, a spokeswoman for the Williams campaign, said she could not comment on the prior connections between the campaign and the American Cities PAC donors, citing the ban on coordination between campaigns and super PACs.
"I can tell you what the senator has said for a very long time about his being influenced by the gentlemen who are the founders [of American Cities PAC]," Grant said. "And basically, he's said they have supported him for a long time and they've never asked him for anything except to advance the cause of good schools and good education for kids."
Connections between Williams and the Susquehanna International Group donors are not limited to their contributions. Williams' campaign manager, Dawn Chavous, previously worked for their Students First PA PAC and worked as a lobbyist for Students First, which pushed for market-oriented education policy.
Chavous also founded a charity, Sky Community Partners, to take advantage of the tax credits for scholarships policy pushed by Williams. The Susquehanna International Group investors have given money to Sky Community Partners in exchange for tax credits under the program.
Actually, Dantchik, Greenberg and Yass are, collectively, the largest users of the tax credit program. Not only do they give to Sky Community Partners, but they have also donated to Choice Academics, a charter charity run by Yass' wife, Janine.
The tax credit program, which cost the state $127 million in 2014, has been plagued by a lack of oversight and criticized by Gov. Tom Wolf (D). According to a report on Philly.com, the state's Department of Community and Economic Development "acknowledged that until 2012, it did not keep digital records for hundreds of millions of dollars worth of educational tax-credit applications filed on paper."
The program also contains a loophole, according to Philly.com, allowing companies to sidestep the limit in the total amount of tax credits they can receive under the program in a given year by donating through affiliates or subsidiaries. This is precisely the practice used by the Susquehanna International Group.
While Dantchik, Greenberg and Yass have a long history of supporting Williams in Democratic primary elections and have made bipartisan contributions for years, they are primarily backers of Republican Party politicians and groups promoting libertarian policies.
They have contributed to national Republican Party committees, Corbett, Wisconsin Gov. Scott Walker (R) and Republican leaders such as former U.S. House Majority Leader Eric Cantor (R-Va.). Large contributions have flowed to various committees set up by the Club for Growth. Most of the candidates they supported in recent elections are from the more libertarian wing of the party or the tea party. Yass contributed to the 2000 presidential campaign of Libertarian Party nominee Harry Browne and the Libertarian National Committee and also the Ralph Nader's 2004 independent presidential campaign.
The trio has also donated to Democrats, including both Hillary Clinton and Barack Obama during the 2008 presidential nominating contest and Pennsylvania politicians such as then-Gov. Ed Rendell and U.S. Sen. Bob Casey. Democratic congressmen on key financial services committees have also received contributions. Dantchik, Greenberg and Yass have given contributions to Democratic Party committees as well, albeit on a smaller scale than to Republican groups.
The three investors have also given millions of dollars to such nonprofits as the libertarian Cato Institute, the libertarian legal group Institute for Justice and the Ayn Rand Institute.
"They know they can't elect a Republican citywide in Philadelphia, and Tony Williams is the closest thing they can get," said Kati Sipp, director of Pennsylvania Working Families, a group backing Williams' opponent Jim Kenney in the mayoral race.
Previous polling, both independent and by groups favoring individual candidates, showed a tight race between Kenney and Williams. An NBC 10 poll released on Thursday, however, gave Kenney a large lead and Williams in a tie for second with former District Attorney Lynne Abraham.
Kenney has the backing of many of the city's largest unions including the teachers unions and national unions like the AFL-CIO, and those groups have contributed large sums to super PACs supporting his election, but not nearly to the level of the Susquehanna International Group. The union-supported Building a Better PA super PAC raised $1.5 million through May 4. Another pro-Kenney union group, Forward Philadelphia, raised $783,100 through the same date.
Spending by all super PACs is expected to pick up in the final week of the campaign.
Other candidates in the Democratic primary race include former judge Nelson Diaz, former Philadelphia Gas Works executive Doug Oliver and former state Sen. Milton Street.
Before You Go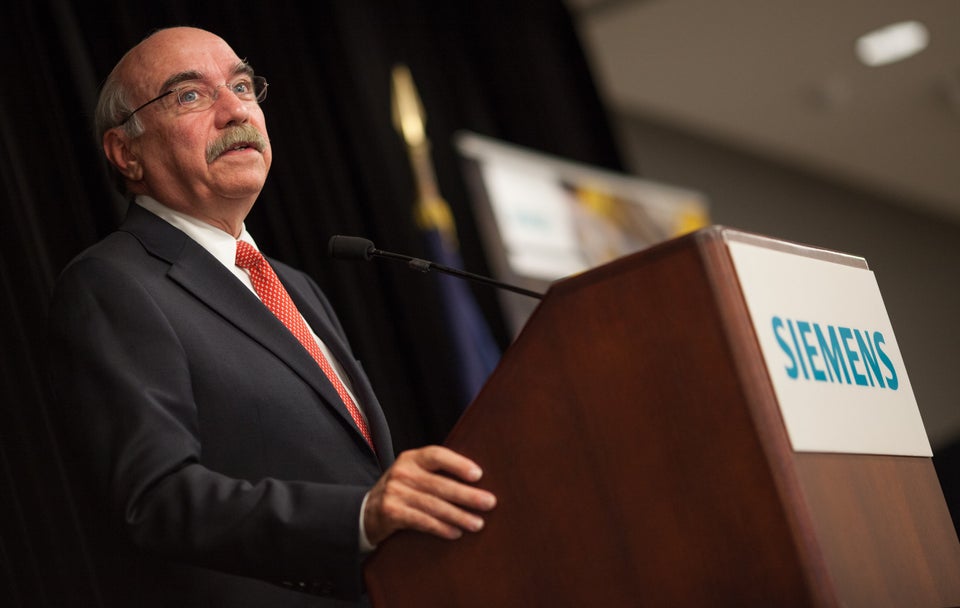 Mayors Of America's Largest Cities
Popular in the Community