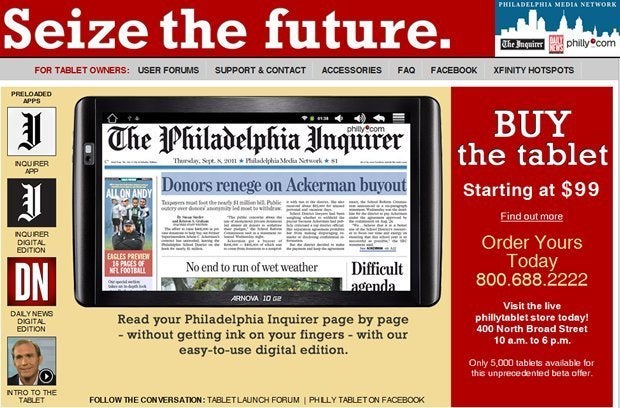 Philadelphia newspapers are trying something new to lure subscribers to its online editions.
The Philadelphia Media Network, which publishes the Philadelphia Inquirer, the Philadelphia Daily News and philly.com, is offering $99 Android tablets to customers who sign up for two-year subscriptions. The company started the promotion on Tuesday with 5,000 Arnova 10 G2 tablets.
The tablet comes with digital or mobile editions of the newspapers, as well as apps catered to Philly-area residents. The promotion is being subsidized by Main Line Health, Comcast, and Wells Fargo, which are all based in or have ties to the area.
The publisher called the deal, which bundles content with a device, the first of its kind involving a major media company in the U.S. Philadelphia Media Network CEO Gregory Osberg said in a statement, "This partnership recognizes that consumers are increasingly utilizing tablets and other highly portable devices for their news, sports, and entertainment needs." Osberg, a former Newsweek executive, has promised online innovations for the publications since taking control of the company last fall.
The move is the latest effort to increase revenue for the Philadelphia newspapers, which declared bankruptcy in 2009. They are now owned by creditors under the Philadelphia Media Network.
Popular in the Community