In 1984, several overactive graffiti taggers were given the option to either go to jail or take part in a new city beautification initiative. Since then, the Philadelphia Mural Arts Program has overseen the creation of over 3,800 pieces of art painted on sides of buildings. Of those, 2,000 are still viewable by the public, making this collection the "World's Largest Outdoor Art Gallery."
Building on the correct assumptions that graffiti taggers had innate talent, didn't mind working from scaffolding four stories high, and would never mar their own work, the Mural Arts Program has created a win-win situation for the city of Philadelphia, PA.
"Art ignites change," said Jane Golden, Executive Director of Mural Arts. "It has transcendent power."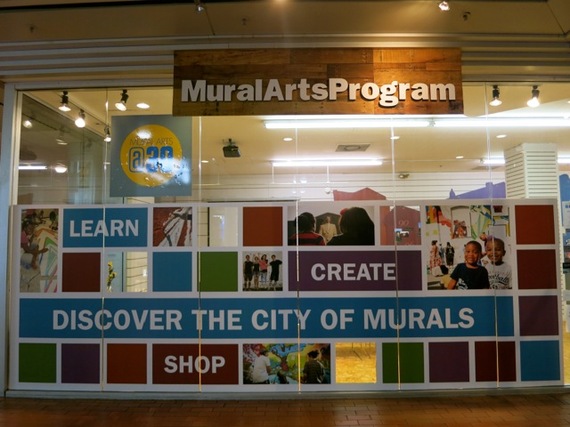 A couple of decades ago, most news coming out of Philadelphia was not good. Neighborhoods were on fire, crime was out of control. But the last ten or fifteen years has seen a renaissance of sorts here, due in large part to the integration of the arts as a vital source of income, pleasure and meaning. "In Philly, artists actually get work," Golden states. "The Mural Arts Program employs several full time artists and contracts with about two hundred annually. It's the modern WPA!" Over $2.2 million per year goes to the art community.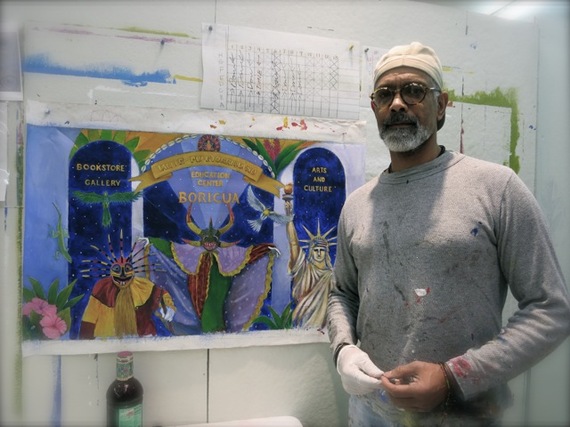 One of these artists is Parris Stancell, a Fleischer and Philadelphia College of Art grad who painted his first mural in 1991. He's been a full-time employee since 1998, and is now working on a piece for the Puerto Rico Cultural Center on 5th and Lehigh. Though Stancell used to be "old school" -- painting directly on the side of buildings -- he now uses what has come to be standard in mural design, five by five foot polyurethane fabric panels referred to as "parachute cloth," making it easier to continue painting inside through inclement and freezing weather. Stancell's work in progress -- Taller Puertoriqueno -- will utilize 120 of these panels.
Each mural begins as a few sketches, and is generally chosen by a committees made up of neighborhood captains and district leaders. At this time, there are over two thousand requests for murals all over Philadelphia, but most will not meet all of the requirements: a large wall, a great view and an engaged community.
Mural Arts offers fabulous internship and apprentice programs, both creating new art and, under the tutelage of a conservator from the Getty Museum, maintaining and restoring existing murals. Golden calls it both "aspirational and pragmatic."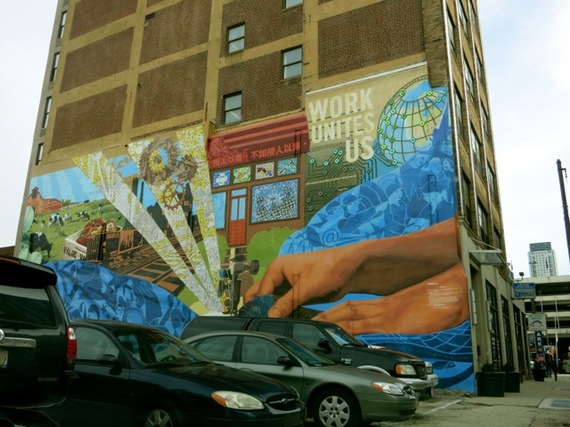 These days, the Mural Arts Program is a multi-pronged institution. Yes, the tours are excellent ways to learn about Philadelphia history and landmarks while gazing on some of the best artwork outside of world-class museums. But Mural Arts also serves the community at large in very significant ways.
The Art Education Program supports kids ages 9-22 through after-school art classes and workshops.
The Restorative Justice Program includes inmates and men on parole, criminals and victims together to address life skills and community-building.
The Porch Light Program creates opportunities for those suffering from mental health issues, a drastically underserved demographic. "Some people are only able to communicate through their art," says Dr. Arthur Evans, Director of Department of Behavioral Health. Stressing the importance of art to people in treatment, Evans declares, "Art reconnects people to what it means to be human."
"Public art builds connections and fosters collaboration where we never thought we'd see it," Golden says.
In 1997 and 1998, the one Mural Tour offered proved so popular, the program has expanded to over seven different tours -- conducted on trolleys, by foot, in private cars and on trains.
Yes, the incredibly popular tour for romantics, The Love Letter Train, takes place on the SEPTA elevated railway. Renowned artist Stephen Powers created fifty murals, like Berma Shave signs, that together form a love letter from a guy to a girl. It's like a treasure hunt along the train tracks.
All proceeds from the tours are funneled back into the Mural Arts Program.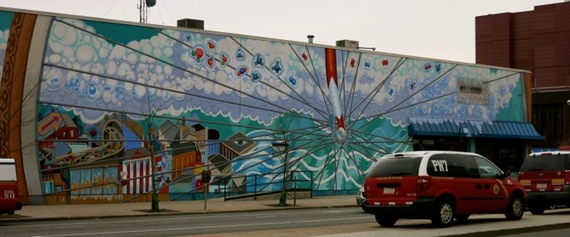 This year, 2014, Mural Arts is adding two new trolley tours: America's First Highway Tour, through which you'll discover murals along Route 30- the Old Lincoln Highway -- now Lancaster Ave., and Philly's Reimagined Landscape addressing the city's industrial past through the Frankford and Kensington neighborhoods.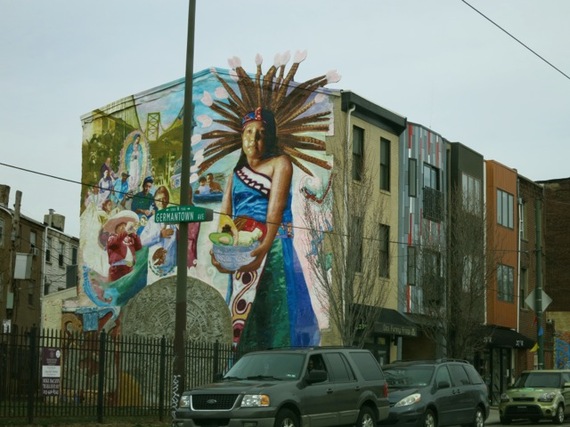 The Reimagined Landscapes Tour takes you through neighborhoods transitioning from manufacturing to residential. Once the "Workshop of the World," Philadelphia had 350 textile mills, 21 tanneries, 16 umbrella factories -- and myriad other industries. The Mural Tour brings you by Paul Santileria's Bird's Eye View of the Philly Seaport, Meg Seligman's American Flag (at a massive 2,881 sq ft., it's one square foot for each victim), a collage on a wall of City Fitness facing traffic-jammed I-95, cleverly referencing the advantages of bicycle-riding, a Celtic Knot above the doors of Finnegan's Wake Pub, Cinema Verde by Dennis Haugh celebrating the reclamation of a once-blighted Northern Liberties park, The Jewelry Box on the Towey Rec Center envisioned by lead artists Delia King and Brad Carney and painted by inmates of the PA Prison system, My North Philly depiction of industry and neighborhoods rendered by David McShane, How We Fish on the side of the Garment Worker's Union Day Care Center about the value of all kinds of work, and several school playgrounds reinvigorated with the help of the Philadelphia Eagles who paint side by side with volunteers on "Eagles Paint Day" once a year.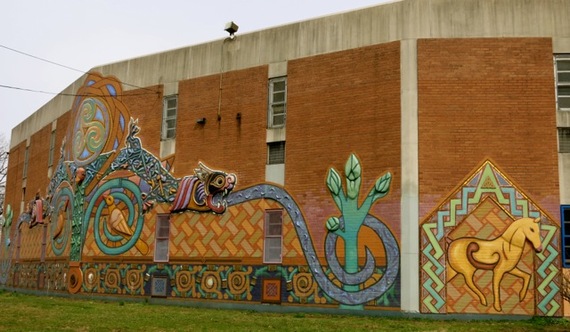 Extending outside of Center City, Mural Arts is changing the way neglected or distressed neighborhoods see themselves, and the results are astronomically beneficial. "A wall changes, a person changes, a community changes," says Golden. "The mural becomes a beacon of hope."
Malerie Yolen-Cohen would like to thank Mural tour guide Rich DiLullo for introducing her to the stunning artwork and history on Philadelphia's buildings
Check out GetawayMavens.com for more ideas on what to do, where to eat and stay in Philadelphia and other destinations in the Northeast.
Photo credit: Malerie Yolen-Cohen
Support HuffPost
The Stakes Have Never Been Higher
Related
Popular in the Community