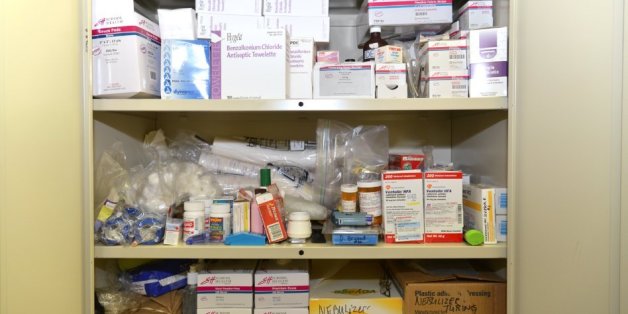 When 12-year-old Laporshia Massey died this past October after not having the option of visiting a school nurse at her cash-strapped Philadelphia school, media outlets and education advocates were stunned. How could a school district, entrusted with keeping its students safe, fail to provide children with even the most basic of health care services?
Philadelphia-based photographer Katrina Ohstrom, on the other hand, was not shocked. Before Massey's death, Ohstrom spent time in the Philadelphia school system, documenting the district's school nurse shortage with photographs and interviews for an informational booklet. She says the only thing that surprises her is that more Philadelphia students have not died preventable deaths in recent months.
"I don't know how there aren't fatalities every month," Ohstrom, who shared her photos with The Huffington Post, said over the phone. "It seems like there's something lucky going on because after spending so much time in these schools and the nurses' offices, I would say probably every single school nurse over their career has saved multiple lives."
(Story continues below.)
PHOTO GALLERY
Philadelphia School Nurses And Nurse Offices
Over the past few years, Philadelphia School District has suffered a severe budget crisis resulting in the closure of 24 schools and the laying off of thousands of school employees.
One of byproducts of the crisis is a school nurse shortage.
After 100 school nurses either retired or were laid off during the 2011 – 2012 school year, they were not replaced. The district's approximately 179 nurses now go back and forth between 331 schools and more than 200,000 students -- a proportion that is legally acceptable by Pennsylvania standards.
Some have pointed to Massey's death as a consequence of a discombobulated system, though none of the school nurses Ohstrom interviewed spoke on the record about the situation.
Massey died from asthma complications several hours after getting home from her school on a Wedneday. Her school can only afford to hire a nurse on Thursdays and Fridays, meaning that even though Massey began to feel sick while at school, she did not have the option of seeing a medical professional. While an ongoing investigation into Massey's death has not determined whether or not seeing a nurse would have saved her life, there is reportedly evidence that parental neglect may have contributed to her medical condition.
After spending time in Philadelphia school nurses' offices, Ohstrom is calling the situation a "crisis." She describes nurses who are constantly shuttling back and fourth between schools and have backlogs so great that students sometimes have to wait months before receiving basic vision screenings. In a district where a majority of students qualify for free or reduced lunch, she says the resource-starved nurses' offices she observed were constantly filled with emergencies.
"There's a lot of money for prison expansion, lots of money for corporate tax breaks, but somehow there's not enough money to make sure there's a nurse in every building, regardless of the student population in that building," said Ohstrom.
A May 2013 survey of Philadelphia education advocates, parents and school nurses corroborates Ohstrom's view: A majority of survey respondents reported that students were not receiving urgent medical care in school and that teachers were administering medical treatments instead of nurses.
The survey did not spark tangible change. At the time, the district was hoping to work with Philadelphia universities so that nursing students could supplement school health services, but the negotiations ultimately hit a wall. State requirements say that nursing students can provide services only when a fully certified nurse is present, Fernando Gallard, a spokesman for the district, told HuffPost over the phone. Such a partnership, therefore, would not solve the problem of some schools being totally without services.
In the days following Massey's death, Pennsylvania Governor Tom Corbett released $45 million in funds to Philadelphia School District to ease its financial issues. With the funds, Superintendent William Hite rehired teachers and aides; he failed to hire any additional nurses.
REAL LIFE. REAL NEWS. REAL VOICES.
Help us tell more of the stories that matter from voices that too often remain unheard.