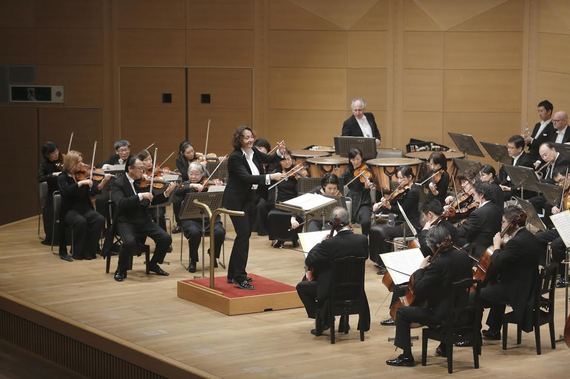 One of the most anticipated highlights every year of the Philadelphia Orchestra's holiday calendar is Handel's Messiah. The world seems a little less divided when the audience stands up and sings the chorus of Hallelujah in unison. The Philadelphia Symphonic Choir, led by Joe Miller, will perform the oratorio with the orchestra this year on December 18 at 2pm at the Kimmel Center. French conductor and vocalist Nathalie Stutzmann will be making her Philadelphia Orchestra conducting debut. She has previously conducted the "Messiah" in Detroit and at the Kennedy Center in Washington DC to great acclaim.
It's practically a Christmas miracle that Stutzmann will be conducting at all since her career as a conductor almost didn't happen. Her standing on the podium is a reminder that one should always pursue their passions and never take for an answer. Although she played piano, bassoon, and viola, she knew that she wanted to be a conductor from an early age. She said, "As a child, I was interested in conducting. I tried to enter a conducting class as a teenager in parallel of my studies. The teacher was a really big macho and he never gave me a chance to jump on the podium. I was following the course, but I quickly understand that it was impossible, at that time, to make anything serious as a woman."
Unfortunately, that macho attitude is still prevalent in the music world. Women currently comprise only 1% of the world's conductors. The situation for musical directors in even worse. There are only 13 women employed as musical directors despite the thousands of orchestras in the world that could potentially employ them. The shame of it is that Stutzmann believes women would make superior conductors. She argues women, who are naturally more attuned to the psychology of others, would have an easier time motivating and working with the orchestra.
Luckily for Stutzmann, her singing career began to flourish. "I won an international competition as a singer two years later, so I made the easier choice to pursue a singing career," recalled the singer. "I always kept in a little part of my brain the hope that I would be able to develop my passion for conducting someday."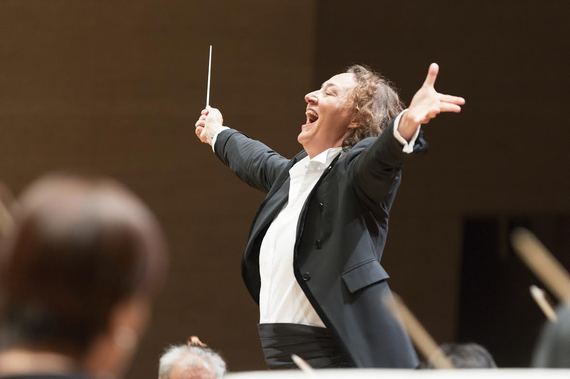 It was a little tricky for her to try conducting again after becoming a celebrated soloist for fear that others would think she was making the switch because she couldn't sing anymore. World renowned conductor Seiji Ozawa, who was honored at the Kennedy Center Honors for his 29 year tenure as the music director of the Boston Symphony Orchestra, was the first to give her a break. "I asked Seiji Ozawa, who was an old friend, first," said Stutzmann. "I did so many concerts as a singer with him. I was singing with him. I told him about my dream to conduct. I told him also I would like to have his advice and to know if I had any capacity for it. I did not want to do it if I had no talent for that. He was very supportive and gave me an engagement with one of his orchestras in Japan as a test. It went very well. He decided to become a kind of mentor and to teach me, help me, and push me. He said you have to do it because you have the talent for it. You have the arm. He gave me courage to go further."
Her next big break in conducting came two years later came when Sir Simon Rattle, the conductor of the Berlin Philharmonic, saw her conduct. He wrote a supportive email promising to help her because "we need you as a conductor." Ironically, her singing career has helped her become a better conductor. "The best class you can ever have as a student of conducting is to watch the great conductors. That's what I did all my professional life sitting one meter from them," said the contralto.
Stutzmann is a different kind of conductor. She believes her victory as a conductor comes when she finishes a rehearsal and the back of the orchestra is smiling as they play. She said, "If I give them the pleasure to play, if I remind them why they want to make music, if they are happy to play, they will give me everything."
Tickets for Handel's Messiah on Sunday, December 18 at the Kimmel Center start at $35. They can be purchased at www.philorch.org , by calling 215-893-1999, or at the Kimmel Center Box Office.
Calling all HuffPost superfans!
Sign up for membership to become a founding member and help shape HuffPost's next chapter