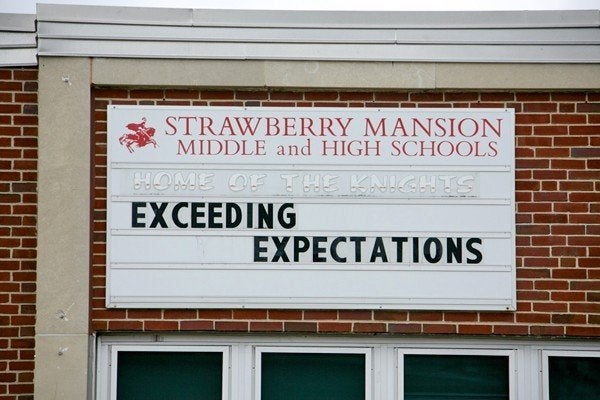 In 2009, Strawberry Mansion High School appeared to be something of a miracle.
A neighborhood high school in a rough part of North Philadelphia, Mansion saw more than two-thirds of its students score "proficient" or above on that year's state standardized tests.
Today, though, compelling evidence indicates that Mansion's unusually high test results were driven by adult cheating.
Documents obtained by NewsWorks and the Notebook show Mansion students raised alarms about cheating as far back as 2005. Suspicious patterns of "wrong-to-right" erasures on test sheets, a tipoff for adult cheating, have also been spotted in both reading and math for the 2009 and 2010 testing cycles.
Listen to Ben Herold's NewsWorks Tonight interview above.
Now, Lois Powell-Mondesire, the principal who presided over the school's testing gains, is no longer there, and Mansion's test scores are back in the tank. Barely 10 percent of students scored proficient or above on last spring's exams.
But Powell-Mondesire wasn't disciplined.
In 2010, Powell-Mondesire was tapped for a new central office position advising other principals on how to turn around struggling schools. While Mansion struggles to get back on its feet, Powell-Mondesire will make more than $145,000, just shy of the top possible salary for a Philadelphia principal.
A statewide probe involving 53 regular city schools, four area charters, and a number of other districts across Pennsylvania is still ongoing. It is possible for cheating at a school to occur without a principal's knowledge or involvement. No proof of cheating by specific administrators has been made public, and no Philadelphia school administrator has been charged with wrongdoing.
But in a number of cases, telltale signs of adult cheating at specific schools correlate to the tenures of individual principals. Some of those principals were rewarded by the district after overseeing eyebrow-raising test score gains.
That practice has continued, even after district officials became aware of evidence of suspicious erasures. For example, Barbara McCreery, who oversaw dubious test score increases at her former school, Communications Technology High, was installed just this summer as the new principal at Bok Technical High.
"I think this is willful blindness," said Michael Josephson, a leading national expert on ethics and education and the president of the non-profit Josephson Institute of Ethics.
"There's a deliberate looking the other way," he said.
FAIRNESS OR SLOW REACTION?
Powell-Mondesire did not respond to requests for comment.
But principals' union President Robert McGrogan was adamant that it is unfair to associate individual administrators with cheating until an investigation being led by the Pennsylvania Department of Education is complete.
"I believe that the media is trying people, and I think that is inappropriate," said McGrogan, the president of Teamsters Local 502, Commonwealth Association of School Administrators (CASA).
This piece has been truncated. To read the rest of the story, visit Newsworks.
REAL LIFE. REAL NEWS. REAL VOICES.
Help us tell more of the stories that matter from voices that too often remain unheard.
BEFORE YOU GO