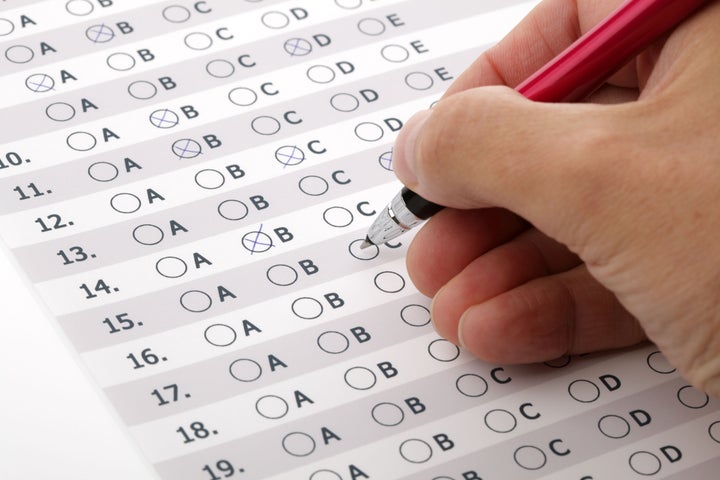 The scope of the Philadelphia School District's problem with suspicious erasures on state standardized tests is far more widespread than officials have publicly revealed.
But so far state and district investigators have launched deeper probes into suspected cheating at only a third of the 53 schools where strong evidence was found.
Confidential documents and information obtained by WHYY/Newsworks and the Public School Notebook show that many of the 53 schools were flagged across multiple grades, subjects, and years for extremely high rates of "wrong-to-right" erasures on test answer forms. The documents include results from erasure analyses conducted in 2010 and 2011, which state officials have refused to make public.
In response to those findings, the district put in place tough new test security measures last spring. The result was huge drops in scores at nearly all of the 53 schools, according to preliminary 2012 PSSA results also obtained by NewsWorks and The Notebook.
AN EXAMPLE FROM NORTHWEST PHILLY
At F.S. Edmonds Elementary in Northwest Philadelphia, for example, student PSSA response sheets were flagged for suspicious erasures 23 of a possible 24 times between 2009 and 2011. In 2012, the school's scores plummeted by nearly 50 percentage points in both reading and math.
But Edmonds so far appears to have avoided direct scrutiny by state and local investigators.
The school is one of 22 determined by the Pennsylvania Department of Education to be of "lower priority" and thus not subjected to on-the-ground questioning about cheating. Documents show that many of those schools showed major signs of possible cheating.
Even with forensic or statistical evidence, cheating can only be proven through eyewitness testimony or admissions of wrongdoing.
A spokesperson from the Pennsylvania Department of Education (PDE) declined to respond to requests for confirmation and explanation, saying the department would not comment on an ongoing investigation. In a statement, district officials offered little more.
But documents and conversations with sources paint a picture of a widespread problem that officials are attempting to address with a limited number of boots on the ground.
"No one is really moving at an aggressive pace on this," said one source with firsthand knowledge of the investigation.
"The truth of it is no one wants [Philadelphia] to be the next Atlanta."
This piece has been truncated. To read the rest of the story, visit Newsworks.
Related
Popular in the Community