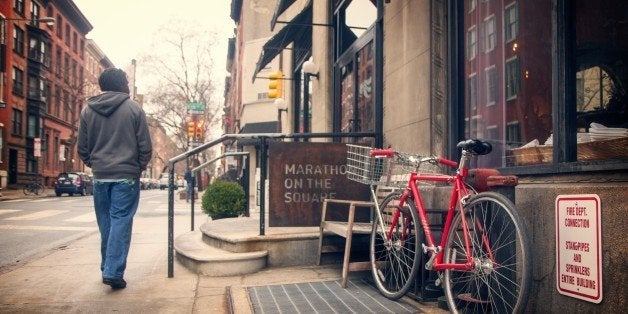 As Mayor of Philadelphia, one of my major goals is to ensure that our city is a growing business center, and that means making it easier for companies of all sizes - and in all sections of the city - to do business here. Over the past decade, our downtown has seen significant economic development and an influx of new businesses. Center City's prime retail rents grew the second fastest among 10 major U.S. cities, rising 87.5 percent between 2008 and 2014; and the latest office vacancy rate for 2016 was down to just 9.4 percent - lower than other major cities including Washington, D.C., Boston and Chicago. While I continue to support downtown development, my administration is especially committed to ensuring that our neighborhood small businesses can also experience commercial revitalization.

The Philadelphia Department of Commerce encourages and coordinates economic development in our neighborhood commercial corridors through key initiatives, including streetscape and beautification projects, as well as programs that fund business improvements. Our Storefront Improvement Program provides 50 percent matching grants to retail businesses on targeted commercial corridors, and we also provide $650,000 in Annual Corridor Cleaning Grants to fund sidewalk cleaning programs. Additionally, the city supports small businesses by providing resources, such as the $75,000 in annual contracts awarded (per corridor) through the Targeted Corridor Management Program, to Community Development Corporations, Business Improvement Districts, and Business Associations - organizations that work in community and economic development in their neighborhoods and on the ground.

Increasing access to capital is integral to the viability of small businesses, so the city's Department of Commerce partners with the international nonprofit Kiva to provide small businesses access to microloans of up to $10,000. Another standout example of the work being done in this area is our new Capital Consortium, a group of nonprofit and for-profit commercial lenders that work together with the Philadelphia Department of Commerce to provide loans and technical assistance to small businesses, which help them launch and grow. A key objective of the Consortium is to streamline and improve the business loan application process.

Access to entrepreneurial training and expertise is just as important. Through the city's partnership with Goldman Sachs 10,000 Small Businesses program, hundreds of growth-stage small businesses in Philadelphia have gained invaluable advice and strategy. We've had nine cohorts - totaling 251 alumni - go through the program and gain knowledge, practical skills, and networking opportunities. These businesses are reaping impressive results; 65 percent have increased revenue and 53 percent have created new jobs within six months of graduating from the program, which far surpasses national averages. Not only that, as mayor I'm proud to say that these job-growth numbers also surpass 10,000 Small Businesses national averages. And the program's educational initiative complements a $10 million lending program managed by the Philadelphia Industrial Development Corporation (PIDC), a nonprofit, public-private relationship between the city and the Greater Philadelphia Chamber of Commerce.

Other exciting capital initiatives continue to fuel growth. To support Philadelphia's burgeoning startup community, the city, PIDC and venture capital firms founded StartUpPHL, which aims to support and provide early-stage investments. Through StartUp PHL's Call for Ideas grants, we have awarded more than $400,000 to 20 organizations. This program not only allows us to support small businesses, but by investing in organizations like Coded by Kids and Techgirlz, StartUp PHL also lays the foundation for our next generation of entrepreneurs. This summer, we are also hosting office hours at local co-working spaces to connect directly with startup founders - giving us a chance hear from them about how the city can better serve the entrepreneurial community, and providing them with a chance to ask questions and get advice.

In addition to the programs the Department of Commerce runs and supports, Philadelphia is also taking other steps to ease the process of doing business here. As the first interaction many small businesses have with the City will occur online, we have made it a priority to optimize our Business Services website. The site's improved search function makes it easier for business owners to find documents and information specific to their industry. Plus, we have made the site mobile-friendly and easily translatable via tools such as Google Translate, which increases accessibility.

Philadelphia's commitment to accessibility -- and the opportunities that come with it -- goes even broader. Our administration is planning a multitude of initiatives to ensure that businesses owned by minorities, women and people with disabilities have a larger share of city contracts, and to increase the diversity of the workforce on these projects. I firmly believe that the businesses and employees working on contracts and construction projects in the city should reflect its diverse demographics. I am committed to ensuring greater access to meet this goal, and one way we plan to increase opportunity is by developing a preferred listed of businesses (many of them small businesses) owned by minorities, women and people with disabilities that can be used for future city contracts.

As Mayor, I will work tirelessly to ensure that more businesses start and grow throughout the city. At the end of the day, stronger businesses means more jobs and better neighborhoods for all of Philadelphia.
Goldman Sachs 10,000 Small Businesses provides entrepreneurs with a practical business education, business support services, and access to capital. In Philadelphia, over 250 small business owners have been served since the program came to the city.
Calling all HuffPost superfans!
Sign up for membership to become a founding member and help shape HuffPost's next chapter