WYNNEWOOD, Pa. ― Lindsay Wetmore-Arkader had tried the doorbell and wasn't confident that it worked. The driveway was empty and the windows were dark. Her 3-year-old son itched to put the Hillary Clinton sticker on the door, the sticker they leave for residents who aren't home reminding them to vote. But she didn't want to give up so quickly. She approached the door one more time, and gave it seven serious knocks in rapid succession.
Wetmore-Arkader stepped back and waited, listening for any movement inside. A crowd had started to gather behind her ― which included her two other small children, three more parents and more children ― all wearing Hillary stickers. Thirteen seconds later, the door cracked opened. A middle-aged woman caught the eye of Wetmore-Arkader and then the eager faces looming behind her.
Sunday afternoons are for football and play dates, dinners after church. But it was two days before the election, and the race between Clinton and the Republican nominee for president, Donald J. Trump, had tightened. Pennsylvania was a critical battleground state and the Philadelphia suburbs like this upper-middle class enclave in Montgomery County had started to feel like the center of the universe. This Sunday was different.
"There's a lot of us, sorry," Wetmore-Arkader said.
"We're coming en masse," Wetmore-Arkader joked. "We're looking for Mr. Thomas."
There was no Mr. Thomas at that address. But there were three women who lived there with that last name. Wetmore-Arkader quickly figured out that she was actually looking for a Mrs. Thomas. She had the right house. Except the woman she needed was in New York. Wetmore-Arkader was undeterred.  
"We are just looking to make sure that she has a plan to vote and that she's planning on voting on Tuesday," she said.
"Yes to all of the above," the woman replied.
"She knows where she's voting?" Wetmore-Arkader asked. "She doesn't need any further information?" She gave the woman one of the stickers, telling her to "put it somewhere she can see it."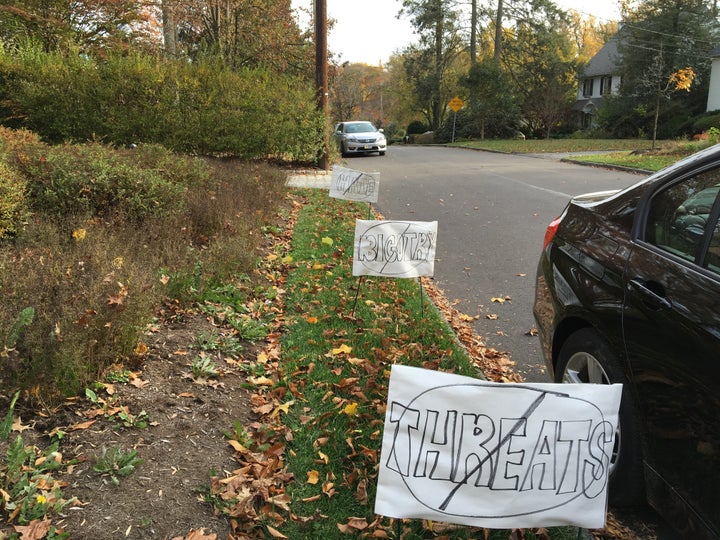 Wetmore-Arkader, 39, had followed the script she'd been given perfectly. Just six months ago, she had been working from a different set of talking points. She'd been a huge supporter of Clinton's opponent, independent Sen. Bernie Sanders of Vermont. She had phone-banked for him and promoted him to friends on Facebook and over email. It had taken her weeks, maybe even a month or two, to mourn his defeat and join the other side.
Clinton had seemed to Wetmore-Arkader like just another standard politician ― especially, she said, compared to Sanders and President Barack Obama. But she started to realize that maybe she had taken Clinton for granted. "She's like the cousin that's at like every other Thanksgiving that you just kind of know what they're doing on the periphery," she said.
The more Wetmore-Arkader thought about Clinton, the more she started to see things in her that she admired. Clinton set aside her career to support her husband just as she had. A year ago, Wetmore-Arkader and her husband moved from Los Angeles to Haverford, five minutes from where she was volunteering. Her husband is a doctor at Children's Hospital of Philadelphia. Clinton "came back stronger than anybody could imagine," she said.
After leaving the Thomas residence, Wetmore-Arkader walked back to the street with another volunteer, Lainey Quinones, 38, who also had first supported Sanders. Quinones also felt like she didn't really know Clinton beyond her basic resume, the real and imagined scandals and sexist labels. "It made me realize that I don't see her," she said. "And we don't see women in politics the same way. Even as a woman, I realize you hear these little catchphrases and you just absorb them."
Quinones began to rethink Clinton while watching the candidate keep her cool through the daylong Benghazi hearing in late October of last year. She was home taking care of her six-month-old daughter. "I watched it," she said. "I was like, I would be sweating bullets. That's pressure under fire."
The two reached another house just as the residents pulled up in their SUV.  "Are you finding a lot of Trump supporters?" the woman in the passenger seat asked. The volunteers were looking for her. The Clinton operation was targeting infrequent voters. She hadn't voted in the last election, so she had made their list. "I said, you don't vote once, they're going to know that," the SUV's driver joked.  
Just a short drive away, volunteers had turned their garage into a war room. In another home, a contingent of Clinton supporters had converted their living room into a campaign phone-banking operation. Volunteers had been dispatched all over the county to quiet streets dotted with high-end SUVs and Tudors that looked like they came out of the pages of fairy tales. Everyone was serious but upbeat. Everyone had a clipboard they needed to code depending on who was home and what they said about their intentions to vote.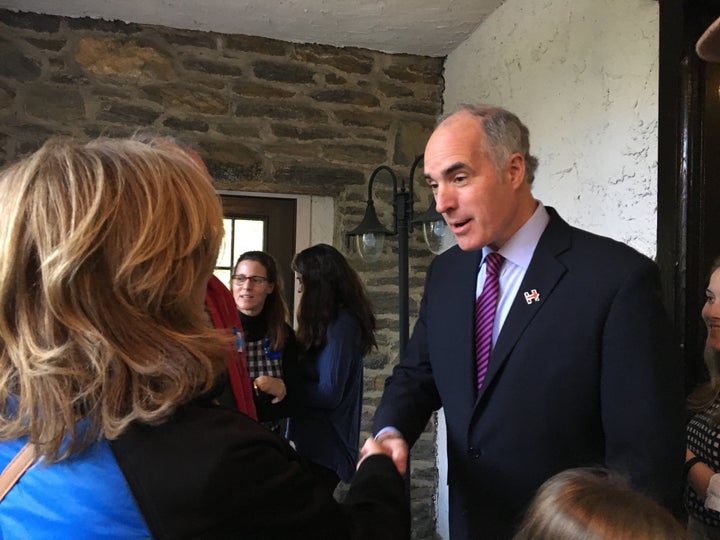 At the headquarters where Wetmore-Arkader picked up her door-knocking route, Sen. Bob Casey (D-Pa.) stopped by to give a pep talk. There was no way, he said, Clinton would get as many votes in Philadelphia as Obama had in 2012. But he believed she could make up the difference in the suburbs. "You're directly responsible for that ― no pressure," he said. "I really believe these four counties ― and Montgomery's the biggest ― are the foremost important counties in the country right now, so keep going. Don't let me stop you."
Wetmore-Arkader didn't need any more convincing. "I started sitting down with my own personal history in politics, just being raised in a generation of men and being so overwhelmed with emotion when Barack Obama went into office and having just had my first child and realizing that she was growing up in a world where she's only known a black man to be the president and I thought, 'Why am I not backing a woman?' Because then my children in their lifetime for the first 12 years of their life will only know a black man and a woman being president of their country," she explained. "It's an emotionally overwhelming thing for me because it's not my history."
For the past six weeks, Wetmore-Arkader had been volunteering for Clinton. She said another former Bernie supporter who had become a Clinton convert inspired her. He'd door-knocked with his kids and posted pictures of their activities on Facebook. When she goes out campaigning, she said she makes sure to take her 8-year-old daughter. "I'm going to take her into the voting booth with me on Tuesday and she's going to push the button," she said. "So when she grows up I can say that she's actually the one who voted for Hillary Clinton."
Calling all HuffPost superfans!
Sign up for membership to become a founding member and help shape HuffPost's next chapter