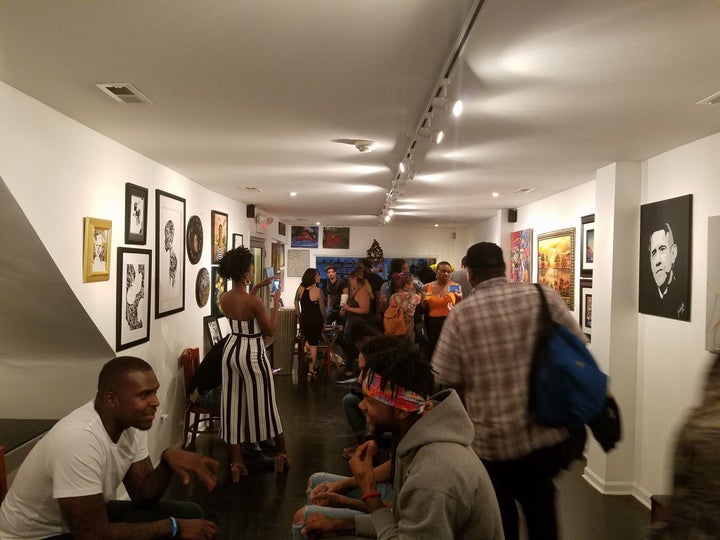 "We're excited to partner with Urban Art Gallery and all of the artists participating this year," Reid said. She was inspired to launch the exhibit last year after discovering that there were so many artists in the Philadelphia region who were of Caribbean descent.
"I thought it important to highlight their work and contributions to the local (art) scene. We're sharing our experiences and culture through art," said Reid, the owner of Yard Girl Jewelry.
A visual artist herself, for the past 10 years Reid has worked as an English and special education teacher in the William Penn School District, serving students at Penn Wood High School. One of two Young Caribbean Professional Network vice-presidents, Reid has been actively engaged in the area's Caribbean American affairs, often using her artistic skills and organizational involvement to forge fruitful relationships.
Challenged by her late father, Reid exhibited her paintings last month at Urban Art Gallery, inviting people into her therapeutic "safe space."
"I believe that art is a powerful tool that can create change, healing, understanding, and unity," said artist and educator, Amber Nicole Williams. "The arts are in our DNA, and it is what helps unite us."
A collective of Caribbean visual artists, including Williams, Ariel Williams, Jae Martin, Eric Rivera, and Kayode Malomo, showcased their work in the venue that welcomes emerging artists.
"Young Caribbean Professional Network is proud to support young Caribbean and African artists throughout the region in presenting contemporary art, thereby adding culture and diversity to the marketplace," said YCPN founder and BFW Group CEO, Blane Stoddart.
"We are not one dimensional people. I believe that the world should experience the vast array of beautiful cultures represented throughout the African Diaspora," Williams said. "We all are connected but have a different story to tell."
"It is important to bring awareness to the Caribbean artist and to the Caribbean culture," said Morris.
"Philadelphia has a large Caribbean (immigrant) community, so this is our way of recognizing the contributions of local Caribbean artists while giving guests a visual, culinary and musical experience," he said.
In addition to showcasing visual artists, there was live painting by Jay Coreano and desserts from Johnny's Cheesecakes – "a bakery that specializes in fusing Jamaican flavors into their delicious cheesecakes," said Reid.
With a chance to be seen, heard and recognized at the Caribbean Creatives Art Show, Williams, like Reid, was eager to "share a bit of ourselves and our cultures with the world," Reid said.
"I believe that art is an integral part of African and Caribbean culture," Williams said. "The arts are deeply embedded in the roots of African and Caribbean culture. I think it is important for us to celebrate our culture and share it with the rest of the world. "
Popular in the Community