Two years after he was fatally shot by a police officer in Minnesota, Philando Castile is still helping students afford lunch.
A charity created in Castile's honor has paid off the lunch debt for every student in the 56 schools in the St. Paul Public School District, including the school where Castile worked as a cafeteria supervisor.
Castile had worked as a cafeteria supervisor at the J.J. Hill Montessori Magnet School in St. Paul for two years at the time he was killed.
Families said students at the school took his death especially hard.
In 2017, around the anniversary of Castile's death, families of children at J.J. Hill told the Pioneer Press that Castile often high-fived students and helped them with their lunches.
"It's one thing to say he was a good guy, and it's another thing to know he was a good guy," Eisen Ramgren, a student's parent, told the St. Paul newspaper.
Pam Fergus, an educator who launched the charity, told CNN she delivered a $35,000 check to the St. Paul Public School District this week. The charity, which had an original goal of raising $5,000, now has more than $117,000 in donations, according to the YouCaring page. The funds will continue to pay for student lunches "for years to come," Fergus wrote in a fundraising update.
Fergus told Fox 9 News that Castile was known at his school for paying for students' lunches when they couldn't afford it.
"Philando was famous for that," she said. "His mother told me that every day he would call her after leaving his job at J.J. Hill and talk about the kids. Another kid didn't have the money in his account, so Philando would take $3 out of his pocket and buy that kid's lunch for the day."
In July 2016, St. Anthony Police Officer Jeronimo Yanez shot and killed Castile after pulling him over for a broken taillight in a St. Paul suburb.
Yanez maintained that he thought Castile was reaching for the weapon, while Diamond Reynolds, Castile's girlfriend who filmed the traffic stop from the passenger seat, said he was reaching for his wallet.
Footage of the incident from a police dash cam and Reynolds' camera shows Castile calmly telling Yanez he had a firearm. After the shooting, Reynolds said Yanez had just asked Castile for his license and registration, adding that Castile was licensed to carry.
Now that the charity has reached well over its fundraising goal, Fergus hopes it can continue to raise money for more schools in Minnesota.
"I don't know how much it would take to help the whole state of Minnesota," Fergus told CNN. "There is no end goal. Basically, I want a million bucks in there."
Before You Go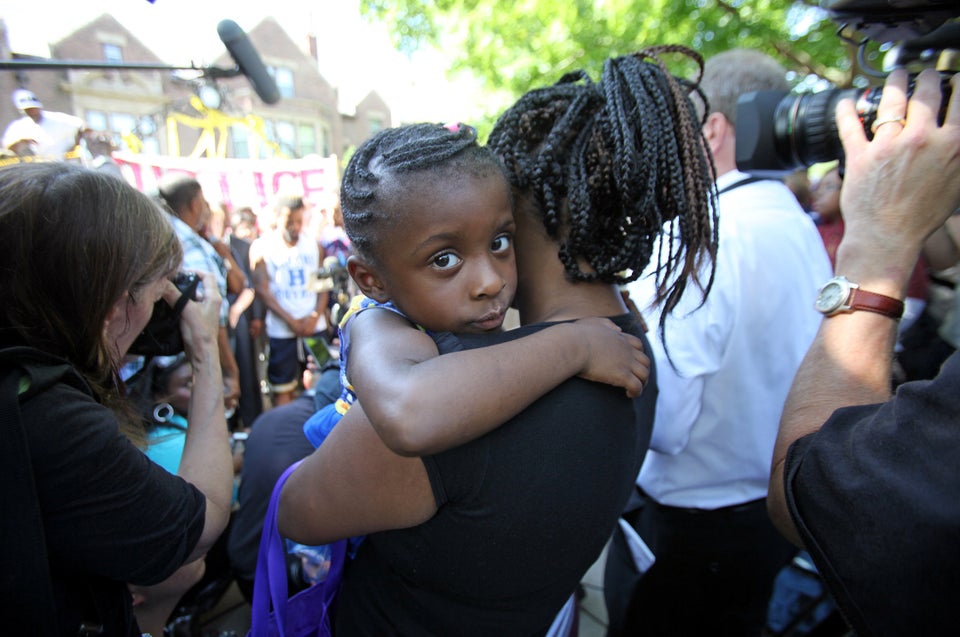 St. Paul Protesters Show Support For Philando Castile
Popular in the Community