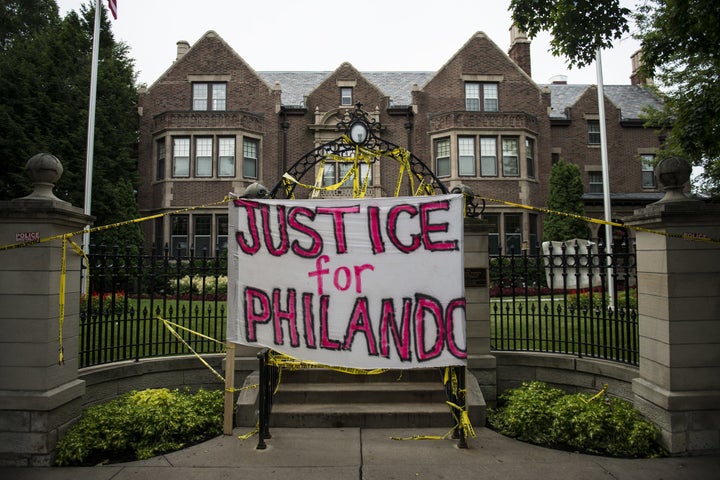 Philando Castile was a 32-year-old black man. He was driving with his girlfriend and her four-year-old daughter when he was pulled over for allegedly having a broken taillight. For reasons that seem to defy explanation, Philando Castile was then shot four times by a police officer who continued to point a gun at him while he lay bleeding and gasping for air. I know these facts not only because I am one of the millions of people who has seen the heart-wrenching footage his girlfriend filmed during the aftermath of the shots being fired, but also because this shooting happened fewer than 10 miles from my home in Saint Paul, Minnesota.
There is something surreal about turning on the national news and seeing your community on the screen. For Rebecca Murray, also from Saint Paul, the news went from sickening and sad to deeply personal as she realized that Mr. Castile worked at her children's school.
"He worked at my kids' school. He was TERRIFIC. Gentle, funny, patient. Every day he fist-bumped my kids, even when they were acting up," Murray wrote in a community Facebook group and allowed CafeMom to share. "He knew every single one by name, pushed extra food in them like a grandma, and sneaked extra graham crackers into my son's bag because Peter got a kick out of it. My borderline autistic son hugged him every day. You guys. This was a GOOD MAN. This was a violent murder, an execution. A horrible, horrible act of racist violence. I am sick."
I watched on Facebook last night as my neighborhood page filled with other heartfelt accounts of Philando Castile's life. He was a local guy who graduated from a high school in the school district where he now worked. He was a cafeteria worker who had risen to be a supervisor. He was someone who was loved and whose death is leading to some parents having to have some incredibly difficult conversations.
"My daughter knew him. Saw him twice a day, every day, at school where he greeted her with jokes and smiles. We've talked generally about Black Lives Matter, but I haven't told [my daughter] about Mr. Castile. I'm going to need to get myself together first," noted Andrea Ledger, a parent of a kindergartner at JJ Hill Montessori School who also allowed CafeMom to share her sentiments posted in the community Facebook group.
Mr. Castile was described in a statement from the school district as "a team player who maintained great relationships with staff and students alike. He had a cheerful disposition and his colleagues enjoyed working with him ... one coworker said, 'Kids loved him. He was smart, over-qualified. He was quiet, respectful and kind.'"
We are in the midst of fresh grief today. There will be marches in his honor and a prayer service at a neighborhood church. The sadness over losing a member of our community, compounded by the knowledge that this shooting happened just feet away from a child, is heavy but also mixed with anger. For Tanya Rannells, who knew Philando in high school and spoke to CafeMom, his death is "another example of how dangerous it is to be black. Even in a safe neighborhood, he was at risk because of the color of his skin. This one just hits too close to home."
Now my husband and I will sit down with our 8-year-old biracial son and try to find the words to explain why our town is on the news. I'll try not to cry. I'll try not to let him know that police don't always mean you are safe. We'll light a candle in honor of Philando Castile and try to keep him innocent a little longer.
Wendy Robinson is a frequent contributor to CafeMom.
Popular in the Community