Philanthropy is a team sport. One would be hard pressed to find a single humanitarian organization with the ability do everything it could dream of all by itself. The many resources needed are frankly too precious and scarce: cash, infrastructure, contacts, experience and time, naming only a few. Understandably, much of Heifer International's work to end poverty would not be possible without some form of outside assistance.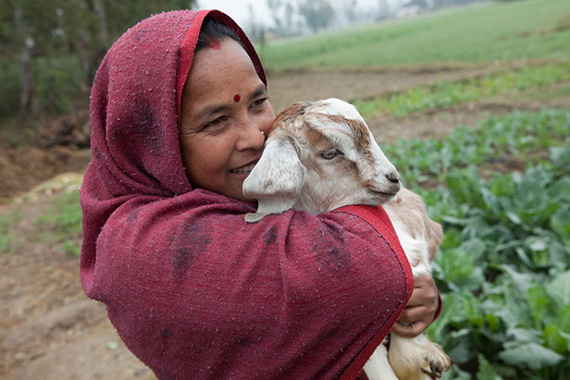 In Nepal, Vishnu Pariyar tends to one of her goats. Photo by Russell Powell, courtesy of Heifer International.
That's why we were thrilled to receive the largest unrestricted humanitarian grant in the world when we were awarded the Hilton Humanitarian Prize in 2004. What's proved to be of almost equal importance is the invaluable opportunity to forge new relationships with like-minded organizations working toward similar goals to end human suffering across the globe. As one of the Hilton Prize Laureates, or #HiltonPrize20, we now have access to some of the brightest minds in philanthropy, building out our individual and collective capacity to break new ground in our humanitarian efforts. Heifer International continues to leverage the many benefits that come along with receiving the Hilton Humanitarian Prize, enabling us to make an even deeper impact through our programs around the world.
In Africa
Heifer implemented the Kosapo Women Draft Cattle Project in an agricultural camp located just south of a mining town in Zambia's Copper Belt, where rural communities depend on small-scale agriculture, growing maize, groundnuts, cassava, sweet potatoes and beans. For years, high poverty and unemployment rates plagued households with food insecurity, low nutrition levels, and inadequate housing. Chief among these issues is that agricultural productivity was persistently low, due to a lack of skills in improved farming methods and lack of access to agricultural inputs. With help from Heifer, local farmers learned new agricultural methods and received new equipment to improve their production and boost individual economic security.
In The Americas
Sustainable management of the Dry Tropical Forest in Ecuador and Peru is the difference between security and degradation for 2,000 families who live there. Heifer, with the help of the Hilton Prize, was able to champion on behalf of local community organizations to influence the local policy-making processes, giving them a share of control over the region's vital natural resources. As a result of training through this project, greater commitment and action by leaders, promoters, families and youth helped conserve the important ecosystem, while the local population was able to maintain security through increased food production.
In Asia and the South Pacific
The Chepangs, an ethnic minority group in Nepal, adapted from nomadic life to become smallholder farmers after receiving livestock from Heifer through an umbrella project that provided 2,700 farming families with 3,800 meat goats, 80 sheep, 500 pigs, 200 dairy buffalo and 60 dairy cattle. Another 4,630 families benefitted through Heifer's Passing on the Gift® practice.
From Shanti Chepang at a Passing on the Gift ceremony: "The two goats I received from Heifer International have improved life for my family and me. I have sold seven goats to date and earned Rs. 30,000 ($285). The earnings from the goats have helped to ease the pain of poverty. It covers my household expenses and pays for the education of my children. We have nothing -- no skills, no education, not even the rights to the land where our ancestors lived. These goats have helped my family start a new life in this changed world. I am passing on the gift of two goats to Phulmaya. I hope she embarks on the new journey with this gift and makes a living and a place in this world for her and her family."
In Central and Eastern Europe
Heifer International's Carpathian Project in the Ukraine improved the livelihoods of farmers in several mountainous villages by developing traditional animal breeding, preservation and improvement of local animal breeds, effective use of natural resources, and the production of competitive and environmentally friendly products. The project gave 1,190 families an opportunity to boost agricultural production for sale, providing much-needed income to a very vulnerable population.
Forward Progress for Heifer International
Since receiving the Hilton Humanitarian Prize in 2004, Heifer International has continued to evolve, increasing both the size and scope of its projects. Rather than widely dispersed projects serving small numbers of families, our organization operates geographically concentrated projects, each serving a minimum of 5,000 families. Currently, we are determining a living income threshold for each of our programs, only considering a participating family "out of poverty" if it is able to consistently reach or exceed the living income. Our ambitious goal is to help move at least 4 million families out of poverty, by this definition, by 2020.
Heifer International was thrilled to learn that the Hilton Foundation was boosting this year's Prize to $2 million, as much humanitarian works remains. We are optimistic about what the future holds for the Hilton Prize Coalition. There are countless organizations doing great work on a shoestring budget, and the Hilton Prize will continue to enrich them, through both the immediate cash injection, as well as the lasting benefits of being included in the Hilton Prize Coalition.
Working together provides the best chance for us to defeat the insidious threats of hunger, poverty and environmental degradation; and the recently formalized Hilton Prize Coalition is exactly the kind of humanitarian support this world desperately needs.
Calling all HuffPost superfans!
Sign up for membership to become a founding member and help shape HuffPost's next chapter