When I decided to donate some books to schools and libraries in Sri Lanka, the country where I was born, as part of a trip from December 2015 to January 2016, I figured I would donate books from my own personal collection and carry them in my suitcase. Far from being an impoverished island as represented in media coverage of the 2004 tsunami, Sri Lanka is a tourist mecca bursting with five star hotels and some of the best beaches, wildlife collections, ancient history and cuisine in the world. But one thing the island lacks is a plentiful supply of English books for students of all ages, whether it be in the form of school libraries at public schools for K-12 schools (known as colleges), or bookstores scattered across the country. Schools in the capital city of Colombo indubitably have better libraries than in most other Sri Lankan cities and towns, but even those libraries fail to even remotely compare to libraries and bookstores that many of us are accustomed to in the United States courtesy of respectable funding for public libraries, Barnes and Noble, independent bookstores, eBay and Amazon.com.
For the purposes of my trip, I began to assemble a modest collection of K-6 books from my childhood that were tucked away in my parents' basement. On a whim, I called my local public library in Mount Laurel, NJ, mentioned that I was travelling to Sri Lanka and requested a modest donation of books for schools and orphanages in Sri Lanka. The librarian cheerfully and immediately said yes! One Saturday morning, I dropped by the library to receive a donation of 50 children's literature books in a double-bagged, paper grocery bag. Bolstered in confidence by the initial donation, I called more and more local libraries and collectively received a total of approximately 2000 books. Now the challenge was how to transport the books to Sri Lanka within a reasonable budget.
Transporting and distributing the books led to the following key insights:

Transportation of books from the United States to Sri Lanka constitutes the most formidable challenge
Books are heavy and cumbersome to transport. Suitcases will not be sufficient, particularly for a collection with any kind of significant size. Transportation via air can be quick but expensive. Conversely, transportation via a shipping vendor is more economical but takes time and meticulous planning regarding the receipt and handling of the merchandise soon after its arrival.
Collections of English books at libraries in Sri Lanka have much to be desired.
Even the better public schools outside of Colombo tend to have collections of English books that lack any sustained depth or variety. While one would expect that fiction collections would represent classics of English literature such as Dickens, Austen, Bronte and Kipling, the fiction collections that I observed were shamefully lacking, both at the level of English literature and otherwise. Disturbingly, collections of literature books for grades 5-8 were almost nonexistent in most schools.
Clearing the books at customs represents one of the biggest hurdles.
If books are shipped, they need to be cleared at customs. Clearing merchandise at customs requires a person with patience, all relevant documentation, political savvy and the ability to negotiate skillfully with customs officers. Fees can be expensive and need to be managed carefully, particularly given that this merchandise is not for commercial use.
The larger point here is that a philanthropy based on transportation of plentiful resources in the United States to a country such as Sri Lanka, which is still in the midst of rebuilding its economy and political stability after nearly three decades of civil war, is complex. On the other hand, the project I led, based on a modest budget and time spent on weekends and evenings, was a smashing success. The schools to whom I delivered books often had collections of English books that numbered between 25 and 300, which meant that my contributions of 300 to 500 books per school amounted to a substantial influx of educational resources. As I was repeatedly told by principals, librarians and students that I encountered, the book donations represented an invaluable infusion of resources to their library and school. Admittedly, executing the transportation and distribution of the books required extensive reliance on my network of connections in Sri Lanka, without whom I would not have been able to orchestrate such an intelligent and efficient distribution of books. Now, my next task is to scale this project such that it has the capability to democratize access to books and educational materials to students on a broader scale, and not only to Sri Lanka but also to readers and students all over the world.
The image below illustrates a book donation to Bandaranayake Central College in Veyangoda, Sri Lanka made on January 4, 2016.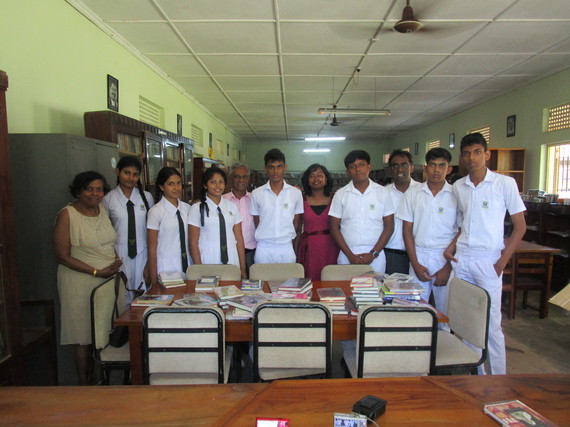 Popular in the Community