Philanthropy wants to change the world: make it a better place, protect the environment, create social equality, end hunger, stop conflict. Here at Water For People, we want to ensure that people around the world have safe drinking water and a decent place to poop -- not just temporarily, but for generations to come.
Water For People is grateful for the support from a diverse group of philanthropists and donors. All of them have asked us to realize better ways to implement philanthropy and accomplish real impact. This has caused us to rethink how we approach our goal to bring full water and sanitation coverage by 2018 to 30 districts across 10 countries: India, Rwanda, Uganda, Malawi, Bolivia, Peru, Ecuador, Honduras, Guatemala, and Nicaragua.
Essentially, it means we work differently to transform the very nature of the development effort and fundamentally change the game by:
Catalyzing Investment

As an organization we insist on investment from in-country government institutions and communities, the private sector, and other organizations to not only share the costs of project implementation but also create the financial environment to support the long-term capital expenditures required to maintain systems, replace them when necessary, and improve them over time. Our investment fueled by philanthropy is catalytic and in the end seeks common cause with local district and state government agencies and sparks solutions that can thrive over time without the further need of philanthropy.
Last year, Water For People's contributions to development projects of $7.6 million spurred another $4.6 million of investment from local governments, their communities, and other non-government organizations (NGOs). Moreover, we have strong evidence that the private-sector partners we have worked with, especially in our Sanitation as a Business program, are beginning to garner additional investment from banks, development partners, and microfinance institutions -- further proof that our initial financial support is achieving the objective to attract funding from others.
Being Obsessed with Monitoring and Evaluation
Monitoring and evaluation is vital to fully understand the progress of development work and implement adjustments that reduce development time and improve success. Not only is this the right thing to do for the people we serve, but it is the only way we can prove advancement toward our goals. To determine that our programs are working we guarantee post-project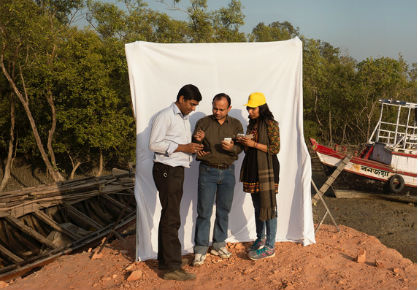 monitoring for at least 10 years and instill this capability with our local partners so that it will continue long after we're no longer part of the picture.
We cannot afford to replicate failure and this is why we developed FLOW, Field Level Operations Watch. Now Akvo FLOW, it helps us determine whether our water and sanitation projects are working or failing, and injects a new level of transparency, efficiency, and accountability to our work. Using Android cell phones, combined with GPS and Google Earth software, Akvo FLOW gives the local government, community members, partners, and others the ability to record and display information online to know whether a project is up and running, broken, or on the verge of disrepair and requiring maintenance.
Akvo FLOW has been used by the World Bank to map water points in Liberia, IRC (International Rescue Committee) to create baseline data in Ghana on the sustainability of water services and in Burkina Faso to monitor water services delivery, as well as by Water and Sanitation in Africa to access the functionality of wells. In all, organizations across 28 countries now rely on Akvo FLOW to collect, manage, analyze, and display geographically-referenced monitoring data.
Another example of rigorous evaluation is our Re-Imagine Reporting (RIR) online platform. With the support of the Skoll Foundation, the Case Foundation, and Cisco, we launched this initiative in March 2013 to better enable a holistic opportunity to learn and improve. Philanthropy is becoming less interested in typical nonprofit reports that focus on investments made and the number of people served. Instead, they want systems such as RIR that enable their nonprofit partners to know what is working and what needs to be fixed to advance impact.

Fostering National Movements
It's imperative that our work has the potential for achieving widespread social change versus "completed projects" or "beneficiaries served."
And we're seeing this happen.
A national movement is taking off in Honduras where we have proved that full water coverage for an entire district can be accomplished. To date, eight NGOs in addition to Water For People have joined this movement: CRS, CARE, Living Water International, Pure Water for the World, World Vision, IRC, Save the Children, and Agua Para el Pueblo. IRC, CRS, CARE and Water For People have collaboratively hired a national-level coordinator to lead this effort. This alliance intends to implement programming in nine municipalities in addition to the three where Water For People is already working. The movement is called Para Todos Por Siempre ("Everyone Forever"), and it has real potential to bring safe drinking water to all of Honduras.
Bolivia is another country where a national safe drinking water movement is gaining momentum. Water For People has signed agreements with the Departmental Government of Cochabamba and an association of 12 municipalities whereby it will provide technical assistance to implement an inclusive full water coverage approach, which has been successful in the district of Cuchumuela where we work.
Today, philanthropy is no longer just about smart grant-making; it is now about influencing the behavior of others, bridging spheres of influence, and leveraging combined resources -- both financial and nonfinancial -- to fundamentally alter international development.
Real impact requires us to revolutionize the way that philanthropy works, a challenging prospect for nonprofits, but necessary and achievable.
Related