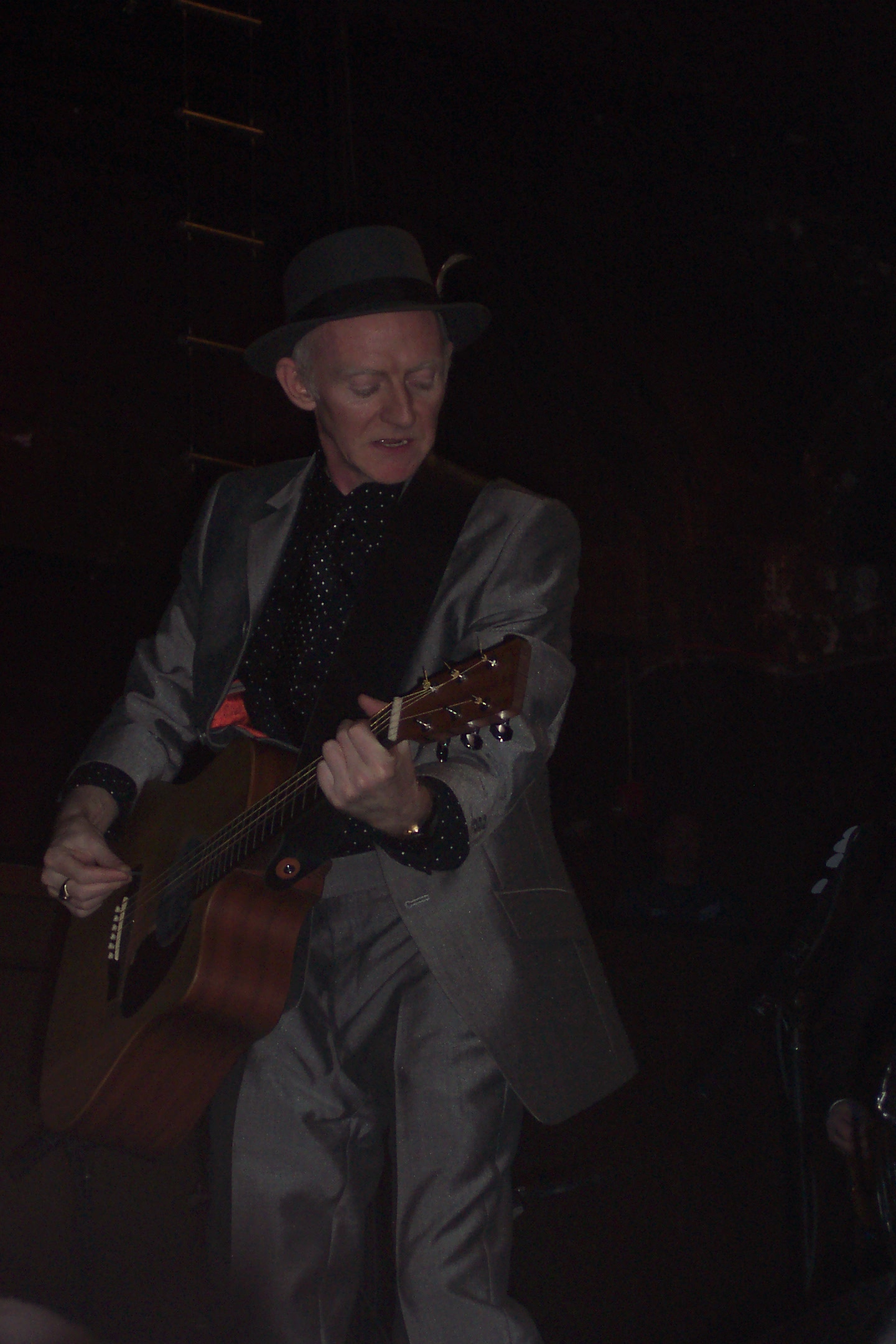 Philip Chevron, Nokia Theater, New York, 2006
Twenty years ago, Spider Stacy wrote a lyrical, lovely, sort-of-a-love-song, on which he sings lead for The Pogues, called "Tuesday Morning." When I saw, in the Irish Independent, the sad news on the morning of October 8 of Philip Chevron's untimely death, I thought of Spider's song:
Too many sad days
Too many Tuesday mornings
I thought of you today
I wished it was yesterday morning
I thought of you today
And I dreamt you were dressed in mourning....
Pogues fans, and lovers of music around the world, mourn Chevron's death. The cancer of the head and neck, first diagnosed in 2007 and recurring in 2012, was, Chevron announced himself in May 2013, "lethal." At a testimonial concert held for him at Dublin's Olympia Theatre in August, Chevron, his voice destroyed by his terminal disease, came on stage to thank the many musicians, and fans, gathered to pay tribute to him. His bandmates Shane MacGowan, Stacy and Andrew Ranken performed Chevron's concert classic "Thousands Are Sailing" that night.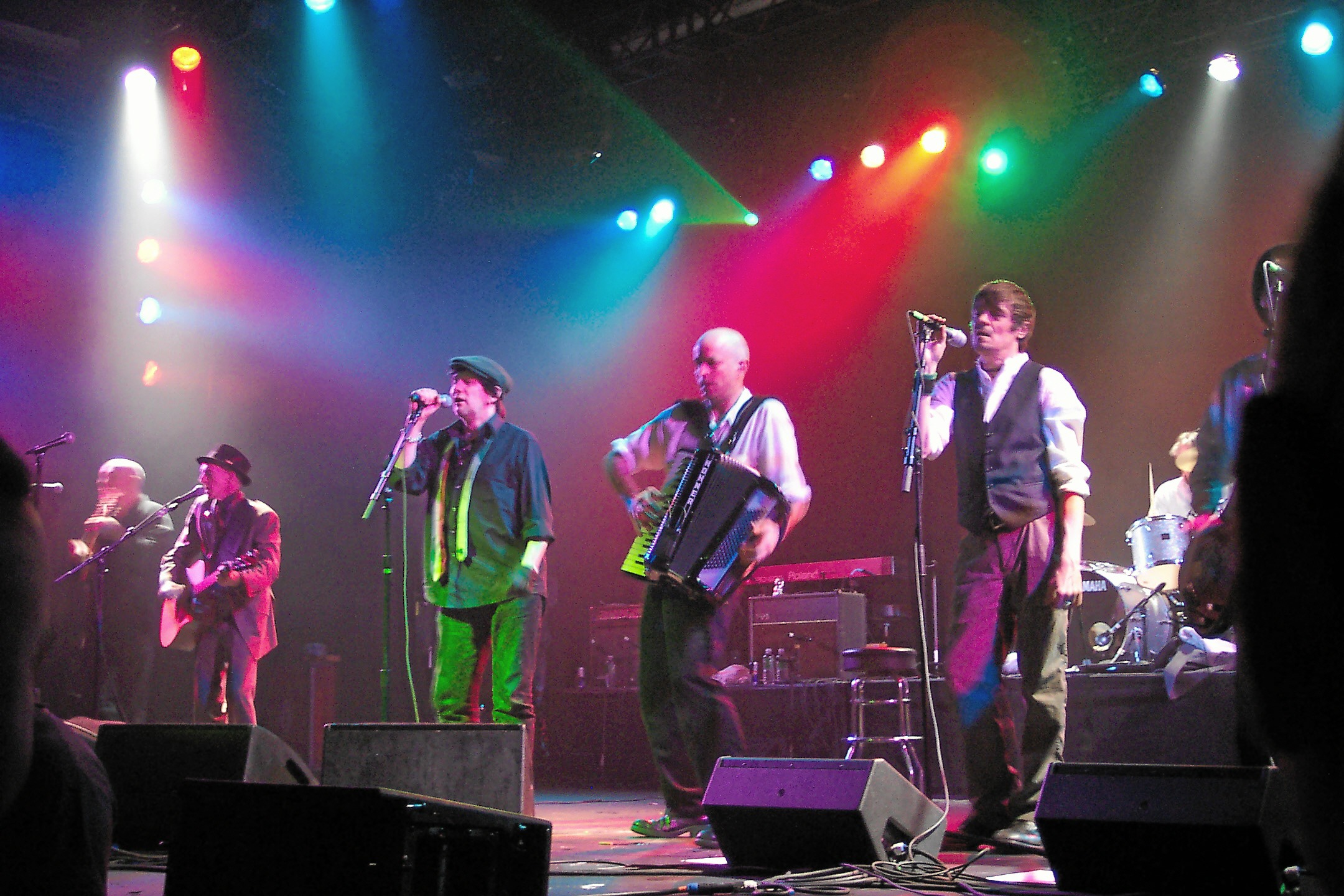 The Pogues at the Nokia Theater, New York, 2006
The Pogues returned to New York for their first shows in more than fifteen years, following a long breakup and gradual re-formation, in 2006. We reveled in those St. Patrick's Day week shows at the Nokia Theater. The next year, we waited in the snow at the Roseland Ballroom in March 2007 for more. Freezing, hopping from foot to foot in a line that went around the block, I was consoled by a kind companion with a double dozen red roses (two for the price of one; they wouldn't last another hour outside) from a plastic bucket. You can't carry something like that at a Pogues show; we'd fought our way to the rail, and both the roses and I were badly battered after two songs. One of my pals gave me a boost, and I launched them onto the stage. Philip picked up one and held it in his teeth while he played. Shane, inspired by Philip, picked up one and gestured as if to do the same...but, instead, he ate it. The guys seemed to enjoy them -- especially Spider, who stuck them into his whistle and pitched them in the air; Shane, who chewed on them and beat time with them and piled up bits of them around his wheelchair; and Philip, ever the dapper gentleman, who used one for a boutonnière. For the rest of the shows, we brought flowers again and threw them. Roses at the Roseland. They got 'em again for the spectacular shows at the same venue in March 2009 (here, performing their classic closing song "Fiesta").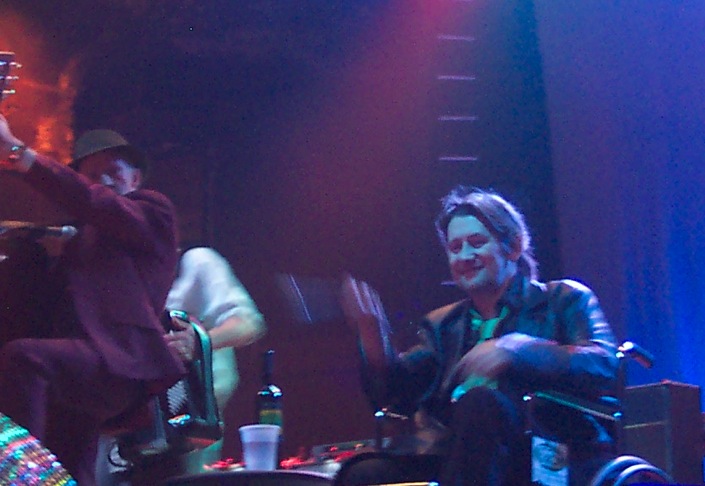 Philip rocks while Shane grins amid a litter of late roses, Roseland Ballroom, 2007

Who wanted to believe, in 2011, that this would indeed be the Pogues' farewell tour, raising a parting glass to America? No one at their Terminal 5 shows in New York, for sure. The band were superb, full of energy and admiration for each other's performances. People sobbed during that last "Fiesta," comforting strangers, all reassuring each other that, next St. Patrick's Day or some time soon, the lads would be back in town. But no, they never came again.
I was in London that fall, and after a lovely walk around the National Portrait Gallery I stopped at the post office across the road, at the top of Trafalgar Square, to buy some stamps. Philip Chevron was on line, posting some letters. As usual, he was dressed to the nines in a dark brown suit, small hat with a thin brim, and exceptional shoes -- with spats. After he finished conducting his business, I said hello to him.
He sat down with me for half an hour on one of the ugly, but very comfortable, tiny red sofa-seats in the post office. After I'd told him I loved his music and he thanked me, he immediately asked what brought me to London, and what I did. He laughed when I told him I'd just been serving as the associate director of the Yeats Summer School in Sligo, Ireland -- he was off to Sligo the next month, to judge songs based upon Yeats poems for a local competition. Chevron quoted a long section of "Easter 1916," hummed The Waterboys' arrangement of "The Stolen Child," and knew, it seemed to me, as much about W.B. Yeats as I did. His warmth and enthusiasm for poetry and music was benedictory. When he handed me his card, I told him we'd be inviting him to participate in the Yeats Summer School the following summer in any way he'd like. Yes, surely, he said. He'd come. But he couldn't, in the summer of 2012. He wasn't able.
I have his card on my desk as I write. Under the name Philip Chevron are the words "Music and Theatre." Add to that gentleman, and much missed now by all people who love a song.
photos © Anne Margaret Daniel. Ian, James, James, Ryan, Renee: this one's for you x
Related
Popular in the Community