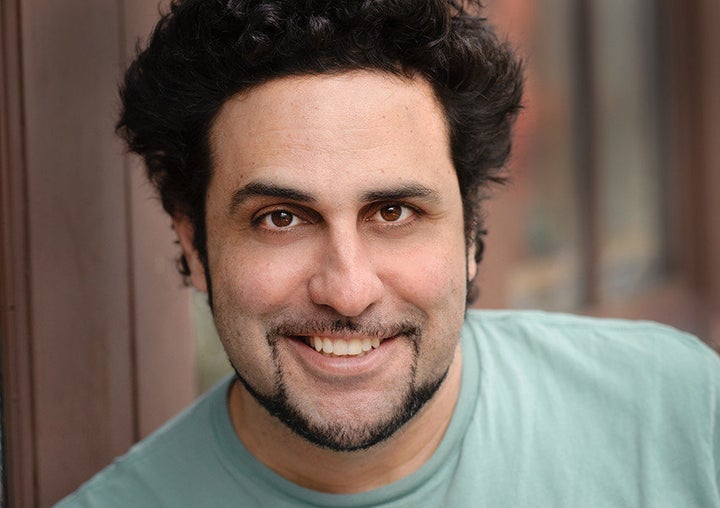 The criticism about Facebook -- and social media websites in general -- is that they promote peoples' worst narcissistic tendencies. So a stage show dedicated to one man's Facebook page would seem to prove that beyond of a shadow of a doubt, right?
Well, comedian Philip Galinsky doesn't see it that way. He sees it as psychic survival.
Galinsky is a New York-based actor who just debuted a new show, "Philip Galinsky Presents Facebook Comes Alive," a one-man stage show that is dedicated to, yes, his Facebook page.
The show takes place once a month, but don't go in expecting a boring evening where he shows off his Farmville skills and a rundown of all the people he's poked.
That's because Galinsky's stage show is a tribute to personal empowerment. It demonstrates what one lonely man can do to protect himself in the onslaught of four older brothers and a slough of nieces and nephews who insist on tagging him in embarrassing photos.
"Yep, this show started because I've been tagged by four older brothers and eight nieces and nephews with embarrassing photos," Galinsky told AOL Weird News. "I needed a place where I could explain these photos publicly."
Exhibit A: When Galinsky was three, his mother -- who, after having four boys, wanted a girl -- dressed him up in a matching bikini.
"No matter how many times I yell at my brothers, they keep posting that picture and tagging me," Galinsky lamented. "Meanwhile, my mom just says, 'It was the '70s. A lot of women dressed their sons that way.'"
Exhibit B: When Galinsky was five, he had a bedwetting problem that was so bad that his doctors prescribed a metal sheet that he claims was attached to a car battery.
"The doctors said my problem was that I was such a sound sleeper that I wouldn't wake up to go to the bathroom," he said. "So they got this device -- which they definitely can't sell in this country any more -- that was supposed to shock me when I started wetting the bed, thus waking me up.
"The night we bought it was also the night before kindergarten, and I was so afraid of it that I stayed up all night. Consequently, everyone that sees a photo of me on Facebook depicting my first day of school wonders why I have these dark circles under my eyes."
Well, with "Facebook Comes Alive," Galinsky is able to take back his dignity by turning his personal anguish into art.
"It's quite empowering," he said. "There are certain images that I now feel proud of."
Although the show is dedicated to Galinsky's personal Facebook page, other audience members play a role in it as well.
"There is some interaction," he said. "For instance, there's a quiz where an audience member comes up and I say, 'OK, it looks like we have 10 mutual friends. Name them all and you get $100."
There is also a moment where Galinsky leads a comic discussion on Facebook pet peeves.
"I hate being tagged in a photo that I'm not in," Galinsky said. "It's like someone saw a picture of a fire hydrant and thought I'd enjoy it."
Galinsky got the idea of turning his Facebook page into a stage show in April and put it together quickly for a May debut -- since, well, all the material was right there on the computer screen. The show is somewhat similar to other works he's performed.
"I'm always trying to merge different forms of media together," he said. "I did a show based on Craigslist. I'd take an ad and be either the person that wrote the ad or the person responding to it.
"However, Facebook is unique because everybody tries to be the star of their own Facebook world. It's like the diary that you show everyone," he added.
In fact, he says Facebook has changed the personal priorities of the people around him.
"My family went fishing and my nephew got a fish hook stuck on his nose," he said. "Our first priority was to get a good shot we could post on Facebook -- not going to the hospital. The people around us were concerned about him but we told them, 'Move out of the way, you're blocking the light.'"
Can a show dedicated to one man's Facebook page strike a chord with the millions of other people who mostly just care about their own profiles?
Galinsky hopes so. His show debuted May 9 and he managed to attract 60 people to a club on a Monday night.
"I thought there would be more," he confessed. "I have more than 1000 Facebook friends and I thought, for sure, they'd all come. We had the fire marshall here because we thought, 'Uh oh, we're going to have trouble because I have 1000 friends that are sure to come.'"
The next show is June 17 and Galinsky is promoting it on Facebook. He says he wants people attending to friend him.
"I'd like to go on other people's Facebook pages and find out about the audience so their stories become material," he said. "Also, we encourage people to post Facebook updates during the show and afterwards -- telling me the good, bad and the ugly so the show can evolve."
Gabrielle Nickas, a professor at Brookdale Community College in Lincroft, N.J. who also is a social media practitioner, says Galinsky's show is also a sign of how Facebook has evolved to become part of the mainstream.
"A show about Facebook allows people from all over -- whether it be New Jersey or Texas -- to share a common space of understanding," she said. "I expect Facebook will inspire other artists as it becomes even more a part of mainstream culture."
Still, for now, doing a stage show based around one's Facebook page sounds crazy. But one emotional health expert sees it as a great way to get the last laugh.
"We want to be the ones to reveal our own issues, but Facebook makes it hard," Miller said. "It's disempowering when you can't control the message.
"This stage show is like Jesse James' new autobiography: It presents the baggage of what's he's faced in the last year but allows him to present his own side," she added. "I do find it interesting that the guy is continuing to keep his profile even as he does the show."
Interesting though it may be, doing the show has acquainted Galinsky with an even greater danger than having his older brothers reveal his bedwetting on Facebook.
"During my show, I ask people, 'If the government told you to change your picture every day and update what you're doing that day, how would you react?' Well, basically, no one likes that idea," he said. "But then I point out, 'What do you think you're doing with Facebook?'"
Support HuffPost
The Stakes Have Never Been Higher
Related
Popular in the Community