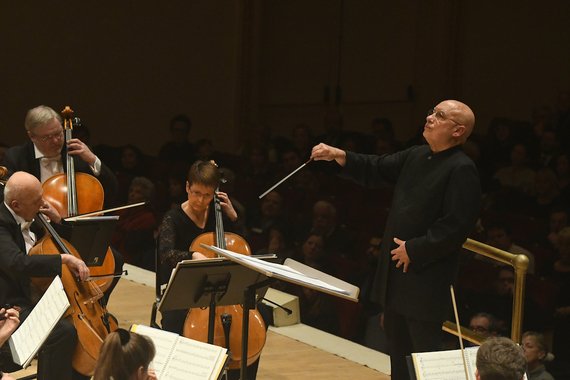 By Christopher Johnson, ZEALnyc Contributing Writer, February 8, 2017
Well, folks, he did it: Philip Glass had his big birthday bash at Carnegie Hall on January 31, and he blew out all eighty candles. Not that there was actual cake--if they'd had a cake big enough to feed a house that size, packed with well-wishers, there wouldn't have been room onstage for the Bruckner Orchester Linz, at full strength and in fine fettle, nor for its chief conductor Dennis Russell Davies, never better and ready to party.
Still, the program was the traditional three-layer affair, comprised of the New York premières of Glass's Days and Nights in Rocinha, his luscious tribute to Rio de Janeiro and its samba school, and Ifé: Three Yorùbá Songs, his collaboration with the great Beninese singer-songwriter and activist Angélique Kidjo, topped off with the world première of his Symphony No. 11. As icing on the cake, Davies and the Bruckner Orchestra delivered performances at once rich and tangy, befitting their hometown cuisine, and Kidjo, in magnificent voice and costume, was a knockout cake-topper.
And here endeth the metaphor.
Seriously, folks, it was quite a show. Days and Nights goes on a bit too long, and stops and starts again a few times too many, but Ifé and the new symphony have tremendous variety coupled with real structural drive, all culminating in thrillingly-prepared Pow! endings that Mahler or Prokofiev would have been happy to claim. And all of this played with rich, solid tone and total commitment by the orchestra, under Davies' visibly inspired leadership. In a recent interview, Glass told us that he had written the Eleventh with the Linz players specifically in mind, and it shows: these are terrific musicians, and in this relationship, both parties are honored.
The big news, of course, is the symphony, which Glass himself marked out as something of a departure. All of his usual fingerprints--the repeating triadic patterns and cycling rhythms--are here, but the melodic material is explicitly lyrical, and longer-limbed than we're used to. The counterpoint Davies found in the piece wasn't strikingly apparent on first hearing, but the richness and originality of Glass's orchestral textures certainly were, and for the most part they were eloquent and often quite gorgeous: the opening of the second movement--a slow, soft, breathless affair, for two harps and muted tuba, that faintly evoked Copland and even Grieg--was a case in point, as were the brass chorales that kept swinging in throughout the movement. (Again, this was magnificently played, with special credit due to tubist Jernej Oberzan.) The outer movements featured Linz's percussion battery--all eight of them, and what a lovely noise they made! Glass told us that he would have to trim back the Schlagwerk for general orchestral use. Let's hope not. If anything, the final movement could stand even more, please, sir, thank you, sir.
Ifé, based on three Yorùbá poems about the creation of the world, was a bit of a puzzlement in the absence of much information about the cast of characters and the underlying belief-system, but it, too had tremendous power, owing as much to Glass's grandly and--dare one suggest?--uncharacteristically rhetorical musical settings as it did to Kidjo's elemental performance. Here, too, there were long-line melodies and meltingly beautiful orchestral effects--the wind-writing and the soft Wagnerian harmonic shifts in the second song, "Yemandja," being the most memorable of many. Best of all, each movement had clear structural markers and a powerful, palpable trajectory, and each was brought to a firm, sometimes emphatic, conclusion. (The same was true of the symphony.) This may not be entirely new in Glass's music, but it is rare--and truly satisfying--to hear it implemented with such poetic conviction, across the board.
Kidjo's performance seemed just a bit careful at first, and Carnegie Hall's sound-system did her no favors, but she was mesmerizing in "Yemandja," with all its lush imagery ("I am covered in pearls and have a majestic breast"), and she blew the place down with the final hymn of praise to the Rainbow Serpent, with its pounding repetitions, in which--to borrow from Glass's program-note--"modernist strategies" finally let loose, let rip, and did exactly what Nature intended "music with repetitive structures" to do.
No matter how you felt about things in general, you just had to smile. It was a real nice party, and we all had a real good time.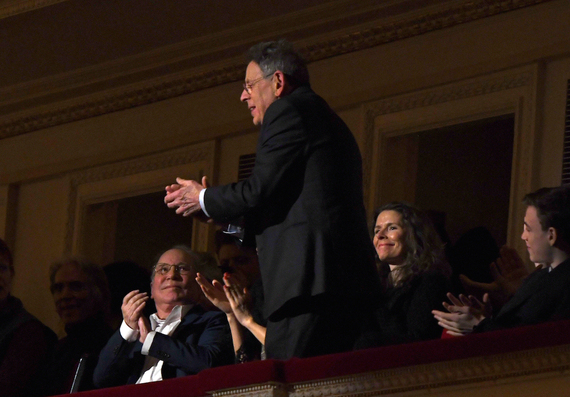 Philip Glass at his 80th Birthday Celebration at Carnegie Hall;
photo: Pete Checchia.
_____________________
In Celebration of Philip Glass's 80th Birthday at Carnegie Hall on January 31, 2017. Bruckner Orchester Linz; Dennis Russell Davies, conductor and music director. Angelique Kidjo, vocals
GLASS Days and Nights in Rocinha (New York première)
GLASS Ifé: Three Yorùbá Songs (New York première)
GLASS Symphony No. 11 (world première)
Cover: Dennis Russell Davies conducting the Bruckner Orchester Linz at Carnegie Hall; photo: Pete Checchia
_____________________
Christopher Johnson writes frequently for ZEALnyc about classical music and related performances.
REAL LIFE. REAL NEWS. REAL VOICES.
Help us tell more of the stories that matter from voices that too often remain unheard.