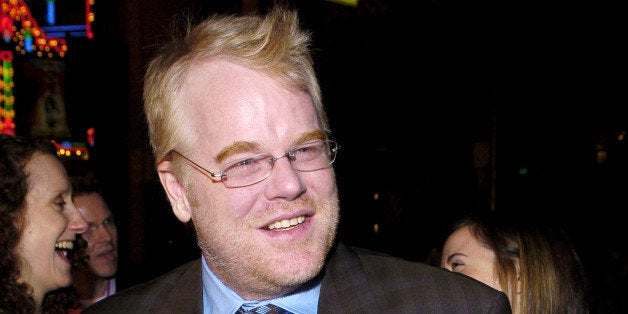 "Along Came Polly" is not a particularly great movie. Using it as an example is probably a dumb way to open up a piece on the death of Philip Seymour Hoffman, of one of the greatest actors of a generation. Hoffman, though, for all of his accolades, never really got a lot of credit for pure physical comedy. He is a delight to watch in that otherwise forgettable movie.
I would often mention Hoffman's performance of Sandy Lyle as almost a contrarian viewpoint to his better roles in "Boogie Nights," "The Master," "Synecdoche, New York" or really any number of movies, because this list could go on for a very long time. I would take this conviction to the point that I swore to others that if I were to ever meet Hoffman, I would admit my love of his performance in "Along Came Polly." We'll get to that.
It's a strange thing to write about a public figure who just died. I honestly don't know why I'm writing this other than that it might make me feel better about the loss of an actor that I admired. It's not as if there aren't other tributes out there. It's not as if Hoffman has somehow being forgotten. An outpouring of love for this man has flooded the Internet. Writers with a much better ability to explain the intricacies of Hoffman's work have done just that. It's a weird dichotomy: I certainly didn't know Hoffman, but that doesn't mean he didn't mean something to me.
Everyone seems to have his or her own entry point into Hoffman's work. There's no true "breakout" role. Yes, a movie like "Boogie Nights" changed things for Hoffman, but it certainly wasn't a role that made him famous overnight. I adored Hoffman's role as Lester Bangs in "Almost Famous," but, at the time, that just made me want to learn more about Bangs.
In 2002, I had a friend who worked at Sony who would send me their Oscar screeners. That year, two of the screeners were Paul Thomas Anderson's "Punch-Drunk Love" and a small film that not many people remember called "Love Liza." (Living in Missouri at the time, neither of these were films that would be playing at the local multiplex.) Hoffman's role in the now-classic "Punch-Drunk Love" is well documented. In "Love Liza" (written by Hoffman's older brother, Gordy) Hoffman plays a man whose wife commits suicide, which causes him to develop an addiction to gas fumes -– and there's a raw, open pit of emotion coming from Hoffman in this movie that seems even sadder now.
Perhaps that's why "Along Came Polly," of all things, stuck out so much for me. That a guy who could be that raw in a film like "Love Liza" could also display this kind of comic gift. Hoffman was a chameleon, yet he had a distinct look. The guy could really do anything.
A group of friends and I were at the Standard Hotel last fall for a festival afterparty when we decided to sneak upstairs to the rooftop bar. When we got up there, standing by himself was Hoffman, apart from all the celebrities and revelers downstairs; he was just hanging out by the balcony, in jeans and a T-shirt, taking pictures of the view with his phone. My companion decided he was going to tell the actor how much he loved 'Along Came Polly,' a somewhat lesser-known Ben Stiller comedy from 2004 that Hoffman co-starred in. We begged him not to bother the guy; brazen from booze, my friend approached him and we all turned around, pretending that we had no idea what was going on.
I'll fill in the rest of the story. "So, I have something I always swore I'd ask you about, but if you're busy, I completely understand," I gingerly said to Hoffman.
Without hesitation, he looked me in the eyes and said, "Walk with me."
"It's funny, you are far from the first person who asks me about 'Along Came Polly' -– there's a lot of funny basketball in that one," Hoffman laughed as he answered. At this point in conversations like this, even as a member of the press, I usually try to do my best to walk away, because the last thing I want to be is a nuisance. But Hoffman didn't seem annoyed by my imposition. He actually seemed like he wanted to hang out. "Who are you here with?" he asked.
I pointed over to my friends, who did their best to pretend like they weren't watching us, "Would you like to meet them?"
Fear can relay the rest from his Rolling Stone piece:
Soon, he'd walked over to where the rest of us were standing and introduced himself. He then hung out and talked with us for a good 20 minutes, telling us LAByrinth stories, asking what we'd thought of the screening, looking at pictures of foreign posters for 'The Master' we had on our phones ("Oh, I love that, I need to get that one!" he said about particularly artsy Polish poster), just shooting the shit. Then he said goodnight, and slowly ambled back to where he'd been standing, all by himself.
I've been thinking about this conversation a lot over the last 24 hours. In that I almost didn't approach him and how I'd be kicking myself now if I hadn't. I do feel fortunate that I got the chance to tell an actor I admired so greatly that I appreciated his work. But that doesn't make me feel better right now. And, I guess not surprisingly, I don't feel better now that I've written this piece. It doesn't change that one of the greatest actors of our generation –- and friend to many and a father of three -– is gone.

Mike Ryan is senior writer for Huffington Post Entertainment. You can contact him directly on Twitter.
Calling all HuffPost superfans!
Sign up for membership to become a founding member and help shape HuffPost's next chapter
BEFORE YOU GO
PHOTO GALLERY
Philip Seymour Hoffman Dead: Greatest Big Screen Performances