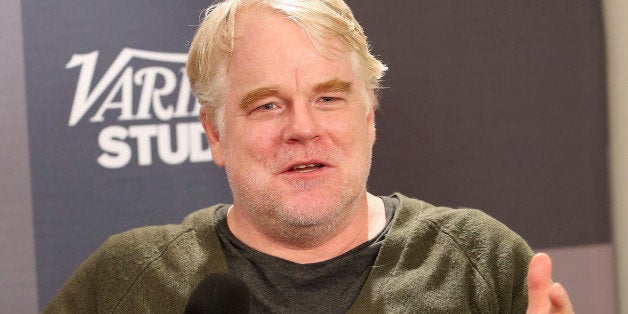 This piece, I originally wrote for NoTofu.com, the online presence of the up-and-coming avant-garde print magazine, NO TOFU. It went live on NoTofu.com this morning. Here it is again, with a few small edits I added. Thank you to those who belong to or are connected to the LAByrinth Theater Company for participating in making this story happen.
If you came up in the New York theater in the 2000s, as I did, and cut your teeth in tiny, but respected off-Broadway houses, like the Rattlestick, the McGinn/Cazale, 2nd Stage, LaMama, you hoped, you prayed, to even approach the outskirts of the orbit of the planet-sized talent of Mr. Philip Seymour Hoffman. Already a disciple of his work, ever since seeing his heartbreakingly perverse, self-loathing performance as "Allen" in Todd Solondz' 1998 black comedy, Happiness, I subsequently attended his every film, to marvel at how he shape-shifted like mercury -- in roles such as Rusty, the dignified transvestite in Joel Schumacher's Flawless (1999) and the effete, amoral Freddie Miles in Anthony Minghella's The Talented Mr. Ripley (1999). I marveled when I realized that it had been Mr. Hoffman who had played the lovelorn P.A., Scotty Jay, in P.T. Anderson's 1997 Boogie Nights and the prep school bully, George Willis, Jr. in 1992's Scent of a Woman. His versatility had made him unrecognizable from film to film. But by the early 2000s, there was no mistaking his face. He was everywhere. 
His performance as the former child actor, Sandy Lyle, in 2004's Along Came Polly remains one of the funniest I have seen. Perhaps his greatest performance (one might almost call it perfect) would come a few years later, in Capote (2005), directed by Bennett Miller, for which he won an Oscar.  
Back in 2003, Robin Kramer, a theater and television producer and sometime LAB production manager, whom I met through our mutual friend, Laura Grulich, ended up taking me to see the opening of the original production of Stephen Adly Guirgis' play, Our Lady of 121st Street at the Union Square Theater. It was put on by a theater company called the LAByrinth (LAB, meaning "Latino Actors' Base," but which included actors of all ethnicities, including Philip Seymour Hoffman). "Phil," as the LAB folks called him, directed the electrifying Our Lady, starring such unmatched stage talents as Ron Cephus Jones, Portia, Russell G. Jones, David Zayas, Liza Colon-Zayas, Felix Solis and Elizabeth Canavan.
As soon as I saw that production, I knew what I wanted to be when I grew up -- a LAB actor. From then on, I became a tag-along, pain-in-the-ass kid to members of the brazen, boisterous, ingenious family that was and is the LAByrinth. I went on to have the great honor of working with many of the actors and writers who emerged from the LAB and, to this day, consider them friends and mentors. I had a near-miss when I almost got to work with "Phil" on a play by David Folwell, called Boise, but a film commitment prevented him from being able to join us at the itty-bitty theater with the cramped, co-ed dressing room. Otherwise, he would have been there. That's what he was like, down to perform anywhere at anytime, as long as he could do the work he wanted to do with the people he wanted to work with.  I remember hearing that he and a woman named Mimi, the LAB costume designer, were having their first child. I remember hearing that he had been sober for years.
Although I never got to work with him, I did meet him a handful of times and found him to be humble, regular, generous, funny and kind of shy.  I never knew that he had relapsed. But I never knew him. In the words of those who did, his LAB familia, he was:
"Intense and committed. Surprisingly funny." - Joselin Athanasios (née Reyes), actress
"Never a false note." - Robin Kramer, production manager
"A keen observer of people and behavior, passionate about truth (especially in acting), a fan of authors J.D. Salinger and Willa Cather, and he developed a love and appreciation for Judy Garland because of his mother's love for [her]." - Vanessa Aspillaga, actress
"He was vital to me, instrumental in making me into a real writer and a real human being. He saved my life. He showed me that a good and useful life was possible, and all I had to do was forget myself. He loved me until I learned how to love myself and I just wish he could have shown himself the same kindness that he so selflessly and relentlessly showed to others." - Andrea Ciannavei, writer and actress
"As a friend and as a director he pushed me beyond what I thought I was capable of . . . and then he pushed me some more. My capacity to love is greater and now my ability to experience heartbreak has reached new heights." - Portia, actress
"Of course, what it means to me pales in comparison to what it means to Cooper, Willa, Tallulah, Mimi and the rest of the surviving family . . .When I think of Phil I think of how tenacious he was as a director. Doggedly seeking the center of each character, each scene, each beat and most impressively each actor, so he could enable those journeys into the center. He was very clear about his boundaries and at the same time eager to challenge yours. I've known him since 1995. He and I joined the company the same year, but I actually know very little about his personal life, because he guarded it so." - Russell G. Jones, actor
"He was a man of inspired wisdom . . . It has been a crushing blow." - Gary Perez, actor, director, co-founder of the LAB (with John Ortiz)
From the rest of the LAB, silence. Their Facebook profile pictures speak loudly enough, showing just blackness.
Calling all HuffPost superfans!
Sign up for membership to become a founding member and help shape HuffPost's next chapter