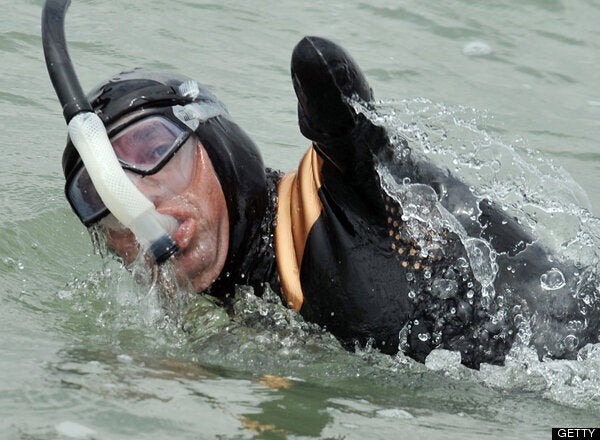 PARIS (AP)— A Frenchman whose arms and legs were amputated is attempting to swim across the English Channel using leg prostheses that have flippers attached.
Philippe Croizon's father said his son is making better-than-expected time in favorable wind conditions – and three dolphins even swam alongside him for a time.
"We took that as a sign of good luck," Gerard Croizon told The Associated Press on Saturday.
Philippe Croizon, 42, set off from Folkestone on the British side of the English Channel and is expected to reach the French coastline early Sunday, after a journey that might take up to 24 hours.
Croizon's specially designed leg protheses, which end in flippers, allow him to propel himself through the water. His truncated upper arms go through the motions of the crawl, and he breathes through a snorkel.
The swimmer lost his arms and legs after being electrocuted in 1994 as he stood on a ladder adjusting his television antenna, which touched a power line.
Croizon made headlines in 2007 for parachuting from an airplane. He wrote a book about his experiences called "J'ai decide de vivre" (I decided to live.)
WATCH: Croizon swims wearing specialized prosthetics
Related
Popular in the Community