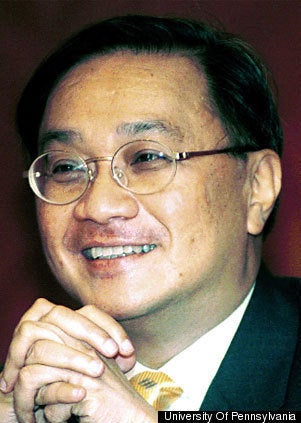 Manuel V. Pangilinan, one of the Philippines' most prominent businessmen, has resigned from the board of Ateneo de Manila University after it was revealed that he plagiarized the bulk of the remarks he gave at the school's graduation last weekend.
Pangilinan's plagiarism reached far and wide -- he lifted from previous speeches by Barack Obama, J.K. Rowling, Conan O'Brien and Oprah Winfrey. According to the Philippine Daily Enquirer, he even plagiarized a joke about losing weight from Rowling.
In a letter, Pangilinan apologized to the university for the flap. He wrote:

"I have had some help in drafting my remarks, but I take full responsibility for them," he said, without specifying the nature of the help he received in writing the speech or the person who drafted it.

"In mitigation perhaps, the body and substance of my speech represented my own story and my thoughts. And I have labored long hours to get those speeches done," Pangilinan added.
He continued: "I am afraid the damage has been done - wala talaga akong mukhang ihaharap pagkatapos (I can't face anybody after this)."
Among the speeches Pangilinan lifted from is Conan O'Brien's infamous address to the class of 2000. A comparison of what each said:
Now, I cannot tell you that failure is fun. Periods of failure in my life were dark ones. I've had a lot of success. But I've had a lot of failures. I've looked good. I've looked bad. I've been praised and criticized. And it hurt like hell. But my mistakes have been necessary.
I've had a lot of success and I've had a lot of failure. I've looked good and I've looked bad. I've been praised and I've been criticized. But my mistakes have been necessary. Except for Wilson's House of Suede and Leather. That was just stupid.
See the full text of the speech -- with plagiarized passages noted -- here.