In the United States, the Filipino American community celebrates Philippine Indpendence Day with all the flourish of an immigrant community proud of its roots and eager to share them in its adopted home. This June 12 marks the 118th anniversary of the day that Andres Bonifacio and fellow revolutionaries declared the Philippines to be independent from Spain. The idea of celebrating Philippine independence in the United States has some degree of irony, given the Treaty of Paris signed later that year where Spain ceded the Philippines, along with Guam and Puerto Rico, to the United States, resulting in the Philippine American War and the beginning of America's first experiment in colonialism.
Despite this history, or in many ways, because of it, there is a strong tradition of loyalty to the United States for many Filipinos. When President Franklin D. Roosevelt raised the call on July 26, 1941 creating the United States Army Forces of the Far East, more than 250,000 Filipinos ultimately served under U.S. command, standing shoulder to shoulder with Americans in World War II.
The 1946 Rescission Act that revoked their status as U.S. veterans after the war also prevented them from getting citizenship. Their decades long struggle for equal treatment and the discrimination they faced got its first victory on the immigration front in 1990, when they were able to become U.S. citizens. The struggles they have faced since on their journey to equal treatment received an important victory this week when the U.S. Citizenship and Immigration Services (USCIS) launched their Filipino WWII Veterans Parole (FWVP) Program that will allow eligible veterans and their families to be reunited with their children in the Philippines. To mark the occasion, Senators Harry Reid (D-NV), Mazie Hirono (D-HI) and Tim Kaine held a press conference with USCIS, advocates for the community, and veterans Mr. Celestino Almeda and Mr. Rudy Panaglima. Mr. Panaglima spoke with excitement about the prospect of reuniting with his two sons after decades apart.
As an Executive Committee Member of the Filipino Veterans Recogniton and Education Project, I'm proud that one of the advocates who joined Mr. Panaglima was FilVetREP chair Maj. Gen. Tony Taguba (Ret.). Invoking the memory of his father, a veteran and Bataan Death March survivor, General Taguba thanked the policymakers for their work on the FWVP program. He thanked Senator Hirono for her support of the Filipino WWII veterans through other legislation, including the Congressional Gold Medal Act of 2015. As I've written elsewhere, this legislation will provide a Congressional Gold Medal for these veterans, and in a polarized political climate where other legislation for our veterans remains stalled, this bicameral bipartisan legislation may realistically be the last victory we can win for them. Chris Kang from the National Council of Asian Pacific Americans did not mince words and called on the Senators in the room, their colleagues, and members of the House of Representatives to pass this bill so that the legacy of soldiers like Mr. Panaglima and Mr. Almeda will remain a part of the fuller American story.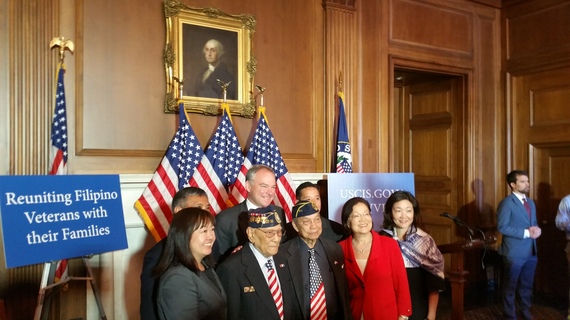 Caption: Back Row (L-R)- Maj. Gen. Tony Taguba, Senator Tim Kaine (D-VA), Chris Kang; Front Row (L-R)- Marita Etcubanez, Mr. Celestino Almeda, Mr. Rudy Panaglima, Senator Mazie Hirono (D-HI), USCIS Chief of Staff Juliet Choi
As we remember our history on Philippine Independence Day, and as we celebrate the victory that will allow Mr. Panaglima the chance to reunite with his children, we fight for the Congressional Gold Medal that will recognize these veterans and their contributions to our country. I hope you can join us by signing our petition online, learning more on our website at wwwf.filvetsrecognition.org, and following us on Facebook or Twitter.
Ben de Guzman is on the Executive Committee of the Filipino Veterans Recognition and Education Project. The proud son of Filipino immigrants and proud brother of a civil engineer in the U.S. Navy, he is celebrating Philippine Independence Day by fighting for Recognition for the Filipino WWII veterans that made his family's American story possible.

Popular in the Community