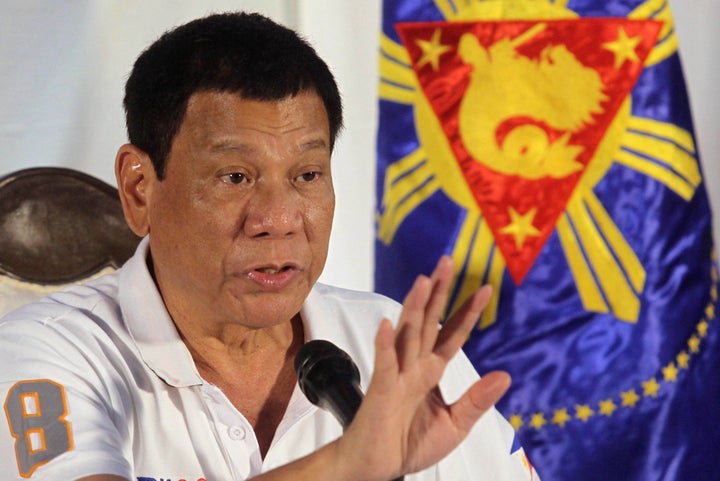 Faced with growing international criticism for an anti-drug war that has already killed over 1,700 in just seven weeks, Phillippines President Rodrigo Duterte lashed out at America and the United Nations for criticizing human rights abuses while ignoring the violence in their backyards.
Referring to the string of law enforcement killings of unarmed African-American males in the U.S., Duterte asked, "Why are you Americans shooting black people? Shooting them when they are already on the ground. Answer that question, because even if it's just one or two or three, it is still human rights violations."
Duterte's remarks came at a press conference that began shortly after midnight and did not end until early the next morning.
Duterte also told journalists he was thinking about pulling out of the UN, whose human rights experts criticized the Philippine's crackdown on illegal drugs. The illicit drugs have led to the arrests of over 4,300 persons since Duterte took office on June 30.
"What have you done for the world, Mr. United Nations?"
Referring to Omran Daqneesh, the bloodied five-year-old who was pictured after an airstrike his home, Duterte said, "Look at the iconic child that was snatched from the refuge. Why isn't America not doing something? I do not understand you."
Duterte campaigned on a get-tough-on-crime platform and stressed the point in his inaugural address by inviting vigilantes and Maoist insurgents to butcher presumed drug dealers.
The tough-talking former mayor of a town in the southern Philippines, Duterte's approval ratings are still high despite expert testimony that as many as 800 of the Filipinos killed on his watch had to connection to the drug trade.
Observers have pointed out that many of those killed were shot execution style. A recent report by the Philippine Human Rights Commission told of a man and his son whose limbs were broken before they were shot and killed.
Duterte acknowledged the violence. "I admit many are dying but now we have momentum," he said.
Questioned about the potential consequences of his statements, Duterte said, "I don't give a shit about them. They are the ones intervening."
Jerry Nelson is an American freelance writer and photographer. Living in Buenos Aires, Jerry covers social justice issues globally. Email him at jandrewnelson2@gmail.com and join the million or so who follow him on Twitter @ Journey_America
Calling all HuffPost superfans!
Sign up for membership to become a founding member and help shape HuffPost's next chapter
BEFORE YOU GO