The Global Landscape As of January 2015, Internet penetration around the world has reached a 21% growth from the previous year and now totaling an astounding 42% penetration for both fixed and mobile connections. That's 3 billion active Internet users, 2.1 Billion of which with active social media accounts from a 7.2 billion total population.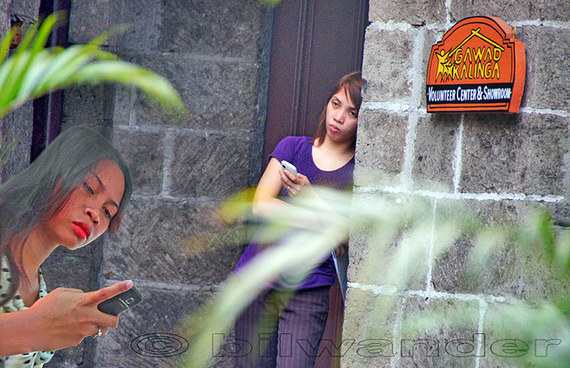 Image Credit | Flickr: basil
What this data only tells us is that, we are coming quite close globally to a fully represented online world but there is still much room for growth. When we study digital lifestyles, we have to have a good understanding of offline and online behavior and the correlation of both.
Philippines' Digital Snapshot PHILIPPINES - According to the Asia Digital Marketing Association (ADMA) and the Internet World statistics, there are over a billion Internet users in the AsiaPacific region, which amounts to over 46% of the total Internet users in the world.
The Philippines, specifically has over 44.2 million users, the second highest ranking in Southeast Asia and the 6 th in the whole of Asia. The population is forecasted to double by 2016, according to Julian Persaud, former Google Managing Director in Southeast Asia.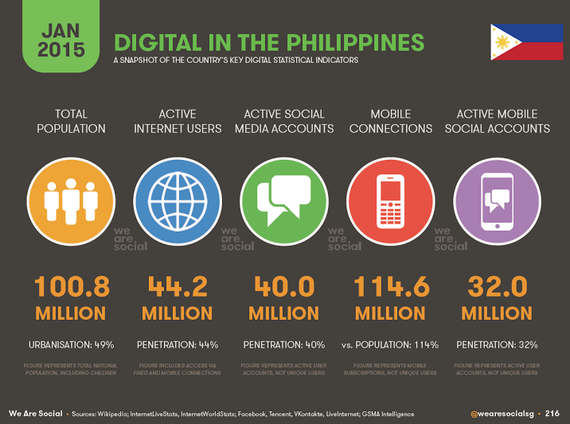 Source: WeAreSocial
The January 2015 "Digital In the Philippines" snapshot of We Are Social counts that among the total Philippine population of 100.8 million (with urbanization at 49%), there are 44.2 million active Internet users. Of these 44.2 million Internet users, 90% have active social media accounts.
In the last four years, Internet access in the Philippines has grown by 500%, the fastest rate in Southeast Asia, but as mentioned in previously, real growth is yet to come but it's coming by fast.
Leading in numbers While we're yet to see the majority of the Philippine population online, enough data supports how addicted the Philippines is to the digital life. According to We Are Social's Digital Report as of January 2015, the Philippines leads in average "Time Spent on the Internet" through laptop and desktop, and one of the highest via mobile worldwide.
From a global average of 4.4 hours/day, the Filipino spends an average of 6.3 hours/day online via laptop and 3.3 hours/day via mobile.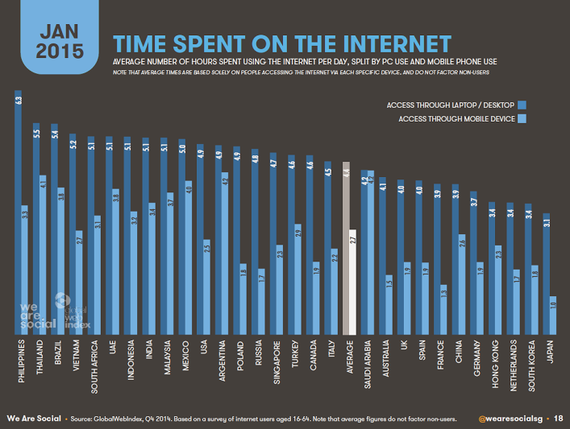 Source: WeAreSocial SG
Over 40% of Filipinos own an active social media account, according to the same study. This is larger than that of most technologically advanced countries like South Korea and Japan, whose social media penetration amounts to 30% and 19% respectively.
Capturing social media and smartphone penetration The Philippines was once called the "Selfie Capital of the World" as analyzed by TIME through geographic coordinates with 258 selfietakers per 100,000 people on Instagram.
Apart from the photo app, the country also leads in social media penetration particularly on Facebook with over 94% of its Internet users using the popular social network, 40% more than users the United States. The Philippines also records the highest figure of total screen time spent in social networking with an astounding 42%.
In a survey conducted by On Device Research mid June 2014, smartphone penetration in the Philippines is growing faster than Indonesia and Vietnam combined. What drives the growth of smartphone penetration is the influx of low priced local smartphone brands such as the Android powered Cherry Mobile, Starmobile, and myPhone, all priced in the $50-$250 range.
Similarly, Asian phone brands Huawei, Oppo, and Xiaomi have also landed in the Philippines in an aggressive effort to earn double digit market share by the end of the year.
Correlation to the thriving economy and the young population The strong digital lifestyle of the Filipinos is testament also to the equally strong economy of the country. Despite suffering the worst natural disasters ever recorded, GDP growth rates continue to be in its favor. As the country is cited as "Southeast Asia's Strong Man" and with a 33% annual growth in number of active mobile social accounts, it is good to see whether the Philippines is fit to for the title "Digital Lifestyle Capital of the World".
In a report done in 2014 by Tigercub Digital titled "The Perfect Digital Storm: Philippines", the boost in digital today owes much of its intensity to the "perfect digital storm of increased digital engagement, strong economic growth, and favorable (young and dynamic) demographics". [2]
Local brands that drive the digital lifestyle Mobile operators along with local mobile phone brands drive smartphone and mobile Internet penetration in the Philippines. Globe Telecom, the leading network for smartphones covering data traffic of 87,000 terabytes with an increase of 270% year on year (compared to its main competitor, PLDT Group 48,000 terabytes of data with 167% growth) has strongly influenced the digital lifestyle of Filipinos.
With 58% revenue market share, Globe leads the Philippines' postpaid business. Recently, it has recalibrated its postpaid acquisition strategy to suit and help further drive the country's digital lifestyle. With the introduction of its new myLifestyle Plan, Globe automatically throws in what used to be its core services, the regular calls and texts, as a basic unlimited service for about $14, then gives its Filipino users one the option of various data allocations and "lifestyle bundles".
The digital lifestyle bundles enable more Filipinos to have access to the then paid content and apps such as Spotify, HOOQ, and NBA as add on offers in postpaid plans, whichis quite an innovative strategy we are yet to see in other countries.Subscription to these bundles give unlimited access to the apps mentioned, helping Filipinos not worry about the consumption of their data allocations for services they use on a regular basis and focus more on adding to the growing social media data created in the country.
Defining the Digital Lifestyle The digital lifestyle is an extension of the way we live today. It is one's reality powered by apps, sites, and gadgets that compliment one's physical lifestyle. According to a study done by Aol., BBDO, Insights Now in 2012 titled "Hidden Motivations of Mobile Users", the industry takes a too superficial view of mobile behavior based on the discrete thing they do with their smart phones. These 7 "mobile moments" is a unique snapshot of the mobile usage landscape: accomplish, socialize, prepare, me time, discover, shop, self expression.
While we may easily be able to identify apps and categorize them among the 7 moments, the study also finds that a certain app/site can also fulfill different needs and fall under different moments. This means that it is not in the most obvious purpose of a frequently visited app or site in which one would be able define a digital lifestyle or behavior.
For example, just because one would frequent shopping app Zalora, or locally as Lazada, does not make one an online shopping aficionado outright. He or she may simply be browsing, looking for clothing inspiration, or ideas for an outfit to buy in store later on, or he or she may simply be passing time. Therefore, the digital lifestyle is not simply defined by types of apps they download or the sites they visit but the intent.
Digital Behaviors: Content Creators, Contributors/Curators, and Consumers What is the intent of a user to go online? With content as the online currency, individuals can create, share, curate and collaborate on content. Although while all netizens can create, collaborate, and consume, there is one behavior they greatly identify with. This behavior defines our digital lifestyle.
The 1% Rule In 2006, a feature was published on the emerging rule of thumb in the Internet with regards to digital behavior. This rule of thumb suggest that for every 100 people online, 1 will create content, 10 will interact (or in this case curate or contribute), and the other 89 will simply consume or view it. This is the trend that has also been noted by various online platforms such as Wikipedia, YouTube, TypePad, and Yahoo. [3]
The Journal of Medical Internet Research released an original publication as well in 2014 on the "1% Rule in Four Digital Health Social Networks" which defines this 1% rule and seeks to explain the participatory patterns and network effects within the Internet. [4]
Content Creators: The Architects of the Internet As creators are, they make the Internet what it is. Whether they're app developers, fashion bloggers, YouTube personalities, meme makers, and so on, the Creators favorite word is "upload.
Content Curators/Contributors: The Online Gatekeepers and Editors Actively sharing, engaging, collaborating on content, the curators and contributors tread the complex and chaotic online world and clean and collect to their taste.
Content Consumers: The Digital Clienteles Some have branded these individuals as lurkers or spectators, merely viewing, reading, and basically consuming and enjoying the content that was laid out for them. However, this does not mean that they use the least amount of data or spend the least amount of time online. These consumers thrive on new information, data, and content and love the download.
With a great understanding of the digital behaviors and local brands to drive the "always on" lifestyle plus the dynamic demographic and the status of 2nd best performing economy in Asia next to China as backbone, the numbers in Philippine digital statistics will only continue to surprise and yes, could just be the "Digital Lifestyle Capital of the World".
References used in this article are: 1. Digital, Social, and Mobile in 2015: We Are Social's Compendium of Global Digital Statistics by Simon Kemp, We Are Social SG, January 2015 2. Southeast Asia's "Perfect Digital Storm" sparks growth in the Philippines by TigerCub Digital, February 2014 3. What is the 1% rule? by Charles Arthur, The Guardian, Thursday 20 July 2006, section 2 4. The 1% Rule in Four Digital Health Social Networks by van Mierlo, T., J Med Internet Research, 2014
REAL LIFE. REAL NEWS. REAL VOICES.
Help us tell more of the stories that matter from voices that too often remain unheard.