Warning: This article contains graphic images of recent killings in the Philippines.
Photographer Raffy Lerma was only a few minutes into the overnight shift for the Philippine Daily Inquirer when he received word that three bodies had been found on the streets of Manila. Out he went to capture the image. Then there was a drug bust, and a few hours later an extrajudicial killing. It was his first night back on the shift, and he was shocked by the rate the calls were coming in.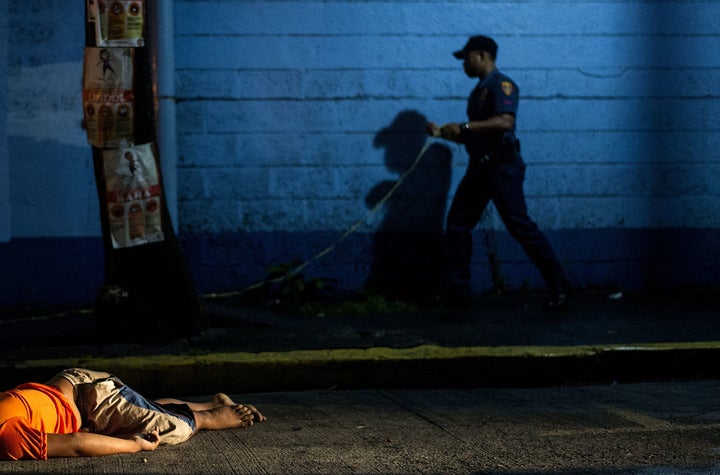 Lerma, 38, has been a photojournalist for 15 years and worked at the Philippine Daily Inquirer for the last 10. In a career that has seen deadly natural disasters, multiple crime scenes and a 2007 stint in Manila working the same 9 p.m. to 5 a.m. shift, the past few months have been uniquely difficult.
"In one month, I've seen more killings than in one year," Lerma told The WorldPost.
Lerma returned to the night shift during the second week of July, just as Philippine President Rodrigo Duterte's drug war was ramping up. Since Duterte took office on June 30, police and armed vigilante groups have killed at least 2,400 people in the Philippines. According to authorities, most of the dead were alleged drug dealers or users, targeted in an attempt to quell crime and the spread of methamphetamine.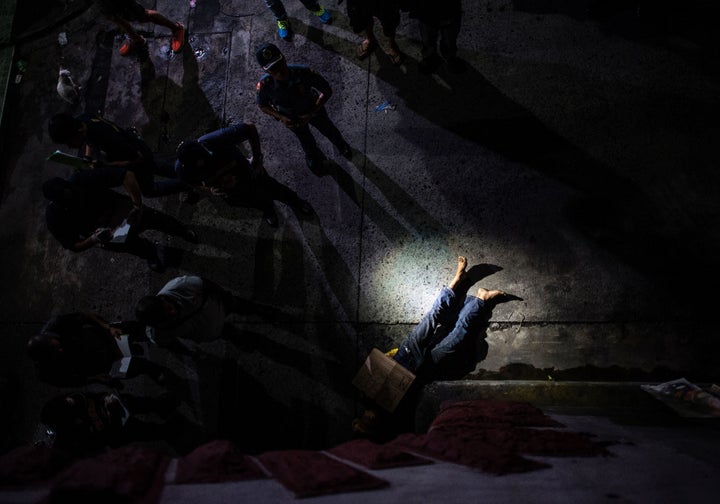 Philippine photojournalists have been working long hours to cover the surge in extrajudicial killings. In the capital of Manila, they gather each night in a press office at police headquarters to wait for news, sometimes traveling in a pack to the scene. Their pictures have exposed the brutal reality of Duterte's crackdown to the public eye and provided evidence for human rights groups that condemn the rising violence.
Photos of the bodies left in the street, sometimes with makeshift cardboard signs nearby labeling them "pushers" or "addicts," have made headlines around the world. Some of the victims have their limbs bound and tape wrapped around their faces.
The nation's jails have swelled far beyond capacity in recent months as hundreds of thousands have turned themselves in — mostly out of fear, police say. Most who surrendered were quickly released, but photos from Quezon City prison outside Manila show tightly packed rows of inmates lying on the floors. Inmates there have to take turns sleeping due to lack of space, according to a report from Human Rights Watch.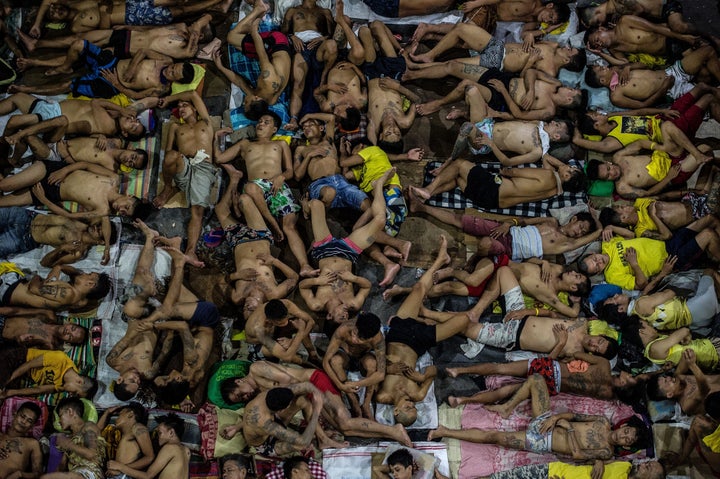 One of Lerma's photos seems to sum up the horror of extrajudicial killings. The July 23 image shows Jennilyn Olayres cradling the body of her husband, Michael Siaron, after unknown assailants shot him to death in the Manila streets.
Olayres was distraught and screaming for help as a crowd gathered around the police tape, according to Lerma and Agence France-Presse photographer Noel Celis, who was also at the scene. A sign calling Siaron a "drug pusher" was left next to his body, but Olayres has since said he was only a rickshaw driver and he even voted for Duterte.
Lerma's photo was featured on the front page of the Philippine Daily Inquirer and was soon dubbed "la Pieta" in the local media for its resemblance to Michelangelo's sculpture of the Virgin Mary holding Jesus' body. Duterte specifically addressed the photo in his first State of the Nation speech, dismissing it as overly dramatic.
A Pulse Asia poll in late July put the president's approval rating at 91 percent, suggesting that many Filipinos supported his harsh policies ― at least at that point. Duterte has faced increased scrutiny from politicians and the media in recent weeks, including a Philippine Senate inquiry into the killings in late August, but he has responded by defending his drug war and lashing out at critics.
During the presidential campaign, Duterte appealed to voters as a leader who would bring order to the Philippines after crime had reportedly doubled in the last five years. A 2012 United Nations study found the country had the highest rate of meth use in East Asia.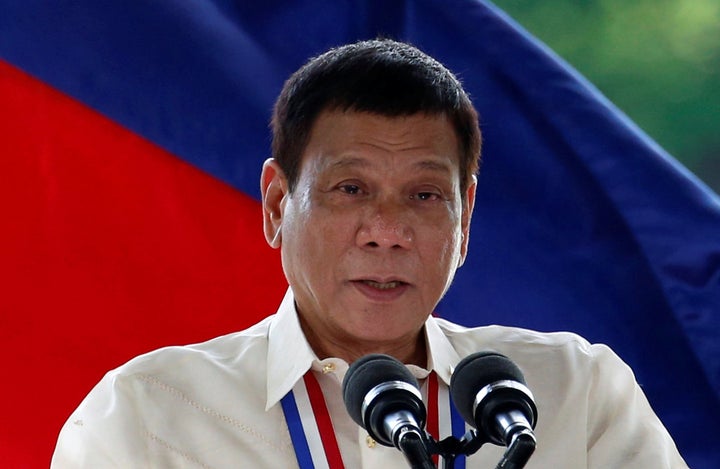 As mayor of Davao City for most of the last three decades, Duterte earned the nickname "the Punisher" for his tough-on-crime efforts. He also became a frequent target of human rights groups for encouraging vigilante death squads to eliminate alleged criminals.
Duterte's law enforcement policies from Davao are now being applied to the Philippines as a whole, leading to the huge rise in police and vigilante killings.
For Lerma and other photojournalists in metro Manila, that means tough, draining nights rushing to document the deaths. Some freelancers are working seven days a week to cover the lost lives.
Lerma can't get to all the killings he hears about, he said, because they're simply too numerous and widespread. But he believes the photos are necessary to show people what is really happening each night in the Philippines.
"We have to do our job and document," Lerma said. "It's a part of history. A dark history maybe for the Philippines, but we have to do our job."
Sign up for the HuffPost Must Reads newsletter. Each Sunday, we will bring you the best original reporting, longform writing and breaking news from the Huffington Post and around the web, plus behind-the-scenes looks at how it's all made. Click here to sign up!
Related
Popular in the Community