Human rights groups are calling on Philippines President Rodrigo Duterte to retract his threat this week to bomb indigenous-run schools because he fears they are turning students against the government.
"I will use the armed forces, the Philippine Air Force. I'll really have those [schools] bombed … because you are operating illegally and you are teaching the children to rebel against government," Duterte said in a press conference after his second State of the Nation address on Monday. 
The Philippines has been fighting a Communist rebellion in the country's south for nearly 50 years. Duterte amped up the rhetoric surrounding the conflict this week with his accusation that indigenous-run schools in the region are supporting rebel groups and "teaching subversion." 
Meanwhile, the Philippines military is attempting to quell an Islamist insurgency on the southern island of Mindanao, where Duterte declared martial law in May.
Rights groups say they are concerned that Duterte's rhetoric may give tacit approval to the military to abuse civilians. 
"By calling for an attack on schools, Duterte is directing the military to commit war crimes," Human Rights Watch researcher Carlos H. Conde wrote on Tuesday. "Duterte should publicly retract his threat of violence against tribal schools before the military acts on them."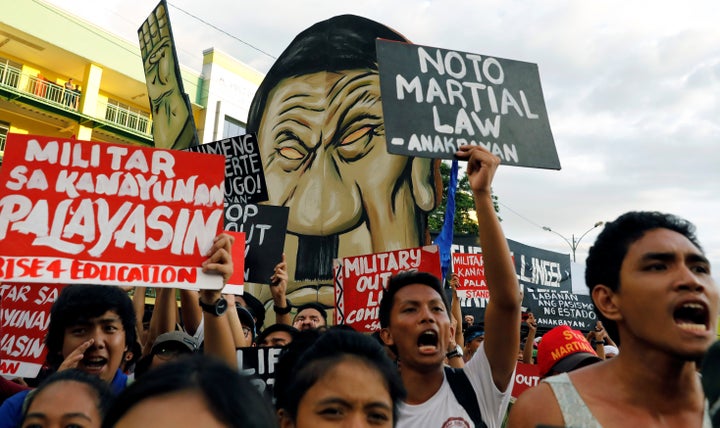 Members of the indigenous Lumad community have claimed that military and paramilitary groups have targeted their schools in Mindanao since martial law was declared, threatening harm to staff members and forcing at least two dozen to close. 
Duterte is notorious for inflammatory statements and threats. Many are written off as bluster, but some have become policy. A campaign promise to carry out a violent campaign against drug dealers and users, for instance, has come to fruition ― resulting in at least 7,000 people killed in a brutal "drug war" since Duterte took office.
Rights groups have repeatedly taken issue with Duterte's statements threatening abuses or condoning atrocities. In May, Duterte joked that soldiers fighting the Islamist insurgency in Mindanao could commit rape with impunity. He has publicly made rape jokes in the past, and has encouraged extrajudicial killings. This week, he reaffirmed his commitment to the "drug war."
"The fight will be unremitting as it will be unrelenting despite international and local pressure," Duterte said in his Monday address.
Calling all HuffPost superfans!
Sign up for membership to become a founding member and help shape HuffPost's next chapter