Updated: Nov. 12, 2013 at 2 p.m. EST
Typhoon Haiyan slammed into six central Philippine islands Friday, decimating buildings and homes and claiming lives.
One of the most powerful typhoons ever recorded, Haiyan (Yolanda in the Philippines) has caused thousands of fatalities, according to local officials.
Haiyan was the second category 5 typhoon to strike the Philippines this year.
The organizations below are mobilizing and deploying major disaster relief efforts. See how you can lend support, and check back for further updates.
The UN's hunger-fighting organization has allocated an immediate $2 million for Haiyan relief, with a greater appeal pending as needs become apparent. The UN organization is sending 40 metric tons of fortified biscuits in the immediate aftermath, as well as working with the government to restore emergency telecommunications in the area. Americans can text the word AID to 27722 to donate $10 or give online. Learn more here.

Red Cross
The humanitarian and disaster relief organization has sent emergency responders and volunteers to provide meals and relief items. Already, thousands of hot meals have been provided to survivors. Red Cross volunteers and staff also helped deliver preliminary emergency warnings and safety tips. Give by donating online or mailing a check to your local American Red Cross chapter. Learn more here.

The Philippine Red Cross has mobilized its 100 local outposts to help with relief efforts. Learn more here.

AmeriCares
The emergency response and global health organization is sending medical aid for 20,000 survivors, including antibiotics, wound care supplies and pain relievers. AmeriCares is also giving funds to local organizations to purchase supplies. Learn more here.

World Vision
The Christian humanitarian organization that specifically supports families living in poverty is providing food, water and hygiene kits at the evacuation centers. World Vision was also still actively responding to last month's earthquake in Bohol, which fortunately was not struck by the eye of the storm. Learn more here.

ShelterBox
ShelterBox, an emergency relief organization, provides families with a survival kit that includes a tent and other essential items while they are displaced or homeless. Learn more here.

UNICEF
Anticipating that children will likely be among the worst affected by the typhoon, UNICEF is working on getting essential medicines, nutrition supplies, safe water and hygiene supplies to children and families in the area. Learn more here.

Salvation Army
The Christian hunger and poverty-fighting organization is allocating 100 percent of all disaster donations for relief efforts "to immediately meet the specific needs of disaster survivors." Text TYPHOON to 80888 to Donate $10 or give online. Learn more here.

Save The Children
The organization, which prioritizes kids' needs, has sent relief kits for children and families, including household cleaning items, temporary school tents and learning materials. Learn more here.

Doctors Without Borders
The international medical humanitarian organization is sending 200 tons of medical and relief items, including vaccines, tents and hygiene kits. Learn more here.

Operation USA
The Los Angeles-based nonprofit is sending much-needed water purification supplies to victims and seeking corporate partners to help with delivery. Donate $10 by texting AID to 50555 or give online. Learn more here.

American Jewish Joint Distribution Committee
The humanitarian assistance organization, which fights global poverty in 70 different countries, is sending disaster and relief development experts to aid in recovery. The organization is also empowering local partners in their efforts. Learn more here.

The Lutheran World Relief
LWR, which fights poverty by improving global health and ensuring basic human rights are met, is working with local partners to provide water, shelter, financial resources and recovery efforts. LWR is appealing for $2.5 million for its typhoon relief fund. Learn more here.

Catholic Relief Services
CRS will provide shelter, water, toilets and more. The charitable arm aims to provide temporary housing for 32,000 families in three areas. Learn more here.

Team Rubicon
The nonprofit, which galvanizes first responders and veterans to help in times of crises, has sent a group of specialists to aid in search-and rescue, medical triage and medical relief. A second team will be deployed Nov. 12 to create a supply chain for field work. Learn more here.

International Medical Corps
The emergency response team is providing infection control, clean water and food to families in the hardest hit areas. Learn more here.

The International Rescue Committee
The organization, which specializes in humanitarian crises, is sending a relief team to help provide water and sanitation systems. Learn more here.

Action Against Hunger
The international poverty-fighting nonprofit, which provides sustainable global food and water solutions, is distributing drinking water, buckets, soap and chlorine tablets. It's also providing sanitation equipment to help prevent waterborne diseases. Learn more here.
Support HuffPost
The Stakes Have Never Been Higher
Related
Before You Go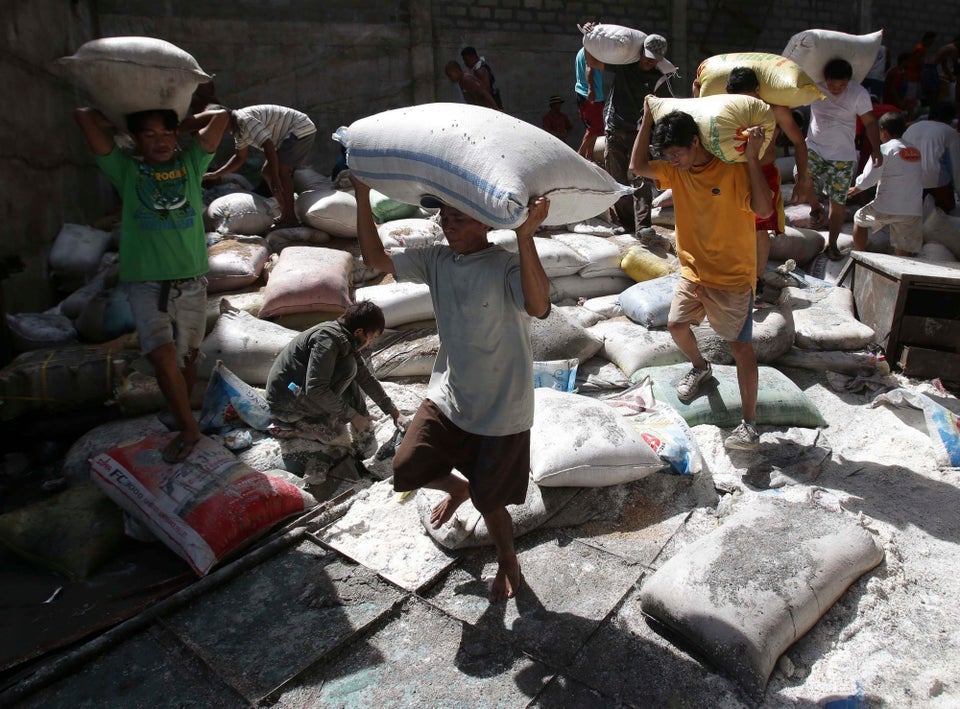 Typhoon Haiyan
Popular in the Community