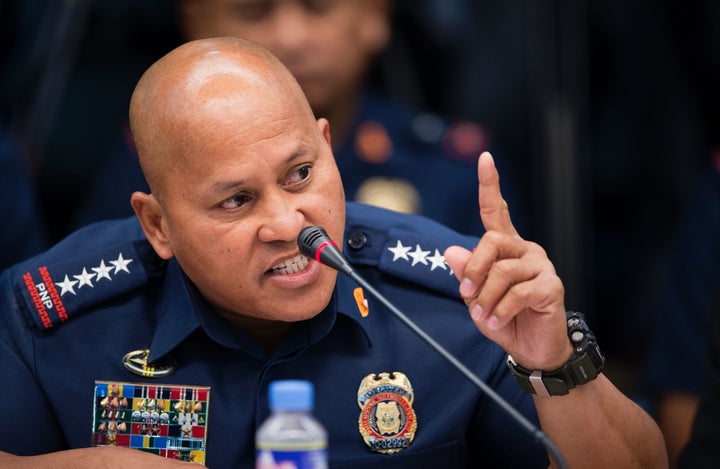 The Philippine National Police has suspended criminal raids and dismantled all police narcotics units after officers used the nation's drug crackdown as cover to kidnap and kill a businessman from South Korea, the head of the police announced Monday.
"We will cleanse our ranks ... then maybe after that, we can resume our war on drugs," police Chief Ronald dela Rosa said, according to Al Jazeera.
The crackdown on police in the country came after officers kidnapped the businessman in October under the pretense of a drug raid. The man was then killed at the national police headquarters, according to The New York Times, and officers extorted ransom money from his family by saying he was alive.
Dela Rosa estimated that about 40 percent of officers are corrupt and as "lousy as drug lords," Reuters reported.
More than 7,000 people have died at the hands of police and others in extrajudicial killings since President Rodrigo Duterte took office last summer and announced a renewed focus on halting drug dealers and users. The irony of the no-holds-barred war on drugs is that it turned enforcers into criminals at least as bad as the people they aimed to punish.
"You policemen involved in syndicates, let's see what happens now. Fight back so you'll end up dead," Dela Rosa said. "You will be killed by this counterintelligence task force."
Most of the drug eradication work will now shift to the Philippine Drug Enforcement Agency, which has a much smaller staff.
"This is a momentary victory on your part," Dela Rosa said, referring to drug kingpins. "Go ahead and enjoy, but there is always a time for reckoning."
The rogue cops are proof of a breakdown of the rule of law under Duterte, wrote Phelim Kine, Asian deputy director of Human Rights Watch, on the organization's website. "Philippine police have good reason to believe that they can literally get away with murder," Kine added.
Duterte surged to power on the promise that he would rid the nation of drug dealers by killing them and dumping their bodies into Manila Bay.
Even Duterte has admitted that the police force is "corrupt to the core." Still, he said he doesn't plan to abandon his war on drug dealers.
Popular in the Community