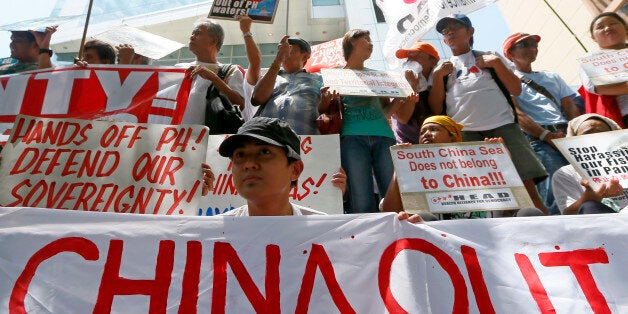 MANILA, Philippines -- The Philippines just scored a historic legal victory against China in the South China Sea. The much-anticipated decision came more than three years after the Southeast Asian country filed for compulsory arbitration, under Article 287, Annex VII of the United Nations on the Convention on the Law of the Sea (UNCLOS), against China, which boycotted the whole proceedings and has refused to acknowledge its jurisdiction.
Most experts foresaw a favorable verdict for the Philippines, but few expected it to be such a clean sweep. The Philippines won on almost all of its arguments against China, which has bitterly dismissed the verdict as 'null and void'. The arbitration outcome marks a significant setback for China, which seeks leadership and respect in the region and beyond.
It also provides the new Filipino President Rodrigo Duterte a crucial bargaining chip as Manila seeks to re-open long-frozen diplomatic channels with Beijing, prevent military conflict, and revive previously robust investment relations between the two estranged neighbors.
For years, China has sought to procedurally undermine the Philippines' arbitration maneuver by invoking jurisdictional and admissibility concerns. In its position papers, China has repeatedly argued that the UNCLOS and arbitration bodies under its aegis lack the mandate to oversee what are essentially sovereignty-related disputes.
China also cited exemption clauses under the UNCLOS (Art. 298, Section 2, Part XV), arguing that it has opted out of arbitration proceedings that concern its sovereignty claims. It also accused the Philippines of abusing international legal mechanisms and violating prior bilateral and multilateral agreements by opting for compulsory arbitration.
Beijing also stepped up its diplomatic counter-maneuvers. For instance, it solicited the support of up to forty countries on the issue, with at least eight of them -- mostly landlocked African countries -- openly rejecting Manila's legal maneuver. It also announced its decision to set up alternative international arbitration bodies to counter what it describes as Western-dominated existing legal institutions.
China also engaged in a systematic effort to denigrate, delegitimize, and distort the nature of the Philippines' arbitration proceedings at The Hague. China threatened to withdraw from the UNCLOS, while aggressively lobbying members of the tribunal to drop the case. The Arbitral Tribunal, however, stood its ground.
In its final verdict, it ruled China's doctrine of 'historic rights', a foundation of its nine-dashed-line claims, as 'incompatible' with prevailing international law, arguing that 'there was no evidence that China had historically exercised exclusive control over the waters or their resources.'
The verdict also makes it clear that China 'violated the Philippines' sovereign rights' by preventing the Southeast Asian country from exercising its sovereign rights particularly its ability to exploit natural resources such as fisheries stock and hydrocarbon deposits within its Exclusive Economic Zone (EEZ) as provided by the UNCLOS. It also rejected China's longstanding claim that the contested land features in the Spratly chain of islands -- particular Mischief, Gaven, McKennan, Hughues, Johnson, Cuarteron and Fiery Cross reefs -- as well as the Scarborough Shoal constitute naturally-formed islands.
Most of them, the Tribunal ruled, are low tide elevations that can neither be claimed as sovereign territory nor generate their own entitlement claims. The Tribunal also ruled that China's massive reclamation activities in the Spratly chain of islands are 'incompatible with the obligations' of member states, since it 'inflicted irreparable harm to the maritime environment' and 'destroyed evidence of natural condition of features' in the area.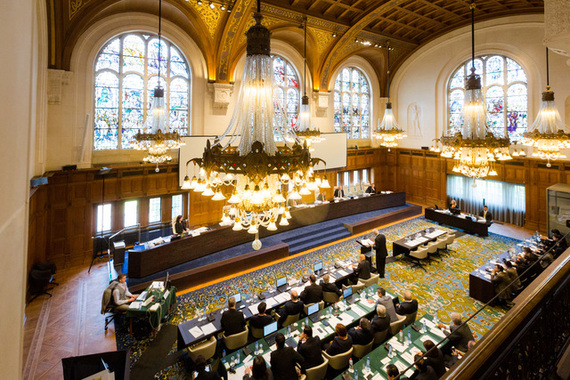 The case regarding the Philippines and China on the South China Sea is heard at the Permanent Court of Arbitration at The Hague, the Netherlands. (Permanent Court of Arbitration via AP)
In unequivocal terms, the Tribunal ruled that China has violated various provisions of UNCLOS, rejecting its sweeping maritime claims as well as assertive and provocative activities in the area. The verdict, per Article 296 as well as Article 11 of Annex VII of the Convention, is final and binding, regardless of China's protestations. But enforcement is far from assured.
Nevertheless, the verdict marks a huge strategic setback for China. To begin with, the United States and key allies such as Japan, Australia, and France, among others, can utilize the verdict as a legal pretext for conducting multilateral, expansive and sustained Freedom of Navigations Operations close to Chinese-occupied low-tide-elevations in the Spratly chain of islands.
Moreover, the verdict sets a strong precedence for Southeast Asian countries such as Vietnam, Indonesia, and Malaysia to contemplate, if not actually file, similar arbitration cases against China, which has stepped up its para-military maneuvers and fishing activities across the South China Sea basin.
More fundamentally, the verdict puts into question China's claim to being a peaceful, responsible and law-abiding power, which also seeks leadership and respect in Asia and beyond. It now risks being branded as an outlaw.
Much, however, will also depend on the Philippines' newly-elected President Rodrigo Duterte, who has made it clear that he will not flaunt the verdict to taunt China. Eager to revive bilateral ties and avoid conflict with Beijing, which has offered massive infrastructure investments in recent weeks, the Duterte administration shunned any triumphalist statement on the verdict, even if majority of Filipinos ecstatically embraced what they see as unequivocal moral victory.
It is highly likely that the Philippine government will try to leverage the highly-favorable verdict in prospective bilateral talks with China. In exchange for not issuing a strongly worded statement -- calling for Chinese compliance and international assistance to enforce the verdict -- the Duterte administration will seek certain concrete concessions from China.
It could, for instance, ask China to provide greater leeway for Filipino fishermen straddling disputed waters and a guarantee that China will neither establish military facilities on the Scarborough Shoal, located only 110 nautical miles from Philippine shorelines, nor impose an exclusion zone in the Spratly chain of islands.
But this will surely not sit well with America and other allies, who expect a strong statement from the country that initiated the arbitration proceedings. What is clear, however, is that the Duterte administration's diplomatic mettle will be tested like never before. The foul-mouthed former provincial mayor has suddenly found himself in the middle of a high-stakes global geopolitical chessboard.
Above all, if China refuses to abide by the verdict, it will be openly branded as an outlaw, undermining its longstanding claim to regional leadership as a responsible power. For now, all eyes are on the Philippines' new president, Rodrigo Duterte, who has expressed his refusal to flaunt the verdict to taunt China in order to avoid further escalation. For the Dutetre administration, it appears that what is more important is to leverage the verdict as a bargaining chip in upcoming high-stakes bilateral negotiations with China.
Most likely, the Philippine government will shun a strongly-worded statement regarding the arbitration verdict in order to revive long-frayed bilateral ties with China and seek tangible concessions on the ground. What is clear, however, is that China's actions in the South China Sea are in contravention of international law. That is now beyond dispute.
REAL LIFE. REAL NEWS. REAL VOICES.
Help us tell more of the stories that matter from voices that too often remain unheard.