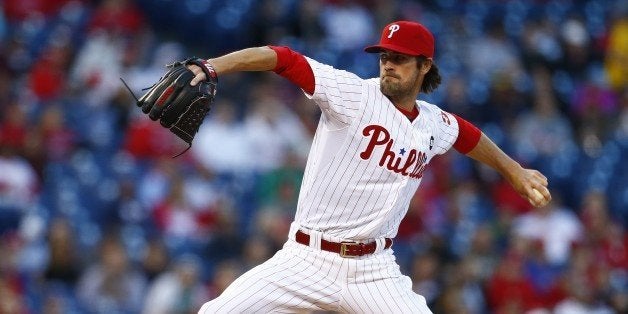 The Philadelphia Phillies are a dumpster fire. Not only are they the worst team in the major leagues, they are making a run at being one of the worst teams in baseball history. With under two weeks until the MLB trade deadline, all Phillies fans have to look forward to is the trading of veterans to contenders (that and, y'know, football season).
However, if Phillies management is smart (and recent evidence suggests otherwise), they won't rush to deal the ace. Just 'cause you can have a bunch of things you don't need, doesn't mean you need to give everything away (looking at you, Amazon).
The truth is, Cole Hamels is a steal. Following 2015, he has three more years on his contract, with a fourth year option. At $23 million a season, that's buying low on a top-of-the-rotation arm.
This past offseason, the Washington Nationals gave Max Scherzer a seven-year, $210 million contract. The Chicago Cubs gave Jon Lester a contract worth six years, $155 million, averaging $25.8 annually, while the San Diego Padres handed James Shields a 4-year deal averaging $18.75 million annually. The Shields and Lester contracts run until they're 37 years old, while Scherzer's ends when he is 36.
Hamels' deal is up when he is 35.
Starting pitching isn't cheap. This upcoming offseason will see David Price, Johnny Cueto, Zack Greinke and Jordan Zimmermann all become free agents. Maybe the high number of starters on the market will bring the prices down a bit. More likely, this time next season the idea of paying a pitcher with Hamels pedigree "just" $23 million for "only" four years will be considered a bargain.
As such, the Phillies need to realize that theirs is the best deal around. With starting pitching costs on the rise, they're the only shop in town still offering 2012 prices.
The counterpoint to this is, if Hamels gets injured, he loses his value. That's exactly what happened with Cliff Lee; the Phillies sat on him too long, he got hurt, he got hurt again, and now is essentially retired. Even if Lee comes back at the end of this year, or next, it seems extremely unlikely the Phillies can get anything of value for him. With Lee, the Phillies bet on the stock staying up, and it went broke. The logic is they can't let the same thing happen with Hamels.
None of that changes the fact that in Hamels, a contender can acquire an ace with less financial obligation and for a shorter period of time than the market currently dictates. If Price, Cueto, Greinke or Zimmerman sign a 4-year, $92-million deal this offseason, it'll be considered highway robbery. That's precisely where Hamels contract puts him currently, and that alone is worth a couple of extra prospects on the trading block.
Hamels is the most valuable asset in this season's trade deadline, and the Phillies would be smart to remember that. Any deal involving him should be one that sets the Phillies up for years. Anything short of that, and they might as well just keep him.
Popular in the Community