The quintessential New York City restaurant experience is dining out on cocktails, a luxurious meal with family and friends and proximity to a bold faced náme or two.
Philippe offers all the ambiance of above. Celebrating his 10th anniversary, the veteran chef Philippe Chow crafts traditional Bejing- style cuisine with a contemporary flare. Philippe's signature dishes include crispy Peking Duck, Green Prawns, Filet Mignon with broccoli and Mr. Cheng's Noodles. Dishes are served in generous portions family style for sharing. Diners who have room for dessert can savor Warm Bittersweet Chocolate Molten Cake or the Warm apple crumb Tarte with Caramel sauce both served with ice cream. Executive Chef Philippe Chow is a classically trained culinary chef who developed his unique style after 30 years working with other award winning restaurants.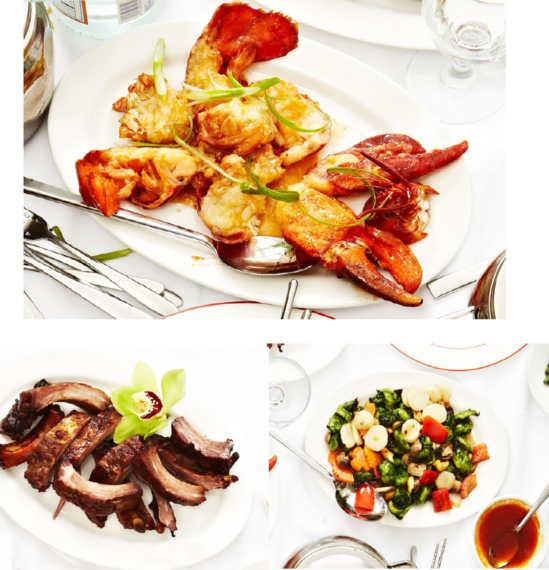 Plated are Maine Lobster with ginger and scallions, Vegetable stir fry and Maple Glazed Pork Ribs
Located on the fashionable East Side the upscale restaurant is steps away from Barney's New York, Tod's, Calvin Klein and DKNY. Philippe attracts New York's social set and power players from the entertainment, fashion, real estate and financial industry. Oprah Winfrey, George Clooney, Bill Gates, Rhianna, Lady Gaga and Kobe Bryant come to tuck into delicious Chinese fare in the lively social restaurant scene.
Here he shares his famous beef satay recipe.
Eggs, oyster sauce, Chinese satay sauce & hoisin sauce mixed together. Strips of beef are placed in the mixture to marinate overnight. Then strips of beef are threaded onto bamboo sticks and cooked in fryer. Plate the beef skewers, put Chef Philippe's famous peanut sauce on top & serve.

Signature Drinks at the bar: Philliptini and Blue Midnight Mojito
(Photo Credit: Rob Rich/SocietyAllure.com)
The recently redone décor is a revamped modern day Chinese speakeasy with comfortable chairs, thick linen table clothes and an abundance of elegant orchid arrangements. The restaurant's stylish front bar features an excellent wine and champagne list in addition to premium bar brands and small plates. Patrons can enjoy specialty cocktails like the Lychee Martini, Bangkok Banana or Shanghai Philippe.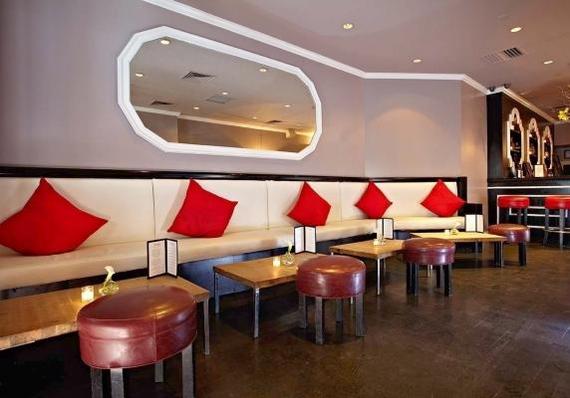 All photos courtesy of Philippe except noted
The hip upstairs lounge features a full bar, specialty drinks, delectable appetizers such as Maine Lobster Spring Rolls, Shrimp Toast or Chicken Satay and music. Reserved seating and private dining for intimate and romantic dining is on the second floor and in the exclusive Wine Cellar.
For Chef Philippe it's very simple, "To me, cooking is a way of expressing myself. Similar to the way an artist expresses themselves through their art. My greatest pleasure as a chef is see how happy my guests are as they enjoy the dishes I have created for them. "


Philippe
33 E. 60th St.
New York, NY 10022

Lunch: Monday-Saturday 12:00 p.m.-3:30 p.m.
Light Fare: Monday-Saturday 4:00 p.m.-6:00 p.m.
Dinner: Monday-Saturday 6:00 p.m.-11:30 p.m. Sunday: 2:00 p.m.-11:00p.m.

Phone: 212-644-8885