Fishtown. Olde City. Fairmount. Rittenhouse.
Name-drop these neighborhoods to any Philadelphia native and their eyes light up with nostalgia. But for optician Clifton Balter, the aforementioned locales exemplify hometown bravado that inspired him to create the eyewear brand, Philly EyeWorks.
Balter told The Huffington Post that he's been working in the glasses business with his family since he was 12 years old. However, two years ago he got the push he needed to finally launch Philly EyeWorks when Warby Parker literally parked its marketing bus in front of his shop.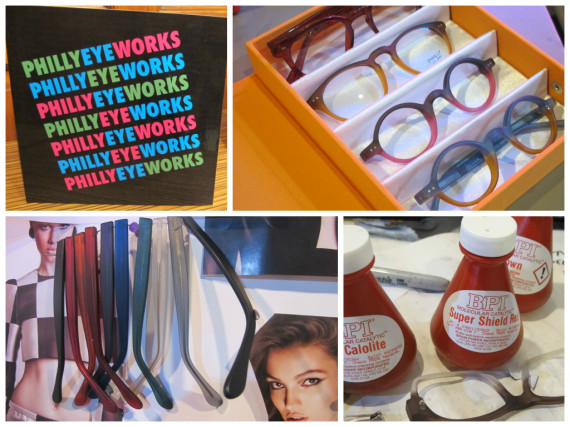 Fashion-forward frames have become the "It" accessory over the last five years thanks to online retailers with free at-home try-on programs and 3D apps. But what separates this Philly-based brand from the competition are its totally customizable specs. "You can make your glasses really subtle or really funky," said Balter.
Customers can log on to their website or visit their showroom to choose from a 12-piece collection of frame styles, priced at $149 each. "We have four fashion themes," Balter explained. "There's the hip-hop look, the traditional, the contemporary and the wild."
From simple, rectangular-shaped frames coined "Brotherly Love" to thick, larger-than-life specs dubbed "The Jawn", there's a pair that fits every person and every face shape, no matter which city you call home.
Philly EyeWorks' offbeat signature really comes through during the design process. In the basement of the brand's workshop, you'll find color designer Lucious Nelson crouched over heated pans filled with brightly-colored paints as he hand-finishes frames and creates quirky new designs on the fly. You'd be surprise how this guy can transform the look of eyeglass temples using a pair of scissors, electrical tape and some paint.
With over 374 color combinations and counting available in polished or matte finishes, Nelson has a rhythmic routine that allows him to produce up to 200 pairs a day or to devote an entire workday on crafting just one pair. And because of the unique dip-dye technique, no two glasses look the same. Now that's funky fresh!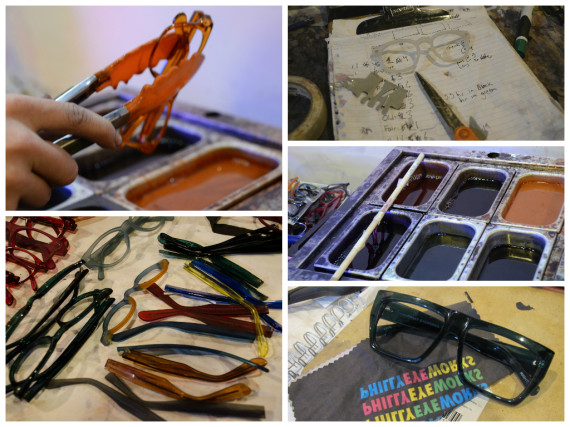 Go behind the scenes at Philly EyeWorks in the slideshow below.