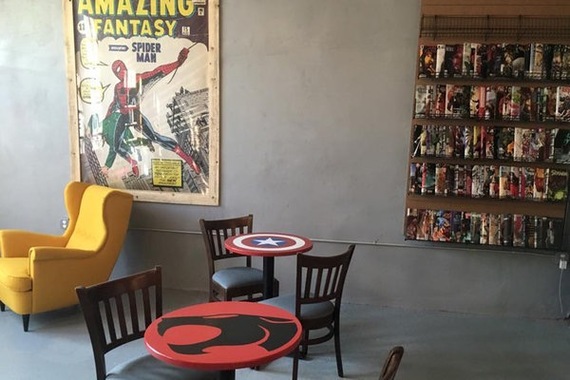 I was on Facebook when I saw this link about this black woman in Philly that has opened a comic book and coffee shop. I was elated myself. Can you say, "road trip?"
Philadelphia now has a comic book store owned by a Black woman! As the comic/nerd culture increases in popularity, black comic book writers, artists and enthusiasts are increasing in numbers and are making their own spaces. So congratulations Ariell R. Johnson! Black Girls Rock!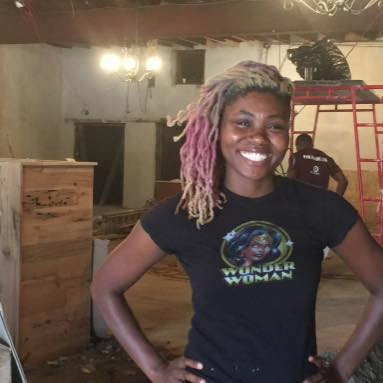 Just in time for 2016, fans of community, coffee, and comic books will have a new place to visit.

Although Philadelphia has a rich tradition of quality comic-book shops - and could brag that Showcase Comics on South Street was the largest black-owned comic shop in the United States for quite some time - Amalgam Comics & Coffeehouse will be the first black female-owned comic book shop to open its doors on the East Coast.

This "geeky" hybrid hopes to contribute to the burgeoning Kensington section of Philadelphia. Amalgam hopes to build community around comics, coffee, and relaxing with friends, and also through hosting geeky and diversity-themed workshops, movie/TV screenings, book signings, and BYOB nights.

"I got the idea for the shop about 12 years ago, when I was still attending Temple University," said Amalgam's owner, Ariell R. Johnson. "My favorite coffee shop was directly across the street from my comic book store of choice. So, each Friday, I would buy my books at Fat Jack's, go across the street to Crimson Moon, and read everything I bought.

"I just loved the vibe of the coffee shop . . . and I loved being able to indulge my comic-book obsession in a comfortable environment that wasn't my house," Johnson continued. "When the coffee shop closed its doors, I was devastated. That's when the idea came to me."
Johnson said she will balance being a traditional store while highlighting diversity.

"We will be a legit store, so expect to see the heavy hitters that we all know and love," she said. "But in addition to those usual suspects, we want to showcase diverse comics, creators, and characters. We think that comics are for everyone and anyone that loves comics-women, people of color, and the LGBTQ community. We will actively look to stock titles that showcase people in these groups, right along with Superman, Batman, Captain America, and Thor."

Johnson says her staff shares her goal of inclusiveness.

"They all share the goal of making comics available to everyone," she said. "Whether you have been reading comics for 20 years or just started after watching a Marvel movie, our aim is to make everyone excited and comfortable.

"To me, it's about making it available," she added. "We will definitely make extra effort to promote works by and about members of underrepresented groups, but I also have love for the comic book mainstays like Captain America and Batman. I just want to help make people aware of everything that is out there and hopefully get people to expand their horizons."

As for how it's going, Johnson said, "our sales have been consistent, and we're picking up new customers every day."

Amalgam Comics & Coffeehouse
2578 Frankford Ave.
First Floor, Philadelphia
Can't get to Philly? Here are some black-owned comic book stores you can also support and visit.
Challenges Games and Comics
2050 Lawrenceville Hwy. Suite 1018
Decatur, Georgia 30033
678-973-0410
info@challengesgames.com
Pwn'd Elite Cyber Gaming
3334 Stone Mountain Hwy
Snellville, GA 30078
(470) 385-6344
kens@pwnd-gaming.org
If you are on Facebook, feel free to checkout Chocolate City Comics for all-black comics, both mainstream and indie.
Do you know anymore black comic book stores? Feel free to email me and let me know so there can be a comprehensible list for people to locate.
Support HuffPost
Every Voice Matters
Popular in the Community