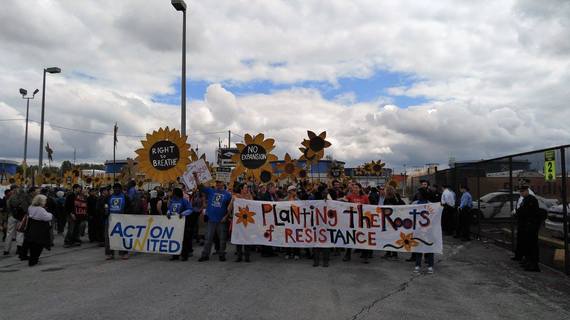 Philadelphia is the only major city in 2016 that is still investing in a large fossil fuel project. As the Philadelphia Port Authority decides whether to build an oil port on the Delaware River, 300 Philadelphians took to the streets this past Saturday demanding the project not go through. The rally, where protesters demanded their #RightToBreathe, was the first U.S. protest as a part of an international wave of escalated actions to Break Free from Fossil Fuels.
Saturday's protest brought together community members from across Philadelphia and beyond. Buses came from North Philadelphia, West Philadelphia, and even a from Pittsburgh. There were many of people from the neighborhoods closest to the refinery. Protesters held 100 6-foot high sunflowers, along with banners and signs, demanding clean air for our city. All gathered in the shadow of the largest oil refinery on the East Coast, operated by Philadelphia Energy Solutions (PES).
Those in the fossil fuel industry like PES CEO Phil Rinaldi assert Philly is destined to become the dirty energy hub of the northeast. Unsurprisingly, Rinaldi believes the first step towards becoming an energy hub should be to expand PES's own oil refinery. PES's proposal for an oil port on the Delaware would increase the amount of oil processed in our city, and increase the amount of pollution dumped into our climate.
Our city's future cannot be powered by the dirty energy economy. We know that the South Philadelphia oil refinery is responsible for two-thirds of air pollution in the city of Philadelphia. We know that almost a quarter of our kids have asthma, twice the national average. And we know that the refinery is situated in the middle of low income communities of color.
During the action, we heard personal testimonies from the refinery's neighbors about how many of them are sick or have loved ones who are sick due to poor air quality.
"I don't know if anybody out here has ever seen an asthma death. I remember my best friend called me, barely able to speak, gasping for air. He told me he couldn't breathe. He also had asthma. The next day my family called me, to tell me he died with his pump inhaler hand," said Action United Member Teresa Hill. She had lived in Southwest Philly, downwind of the refinery.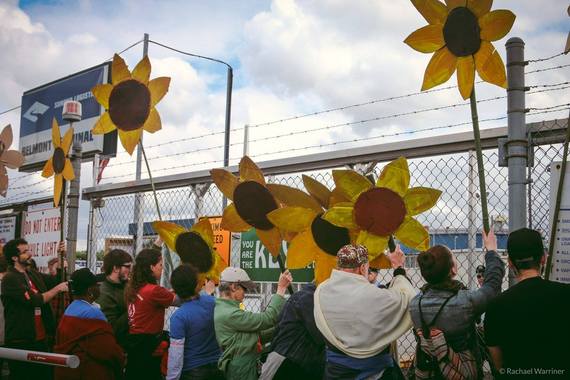 Some people were at their first protest, after seeing the effects of the refinery's pollution their entire lives.
"I'm fighting for my grandkids and my great grandkids. And I'm here for my dead brother, and for the right to breathe. I've been in Philadelphia for 74 years. I always thought there was something wrong with this refinery. I could see the smoke every day and the smell -- the smell of the air." said Maxine McCleary, who lives near the South Philly refinery and is also a member of Action United.
After hearing these firsthand accounts, the crowd staged a sit-in. We blocked one of the truck entrances, and covered the refinery gates with sunflowers as a symbol of a better future. The #RightToBreathe movement stands for making a city a place where people live in healthy communities and work in a green economy that sustains people and planet.
People across Philadelphia came together in this movement -- called the "Right to Breathe Movement" -- because we believe it will take our whole city to stop large fossil fuel projects like fossil fuel expansion. While many of the activists putting their bodies on the line at the gates of the refinery were white activists from other parts of Philly, they chose to use their privilege to stand up for environmental justice.
Inspired by actions that had already taken place in Wales, the Philippines, and New Zealand, Philadelphia led the charge for the United States' Break Free movement. There are so many crucial struggles upcoming, including a mass action against fracked oil trains (known locally as "bomb trains") in Albany, NY and a mega march in downtown LA for a clean energy future.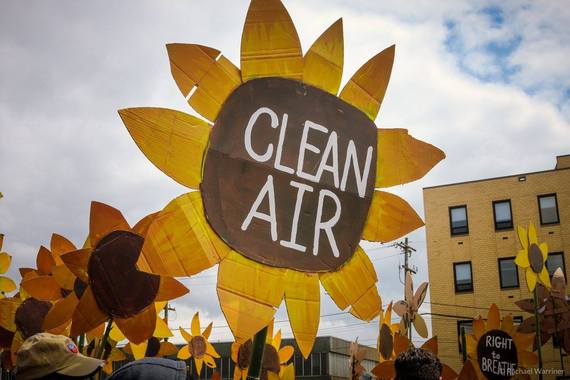 In Philly and around the country the movement for climate justice is growing louder and growing stronger. We just planted the roots of resistance to fossil fuel growth here in Philadelphia. That means we will keep fighting for a green economy, clean air, and good jobs locally and around the world.
Popular in the Community