Philadelphia-based flamenco dancer and choreographer Elba Hevia y Vaca is presenting the second run of Tablao Philly at the Asian Arts Initiative on Vine St in Philadelphia. Vaca's company Pasión y Arte (PyA) will share the evening with De Luna a Lunares dance troupe and premier Spanish flamenco star Almudena Serrano.
Pasión y Arte is one of the most dynamic flamenco companies in the U.S., is a staple at festivals and concerts and continues to explore new choreographic templates beyond flamenco's traditions. Last fall, Vaca launched the first Philly Tablao to expand the reach of flamenco dance and music past the concert setting. Designed as quarterly performance to create a cultural scene in various venues to bring together the Philadelphia flamenco dancers, musicians, audiences and community.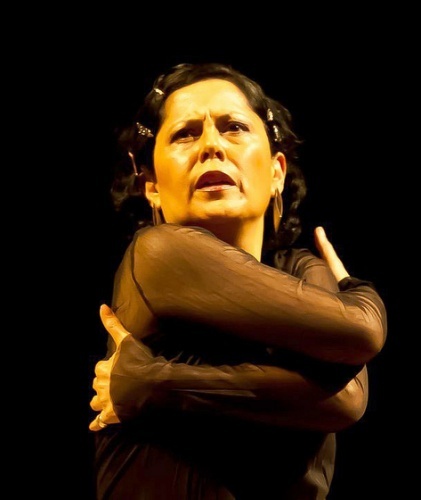 Flamenco master Elba Hevia y Vaca (courtesy Pasion y Arte)
Last week, Vaca was just back from the company's performances at Association of Performing Arts Presenter (APAP) in New York and took five between rehearsals to talk about the tablao's goals.

"It happens in general in this country, that flamenco is presented in a restaurant or bar, and we are a sideshow. What I'm trying to do in Philadelphia is create the environment of Tablao, which is what it was in Spain, in which audiences are there to see the performance first," Vaca said, "then the socializing and tapas. Even in New York, there is only on Tablao that is ongoing, where people expressly to see flamenco."
Vaca creates the classic 19th century tablaos of Spain and contemporary tablao experience closer to beat poetry cafes or improvisational jazz clubs. "I think Philadelphia is ready. Our first Philly tablao sold out two nights and the only reason I think we didn't for the 3rd performance was because it was on Halloween, "Vaca said.

"It is a traditional setting and format, with solo dancers and their personalities, but I want to explore other concepts. I work with dancers who are perform exclusively in traditional flamenco forms and also dancers who can move otherwise and go with experimentation, "Vaca explained.
Vaca also teaches flamenco at Temple University and will include dance workshops and master classes with the guest artists in tandem with the tablao events. Vaca collaborates with flamenco dancers from different generations and backgrounds, most from Philly and New York, on a per project basis. Along with traditional technique and artistry, PyA continues to challenge gender stereotypes, introduce feminist narratives, along with other socially relevant themes.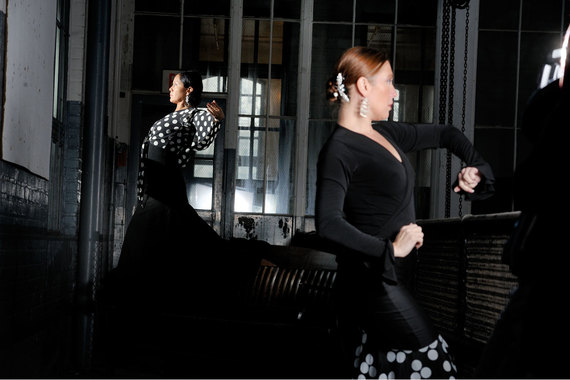 PyA dancers (photo: JJ Tiziou)
"It's the perfect opportunity to test out material. The interpretive differences and that's the great thing about this format, you get all the taste and flavors and that's what it's for, the concert stage is another story."
Whatever the artistic interpretations of flamenco, the essence is the performance synergy between the singers, dancers and musicians that is different in every performance. Like American tap dancing forms, flamenco dancers are musicians too, dancing out rhythms and sound effects with their whole body and in dialogues with the other musicians, Vaca says there "are the different schools of rhythm; those elements are, the codified ways that we communicate with each other."
Pasión y Arte has also performed with many of the finest flamenco guitarists and musicians and will be joined for this tablao by guitarist/cantor Cristian Puig, percussionist Guillermo Barron, cantor Hector Jose Marquez and guitarist Behzah Habibzai.
One of the touchstones in all of flamenco is "duende," which Vaca said is "that creative place where you go when you are in the zone. Garcia Lorca wrote about it when he was at Columbia University. 'duende' is outside of ourselves, you conjure up this spirit, good or bad, based on the dialogues between the singer, dancer and guitarist," Vaca assures.

Philly Tablao winter performances -January 28-30th at the Asian Arts Initiative at 1219 Vine Street in Philadelphia.
Calling all HuffPost superfans!
Sign up for membership to become a founding member and help shape HuffPost's next chapter