Let's not forget all the #BlackGirlMagic that's happening in comics right now.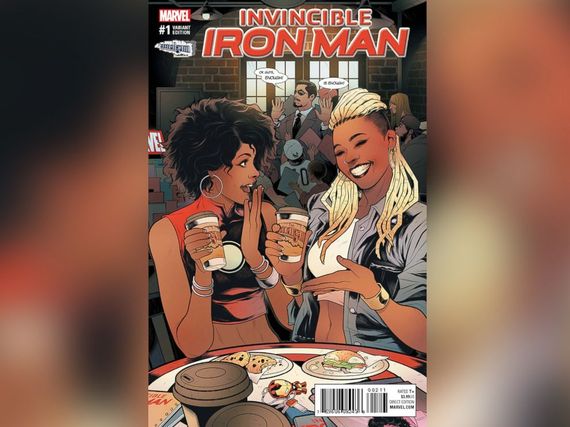 Image Credit: "Invincible Iron Man #1" Marvel Entertainment / Disney
You may not remember, but earlier this year, I posted about a new comic book store that opened in Philadelphia and how the owner, Ariell Johnson Johnson, was the first black woman to do so in the 'City of Brotherly Love'. Since then, there has been (slightly) more representation for black women in the blerd (black nerd) atmosphere. With the debut of Simone Missick as Misty Knight in Marvel's Netflix 'Luke Cage', Moon Girl and the Devil Dinosaur and now Riri Williams, black women and girls that correlate with all things geeky and nerdy are finally seeing more representation in the mainstream light.
Johnson, who has consistently made news since the launch of her store, Amalgam Comics & Coffeehouse, Inc., can know sell her very own variant copy in her store. Marvel will be releasing "Invincible Iron Man #1.", where Johnson is depicted on the cover sharing some tea with Riri while Tony Stark is in the background trying to avoid the paparazzi and fans.
Johnson is thrilled that her store is an inclusive space for all things geeky and nerdy. She told ABC about her journey into comics and what it means to see black women being more visible in the comic book world.
"To think I made it a decade-plus and I had never seen a black, woman superhero is crazy because little white boys have so many [with whom they identify]: 'I want to be Iron Man!' 'I want to be Batman!' 'I want to be Superman.' 'I want to be Han Solo!' When you are a person of color, you're scraping the bottom of the barrel to find someone you can identify with. I always felt like I was watching other people's adventures," she explained. "Being introduced to Storm was a pivotal moment for me because had I not come across her, I might have grown out of my love for [comics]."

However, Riri Williams was just under heavy scrutiny on social media when Marvel artist, J. Scott Campbell released his version of Riri that caused a social media backlash because of his oversexualized depiction of the 14-year-old teen. Campbell who felt the backlash was "faux", couldn't understand why labeling a black teen, 'sassy' could be seen as inappropriate to young buyers and parents. He also seems to think people are outraged over her crop top but in reality, most people felt slighted about her aged face and how low her pants were. But before Marvel could correct their error, a plethora of artists took to social media to show their renditions of what a black teen should look like.
All that aside, it's great to see black girls and women have a voice and a visual representation in the comic book world. While I absolutely love Storm, I am happy to see new characters being created and lesser known characters being brought to the limelight. It's important for our young black girls to see themselves in the fictional world. As much as I talk about diversity, it usually surrounds men and even though it's hard to get representation for black men and other people of color, it's even harder to get black women and other women of color. I don't doubt that Marvel has an obsession with white guys saving the world, but I hope they will show a progressive and genuine interest in hiring black creative talent and other minority groups.
With Riri Williams, Misty Knight and Moon Girl representing for black girls, I hope to see more #BlackGirlMagic in comics on the covers and behind the scenes. Who knows, maybe we will get a Misty Knight comic and just maybe, she might be reading a Fabulize magazine issue.
Popular in the Community