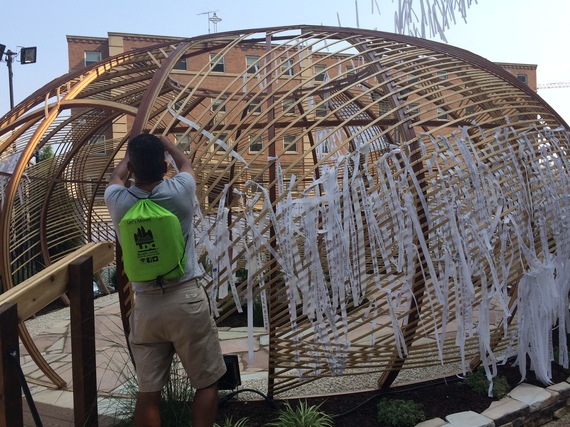 A lot is happening in the city of Philadelphia in preparation for Pope Francis's visit later this week. Information on what to expect has been released steadily as the Pope's arrival edges closer.

While there are some Philadelphians and neighboring businesses that are worried about what the upcoming visit will bring, there are some noticeable figures and organizations that are using the Pope's visit as an opportunity to show their creative side as well as bring attention to matters that are not only important to them, but Pope Francis as well.
Members of the Philadelphia nonprofit, Project HOME, celebrated the opening of a public art installation earlier this month. Inspired by one of Pope Francis's favorite religious images, Mary, Undoer of Knots, the installation was dedicated earlier this month outside the Cathedral Basilica of Saints Peter and Paul. The ceremony featured prayers from various Philadelphia religious leaders, as well as special music, sharing stories of struggle, and an experiential engagement with the artwork.
"Project HOME working with the World Meeting of Families and the Hunger and Homeless Committee is really excited to offer Pope Francis a warm welcome to our city with this magnificent art project," Sister Mary Scullion, executive director of Project HOME said.
The Grotto includes over 30,000 strips of woven cloth inscribed with descriptions of real life struggles faced by members of the Philadelphia community and beyond.
Many of the knots were collected over the past several months at workshops held at homeless shelters, soup kitchens, and prisons, as well as churches, synagogues, and mosques.
"Rooted in our spiritual devotion of our lady of undoer the knots, which is beloved by Pope Francis, this project along with knotted souls was conceived many months ago as an integral part of Mercy and Justice."
In downtown Philadelphia, artwork by ten American artists motivated by concern over climate change will be featured through the remainder of this month and September at the United States Environmental Protection Agency's regional headquarters at 1650 Arch Street.
The artworks are captured in ten large (36" x 30") photographs, developing a narrative theme that depicts melting glaciers, rising seas, and extreme storms but also showcases sustainable responses to climate change.
"The fun thing about the installation is that it's in the windows looking out over the sidewalk so you can catch it when you go downtown, when you're commuting, shopping or whatever," Fran Dubrowski, project director of Honoring the Future, said in a recent interview with Geekadelphia. "You can see it all at once or in pieces."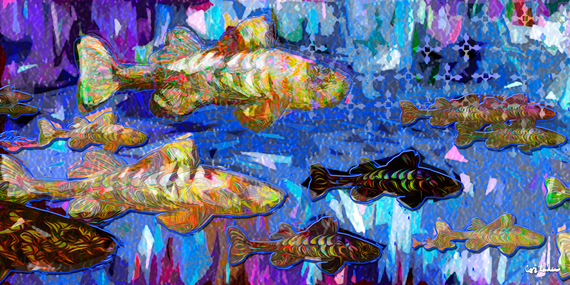 Xavier Cortada, "ΙΧΘΥΣ" (Ichthys)(2015). Digital artwork created to welcome Pope Francis' climate change message and U.S. visit. © 2015 Xavier Cortada.
One of the works featured is a detail of Ichthys, a digital artwork created by Miami artist Xavier Cortada to welcome the Pope's climate change message and U.S. visit. Honoring the Future is using Cortada's image as part of a letter it will send Pope Francis on the eve of his U.S. visit. Anyone may sign the letter, which thanks the Pope for his leadership and pledges to consider his message on climate change.
"It's a digital image and it's a skyline image of a fish," Dubrowski said. "He [Cortada] is doing that because in the early days of the church that was a symbol used to communicate."
Ichthys will be placed on a letter to the Pope that will be sent to him on the eve of his visit. The letter, which anyone can sign online, thanks the Pope for his leadership on climate change and urges the signers to consider his message.
Honoring the Future expects that the exhibition will travel to other places, and already has requests to have exhibitions elsewhere including several Philadelphia institutions.
Recent Drexel University grad, Michael McCarthy, may just be a one-man team when it comes to leading his organization Remember the Pope, but has a plan to help Philadelphia and those who are visiting the city remember the Pope's historic arrival in the form of a commemorative poster.
The poster is sized at 17"x23" and highlights the Pope's US visit. From the beginning McCarthy wanted to market one product for the 2015 Papal Visit but has been trying to keep a few simple things in mind: make it the best on the market, price it competitively, push it through as many channels as possible, and charge free shipping.
McCarthy says that business has been doing well, though he believes it will be even better in the days of the Pope's arrival in Philadelphia.
"The biggest difference between us and other vendors is that we're doing one product, which is what we see as the premiere keepsake of this upcoming Papal Visit, and we're trying to market this product to as many people as possible in each of the cities that the Pope will be visiting," McCarthy said in an email. "While most of the competition that has been featured is targeted just to Philadelphia, we are targeting a bigger audience."