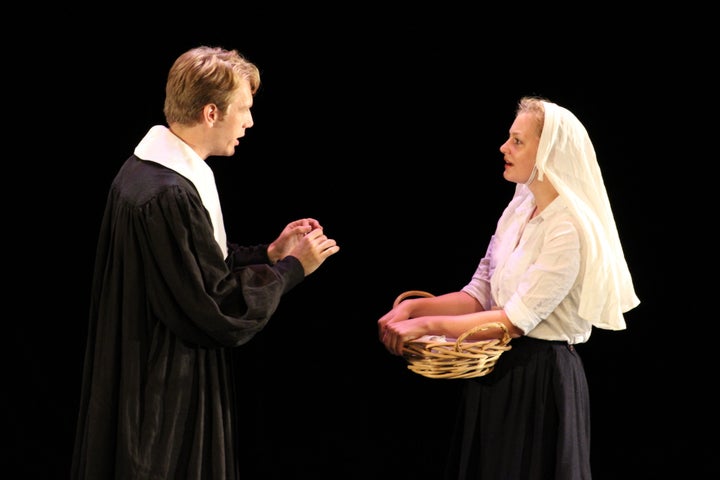 Family and Philosophy are the inspiration and foundation for a new play by young playwright Emily Claire Schmitt, who this past week debuted her new play, "Spinoza's Ethics" at the Dream Up Theatre Festival at Theater For The New City. Inspired by a remarkable family member's journey and the philosophy of Baruch Spinoza, Ms. Schmitt, talks about her work in this exclusive interview with Emily and her director, Dianna Garten.
Q: This seems to be the story of a woman in the 1960's, but with a philosophical twist to it. Would you describe the story briefly and how it unfolds?
Emily: Spinoza's Ethics is the story of Ruth, a former nun who is desperately searching for meaning after leaving the comfort of the convent. She makes attempts at marriage, religion, and travel, but something is always missing. Ruth's story is similar to that of many woman coming of age during the cultural transformations of the 60's and 70's (or any time), but there is one magical difference. Ruth is accompanied throughout her journey by the philosopher Baruch Spinoza. Baruch provides guidance and support while simultaneously prodding and challenging her worldview. The play is the tale of their supernatural friendship.
Q: How was this story born? What was behind your motivation to create it and stage it?
Emily: The story of Ruth's life is loosely based on that of my rather eccentric great aunt. I always knew that this fantastic woman deserved a play, but also that I needed something to elevate the story into the transcendent. Indeed, she is the kind of person who has always felt transcendent, without understanding why.
Conversely, I have always wanted to write a play about Baruch Spinoza, who was my personal focus while working on my philosophy degree. I have made several attempts to write about his life, but they always came up flat. On a whim, I decided to write a scene where these two extraordinary human beings appeared together. The melding of these two voices created a surprising harmony and tension, which is exactly what they needed. Suddenly, a play was born.
Q: How long have you been working on this material and where will it be during the festival in terms of development?
Emily: I starting writing this play during my third-year playwriting seminar at The New School for Drama in 2015, so I'm coming up on two years living with the project. This will be the first full staging of the play. I hope to learn a great deal about how the text plays out on its feet and how it connects with a live audience.
Q: How quickly were you able to put together your team and why did you choose the Dream Up Festival?
Emily: My director, Dianna Garten, suggested we submit the project to Dream Up after working with them two years ago on the play Abortion: A Race Redux. She found Theater for the New City to be a very supportive environment in which to launch a new project. Once we were accepted to the festival, we started assembling our team and holding auditions. The entire production process has taken place between July 12th and today.
Q: How has the festival process served you during this production? What have you learned, what's different? What would you change if anything?
Emily: Let me pass this one off to Dianna….
Dianna: The festival process has been valuable for us as early self-producers. Dream Up has been supportive in sharing resources and space. The festival environment has allowed us access to connections while helping us to keep production costs down, so we can really focus on the performance of the piece. When productions are required to be minimalistic it allows you to let the piece really live and not get lost in the bells and whistles; it's truly a great way to start developing a piece. This has been extremely beneficial for the world premiere of this play. Spinoza was a bit of an unknown entity; being able to focus intently on the performance of the play has helped us and our fantastic philosopher (James Weeks) bring out Spinoza's complexity and humanity. In theater you always wish for more time, but if I could change any anything, I would have my dream set: a gigantic, blossoming cherry tree. Hopefully there will be future productions where this element can become a reality."
Q: What are your outcome expectations for this play? From a playwriting perspective are you anxious to get to a new play or do you hope to develop this further?
Emily: We are not ready to let go of Spinoza's Ethics! Dianna and I have found the experience of working on this project to be immensely challenging and deeply fulfilling on both a professional and spiritual level. We would love the opportunity to continue developing the play, hopefully for a larger-scale production in the future.
Q: What are your expectations in terms of the festival and the people seeing your play, Spinoza's Ethics?
Emily: Our hope is that people will leave Spinoza's Ethics with a renewed sense of wonder and reverence for all the mysteries that surround them.
************************************************
At the Johnson Theater:
Thursday - September 1 - 6:30pm
Friday - September 2 - 6:30pm
Saturday - September 3 - 8pm
Sunday - September 4 - 8pm
Tuesday - September 6 - 6:30pm
Wednesday - September 7 - 6:30pm
Thursday - September 15 - 6:30pm
Related
Popular in the Community