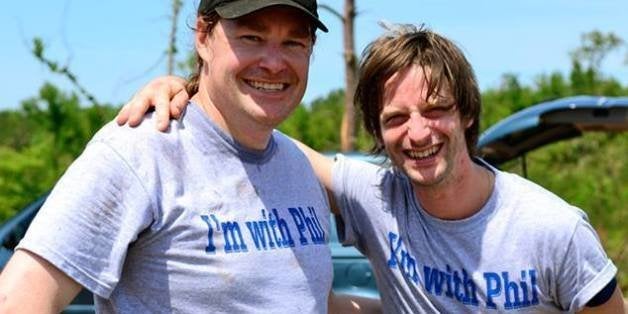 Hundreds of Phils have had their fill of Phil Robertson and the anti-gay remarks the "Duck Dynasty" star made in a recent GQ interview.
Phil Campbell spends much of his time amassing people who share his name to help the residents of a small Alabama town also called Phil Campbell that was ravaged by a tornado in 2011. A documentary about the group, "I'm With Phil," and the the social media hashtag #ImWithPhil promoted his philanthropic efforts.
But he told HuffPost Weird News that his campaign to bring the world's Phil Campbells together has now been hijacked by supporters of Phil Robertson, who are using the #ImWithPhil hashtag to show their support for Robertson's statement that homosexuality is a "sin," or to stand up against television network A&E's supposed breach of "freedom of speech" in indefinitely suspending Robertson for his remarks.
There's even a website and petition, IStandWithPhil.com, which calls for A&E to reinstate Robertson. Campbell said that flies in the face of his goals.
"It's frustrating because 'I'm With Phil' is not just a well-crafted movie ... it's advocating this fundamental idea about people from all walks of life and all political opinions getting together to help in a time of need," Campbell told HuffPost Weird News. "This Phil's fans are absolutely swamping the #ImWithPhil hashtag, which is something we were hoping to basically own once the movie got rolling."
Campbell first organized a meeting of Phil Campbells to celebrate their shared name with the Alabama town in 1995. Another Phil Campbell Hoedown gathering was planned for 2011, but before it could take place, the tornado struck the town of 1,000 residents, killing 27 people.
The disaster gave Phil Campbell the man a new goal: Save Phil Campbell the town with the help of other Phil Campbells.
Now that Robertson and his followers have taken over Campbell's social media promotion strategy, he's hoping the public will move on quickly.
"When you have a scandal like this dividing opinion, you just want to bury your head in the sand," Campbell said. "Personally I don't agree with what the guy said, but for the sake of the film I hope this blows over really, really soon."
Clarification: A previous headline on this article suggested that the group of Phil Campbells collectively objected to Phil Robertson's statements. Campbell was speaking unofficially for the group in expressing his dismay at the use of the hashtag. Language has also been changed to clarify the chronology of events leading up to the release of the film.
REAL LIFE. REAL NEWS. REAL VOICES.
Help us tell more of the stories that matter from voices that too often remain unheard.
BEFORE YOU GO