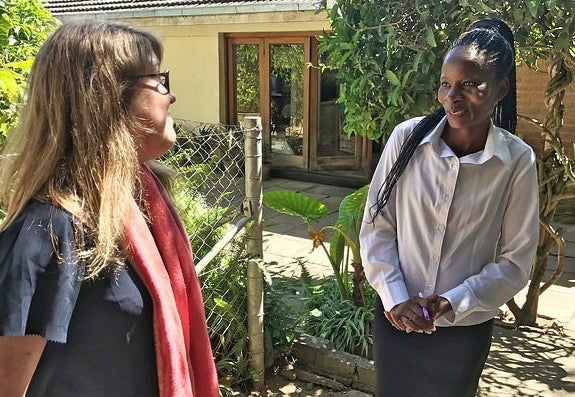 Her name is Phiona. She would be considered an "outlier" by data standards. An outlier is a person or thing that differs from all other members of a group or set. Fiona is a peer educator, HIV positive, and a sex worker.
Sitting across from her on a hot day in Zimbabwe she slowly began to tell me about a life that was full of grit and patience. She talked about her HIV and sex work as if it was commonplace, she was not ashamed, but proud that her experiences led her to become a peer educator and impact the lives of women like her.
Behind Phiona is a set of data that I look at on a computer screen. Her age, gender, date of birth, HIV status, her role as a peer educator, her role as a sex worker, this is information I can see and count and analyze, but Phonia is the person I met.
I know that both elements are important to be able to truly make life better for Phiona. But the key is not to view either in isolation. Humanizing data to design a better community health system should be considered paramount to truly make a difference in communities. Phiona's story is so important in how we relate to and understand the context of community and health.
She isn't afraid to talk about her life and she isn't afraid to tell me that her clients will pay her five extra dollars to have sex with her without a condom. She isn't afraid to tell me how much she loves being a peer educator. When asked what we could do to make her job better she said: "I want a t-shirt that tells people I am a peer educator that I can wear when I am out on the weekends". Phiona's resilience and spark for life isn't obvious in my data set.
The aim of this Maverick Collective project is to transform community heathy systems to better enable those with HIV and AIDS to be an active driver in their care. The key will be in how we collect and aggregate data in order to capture Phiona's age and birthday etcetera, but most equally, her resilience and spirit.
Data is important, its value cannot be ignored. As someone who lives for seeing data come alive on a computer screen, being in Zimbabwe and meeting Phiona painted a picture for this project. In beginning this project, I saw data come alive in people and I saw the story beneath the statistic.
Phiona gave me a set of variables however, and these variables allow us to get a glimpse of her past and a vision of her future.
I left Zimbabwe with a better understanding of how we can make the data not only describe Phiona, but help her in understanding and making decisions about her health. Stronger systems and capacity are the difference between the health system that Phiona has and the one that she needs.
Maverick Collective is an initiative of PSI, a global health non-profit with operations in 65 countries. Maverick Collective is a philanthropic and advocacy initiative to end extreme poverty in our lifetime by investing in girls and women. Our mission is to build a community of strategic philanthropists and informed advocates who use their intellectual and financial resources to create change.
English Sall, Maverick Collective Member
English Sall is data enthusiast and researcher at heart. She is a board member of the Sall Family Foundation and pursuing the role of a next gen philanthropist. English is currently pursuing her PhD in Industrial Organizational Psychology (IOP) at North Carolina State University. English specializes in Humanitarian Work Psychology and is especially interested in how IOP can be applied to cross-cultural leadership and work-force development within informal economies.