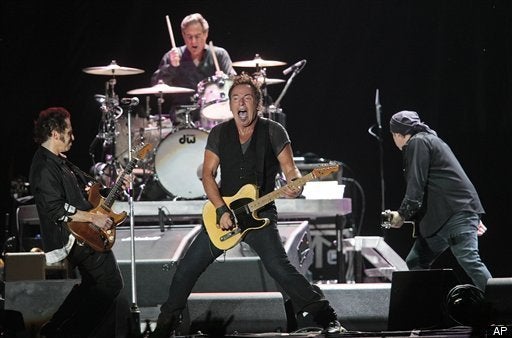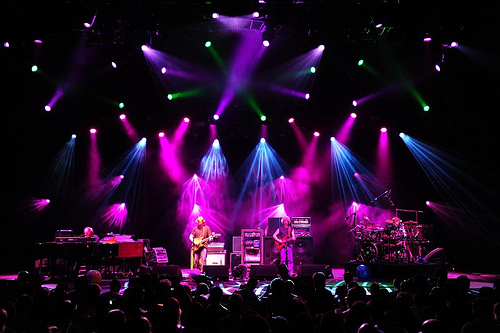 There are certain things the members of Phish do really well. They can play guitars while bouncing on trampolines. They write quirky lyrics that could easily find themselves on a kids' music album. And one can even play a vacuum.
But what Phish does better than many bands out there is form a cohesive unit, almost becoming one, playing some of the tightest, hottest music on the touring circuit. Now that they have exorcised whatever demons they had either together or individually that led to their dissolution a few years ago, they truly seem focused on putting out some of the best music they can.
A friend who is a DJ on a Chicago radio station saw Phish for the first time at Bonnaroo in Manchester, Tenn. I ran into him the morning I was traveling up to see Phish at Alpine Valley Music Theatre in East Troy, Wis., and he told me that he now understands the hype. He said he was truly impressed with their overall musicianship, but when Bruce Springsteen, who performed the night before, came out to play, the traditionally disparate guitar styles between the Boss and Phish lead singer Trey Anastasio came together effortlessly on "Mustang Sally," "Bobby Jean" and "Glory Days."
Five years ago when Phish broke up, Anastasio wrote on the band's official site that, "We don't want to become caricatures of ourselves, or worse yet, a nostalgia act. We realized that after almost 21 years together we were faced with the opportunity to graciously step away in unison, as a group, united in our friendship and our feelings of gratitude."
This tour shows that the time off has paid off. Throughout this tour, in cities like Asheville, N.C., Knoxville, Tenn. and Noblesville, Ind., they've treated sold-out crowds to their now infamous free-form jazz- and funk-influenced hours-long arena rock shows. And it almost appears they've gone off their former routine of truly playing off the cuff to sticking with a few handfuls of songs they practiced before hitting the road. But that departure hardly matters.
Before Saturday's show at Alpine Valley, I checked the sets from the three previous nights to see what I likely wouldn't hear. They played some of my favorites like "Divided Sky," "Free," "You Enjoy Myself" and "Suzy Greenberg." Disappointed but hardly disheartened, I trekked north to Wisconsin knowing that this being Alpine, we would be treated to a special show.
Special doesn't even begin to sum up what we were given.
From start to finish, the band poured enough energy into the show to power a midsize city. Set one started with a fun and upbeat "Punch You in the Eye" that ran right into "Runaway Jim" with its singalong-friendly chorus. Once they pulled out the "Stash," there was no stopping where this show was headed. Throughout the lengthy set, the band treated with "Bathtub Gin" and the gorgeous summer sleeper "Farmhouse." Then all hell broke loose when the bouncy and magical "Run Like an Antelope" closed the set. The second set was packed with even more joyful surprises including "Sample in a Jar," the mysterious Maze (where Jon Fishman's snare plays possibly the most important underlying factor throughout the song) and "The Lizards." And then, out of nowhere: "You Enjoy Myself." Despite playing it two nights earlier, out it came again. If there were ever a song that stresses the incredible musicianship of these four guys to throw a crowd into a frenzy, it's this tightly rehearsed and effortlessly played tune. That jam, like the band, has come a long way since its release on Phish's 1988 debut, "Junta." They could have easily ended the set there, but four more songs, including a cover of Jimi Hendrix's "Fire," further treated the eager crowd.
Phish returned to Alpine the following night to cap off the "early" portion of their summer tour. In late July, they kick off a four-night run at Colorado's Red Rocks Amphitheater before heading to the Bay Area, Washington state, back through Chicago and out to the Northeast, where they'll settle down in Upstate New York. This tour likely marks a fresh beginning for the band, especially with a new Steve Lillywhite-produced album scheduled to drop July 28. If fans have their way, Phish will be back to stay. Let's just hope the band feels the same.
Calling all HuffPost superfans!
Sign up for membership to become a founding member and help shape HuffPost's next chapter