Warning: This article contains nude imagery that may not be appropriate for work environments.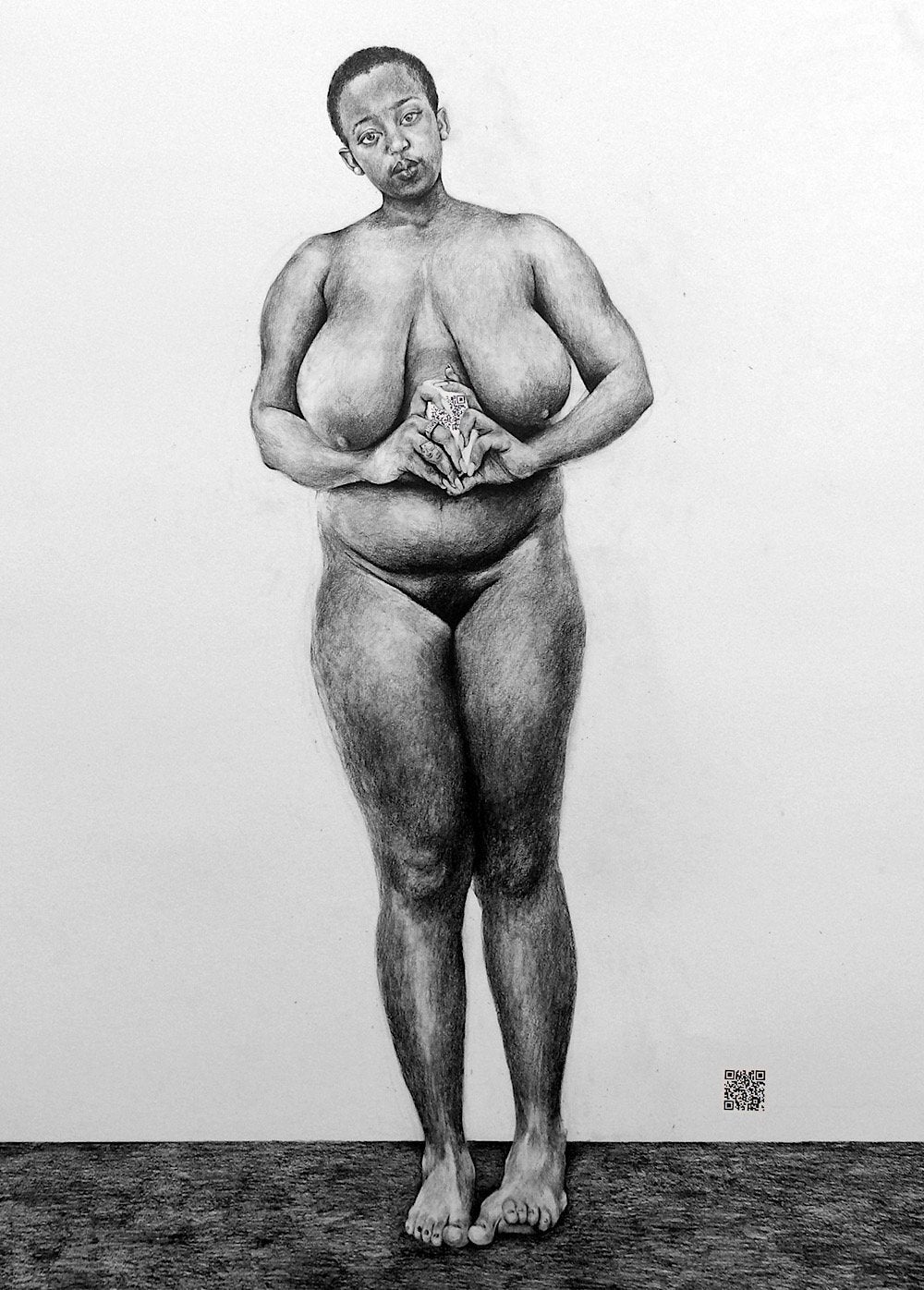 When you see a woman's naked body, what assumptions come to mind? Do you see a muse, a victim, a sexual object?
This question was on Phoebe Boswell's mind when she began her multimedia series "For Every Real Word Spoken," now on view in London. From a distance, the installation resembles a lineup of straightforward, naturalistic pencil drawings of unclothed women, not entirely distinct from the nude images that have adorned gallery and museum walls for centuries. Look closer, however, and you'll notice that each subject holds a cell phone against her chest, the screen facing outward.
Drawn into each screen is a handmade QR code, which visitors are encouraged to scan with their cell phones, triggering a song, article, image or observation chosen by the real woman featured in the portrait. Scan the drawing above, for example, and Brenda Fassie's "Good Black Woman" rings out, as if materializing from the heart of the naked figure.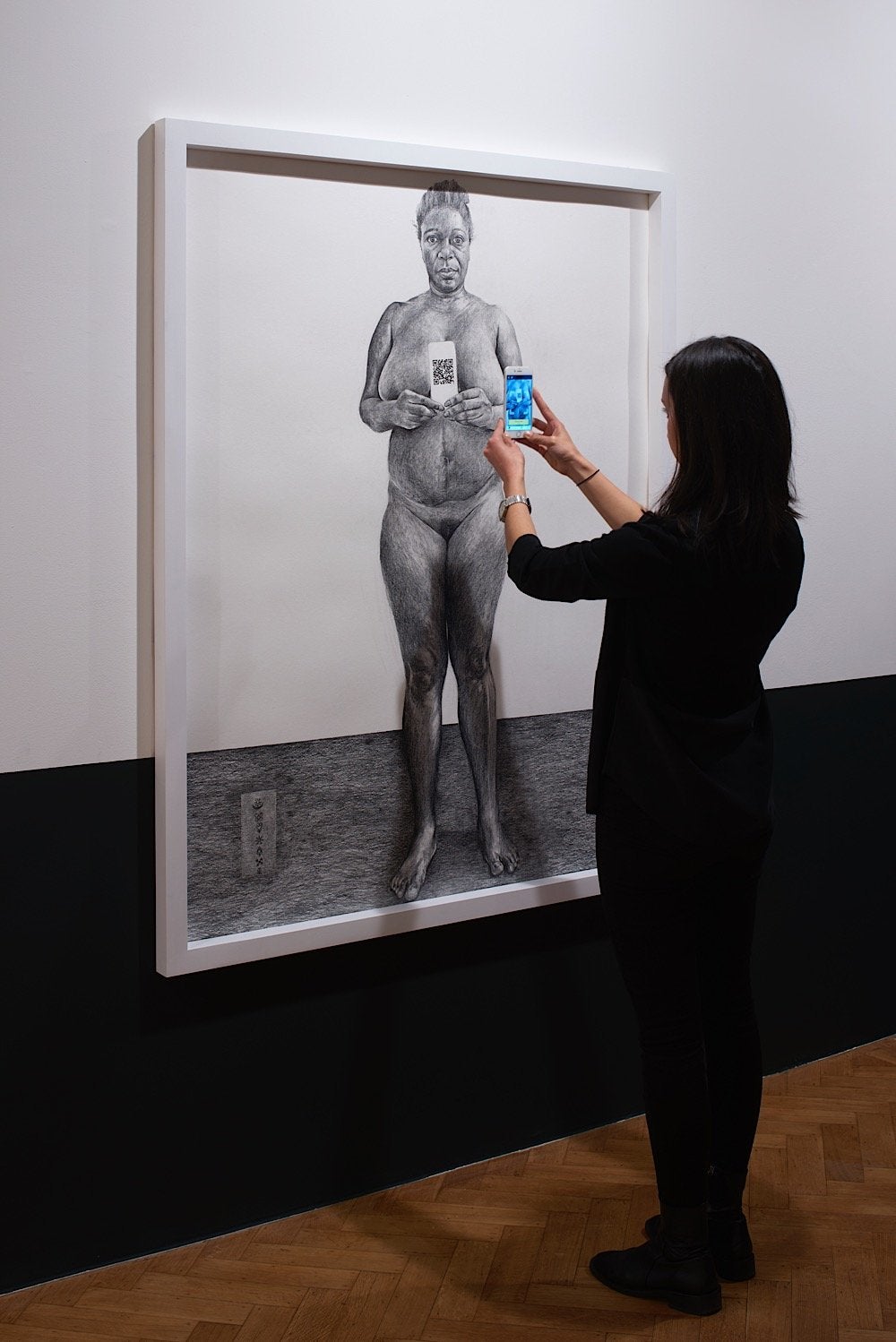 The drawings, with their technological details, challenge the idea of the passive female nude. "They're interactive drawings," Boswell explained to BBC Africa. "They don't just exist to please you. They exist to honor themselves."
In an interview with The Huffington Post, Boswell, who was born in Kenya and raised in the Middle East, expanded upon the motivation for the series. "I wanted to subvert what we have been conditioned to think of when we see the female body naked," she said. "What we have been taught it means, why we are so cautious about protecting it, why it has this edge of vulnerability the male body doesn't have."
In part, Boswell was inspired to pursue this topic after coming across a photograph of Ugandan women lying naked on a dirt road. When she first saw it, the image immediately filled her with visceral dread; without thinking, she surmised the women depicted had been the victims of violence.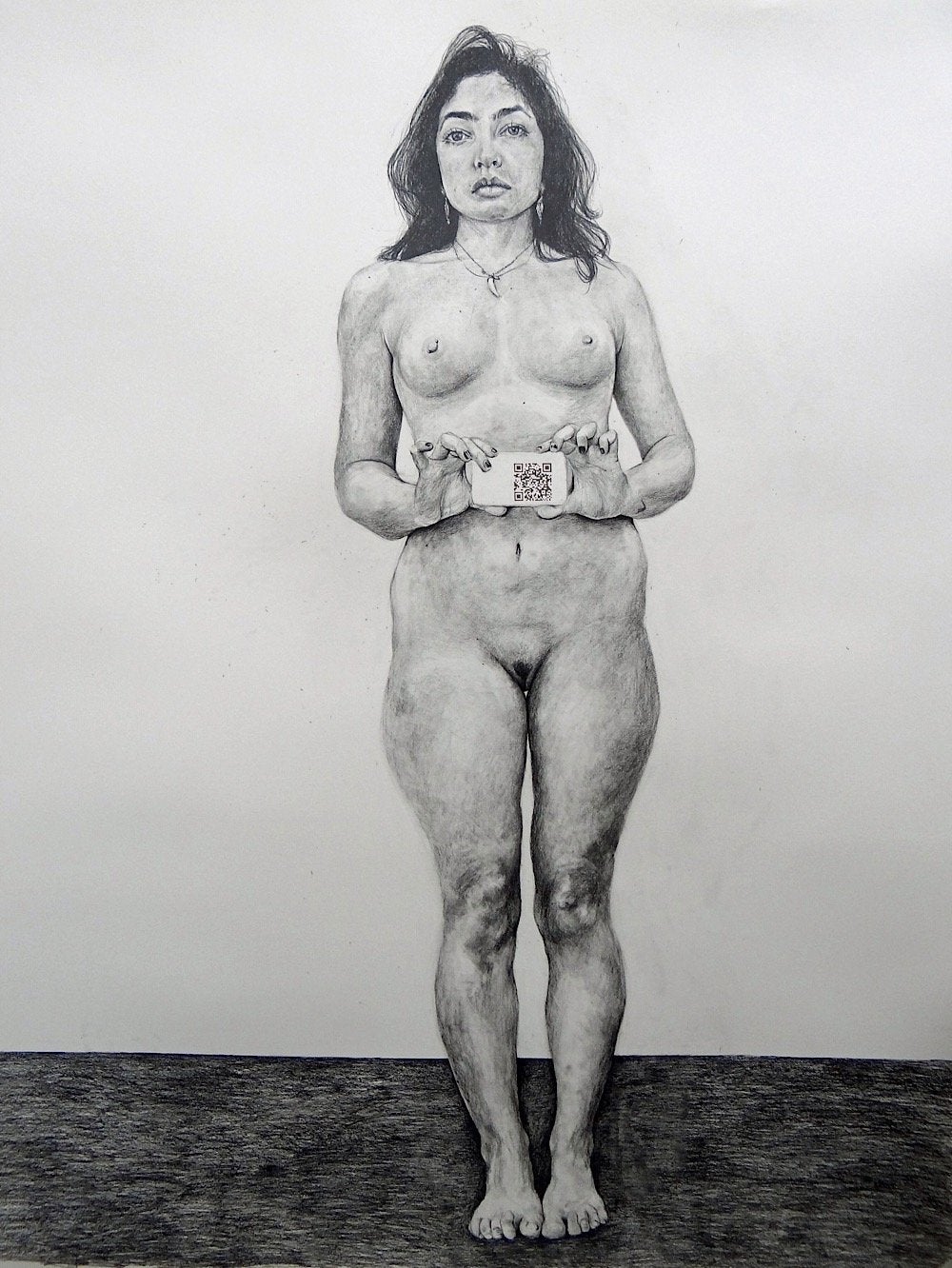 She later learned that, far from being in danger, the photographic subjects had de-robed as an act of protest. "I thought they were victims and that was turned on its head," Boswell said, disarmed by how deeply entrenched assumptions regarding women and their bodies are, even in the minds of self-professed feminists.
Through her work, Boswell aims to rupture the associations between female nudity and passivity, weakness and empty allure. "I wanted to celebrate the power of the female body," she said. "Women are not just sexual objects or victims; we have the power to speak."
For this series, Boswell took inspiration from conceptual artist Adrian Piper's 1971 series "Food for the Spirit," in which the artist photographed herself over the course of a month, both with clothes and without, as a ritual of self-love. "She seemed so in control of herself," Boswell said, describing Piper's photos as early selfies. "She was insisting, 'This is how I want you to see me,' taking complete control over this depiction of herself."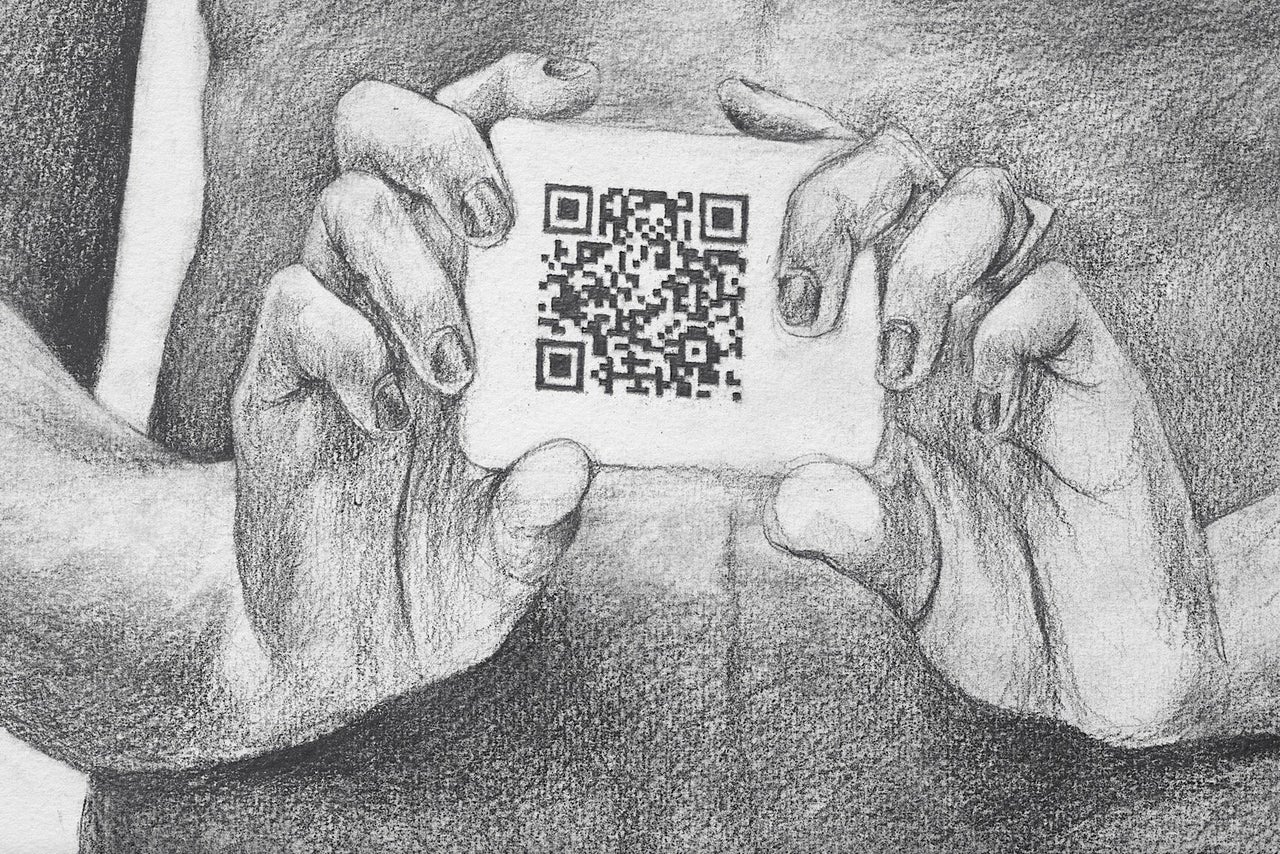 Boswell reached out to potential "For Every Real Word Spoken" subjects on Facebook, inviting women to join her "army" and explore the ways bodies could be used as protest. Her subjects ― a range of writers, artists and activists in her community ― imitate Piper's blunt and forward pose, staring at the viewer head-on.
In lieu of a camera, however, Boswell's subjects wield cell phones, the vessels that provide women easy means to portray and disseminate their images, tastes, accomplishments and opinions on their own terms. Incorporating modern tech into the art-viewing experience, Boswell thought, would perfectly summon the proper tension between the image and the person, the digital and the real.
"The way we depict ourselves is very much through this space of the digital," Boswell said. "We have these theoretical, curated versions of ourselves we portray online. And we have our real, vulnerable, fleshy selves that have flaws and suffer. Putting together the very fragile medium of drawing with this digital technology allows the subject to speak directly to the viewer without my input."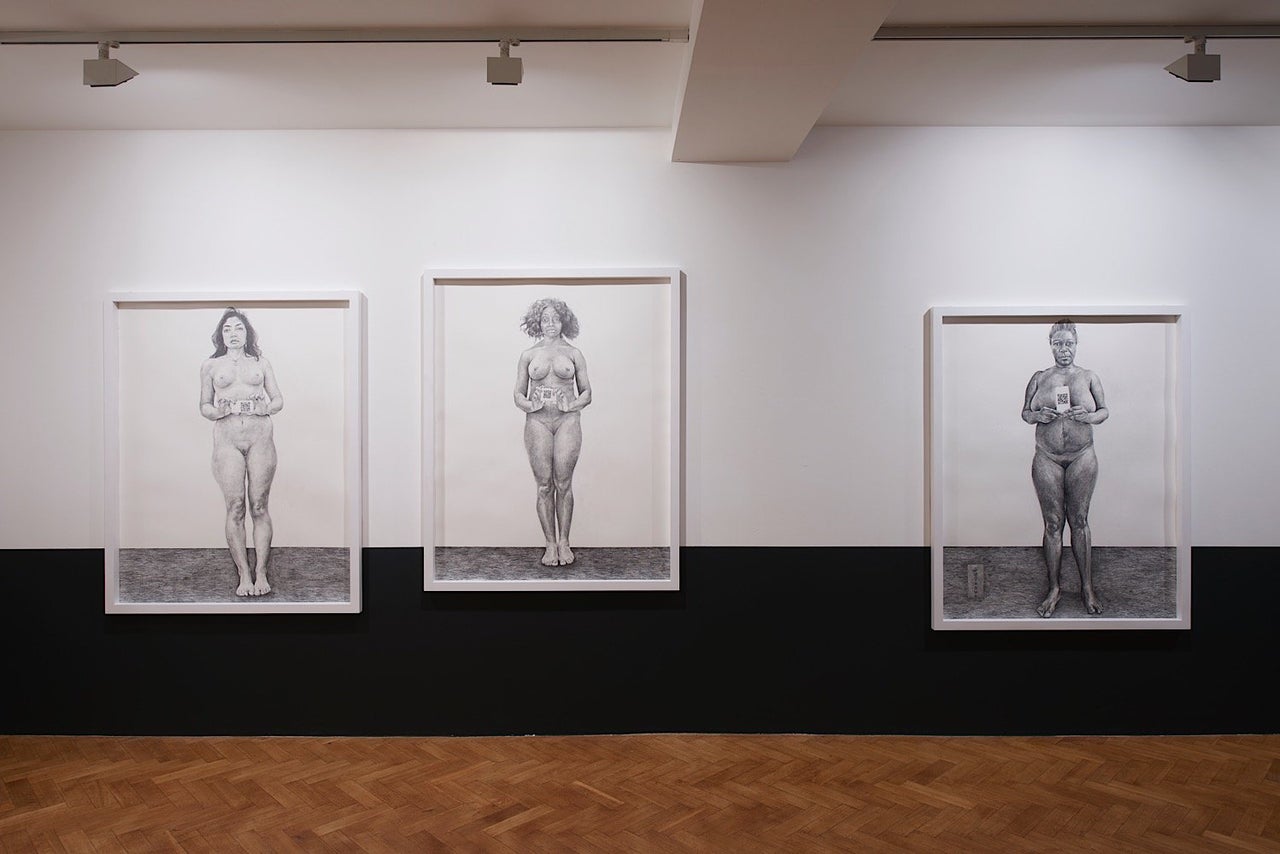 Boswell is known for igniting traditional draftsmanship ― or draftswomanship as she calls it ― with the help of virtual technologies like animation, sound and digital manipulation. "I try and layer languages to tell stories," Boswell said. "I think our identities are so complicated it's possible to tell our stories in one singular, semantic language. I always use technology in my practice, and am constantly navigating how to do that in ways that honor the draftsmanship, that don't take over but complement it."
For her exhibition title, Boswell lifted a quote from feminist writer Audre Lorde, which reads: "For every real word spoken, for every attempt I had ever made to speak those truths for which I am still seeking, I had made contact with other women while we examined the words to fit a world in which we all believed, bridging our differences."
The artist hopes her imagery, like Lorde's writings, inspire women "to resist the limitations placed on us in society and to speak."
Phoebe Boswell's "For Every Real Word Spoken" runs until April 22 at Tiwani Contemporary in London.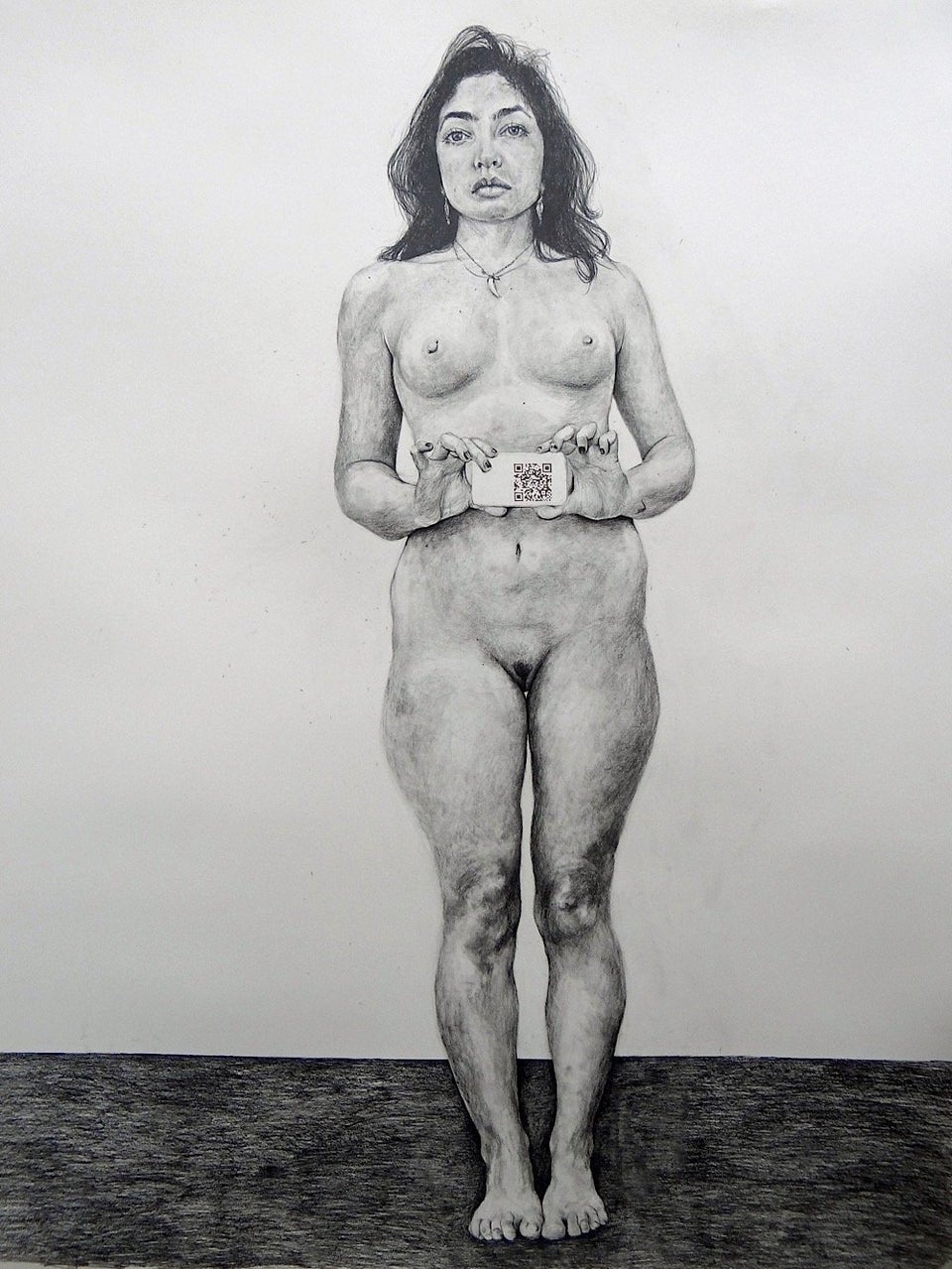 Phoebe Boswell courtesy Tiwani Contemporary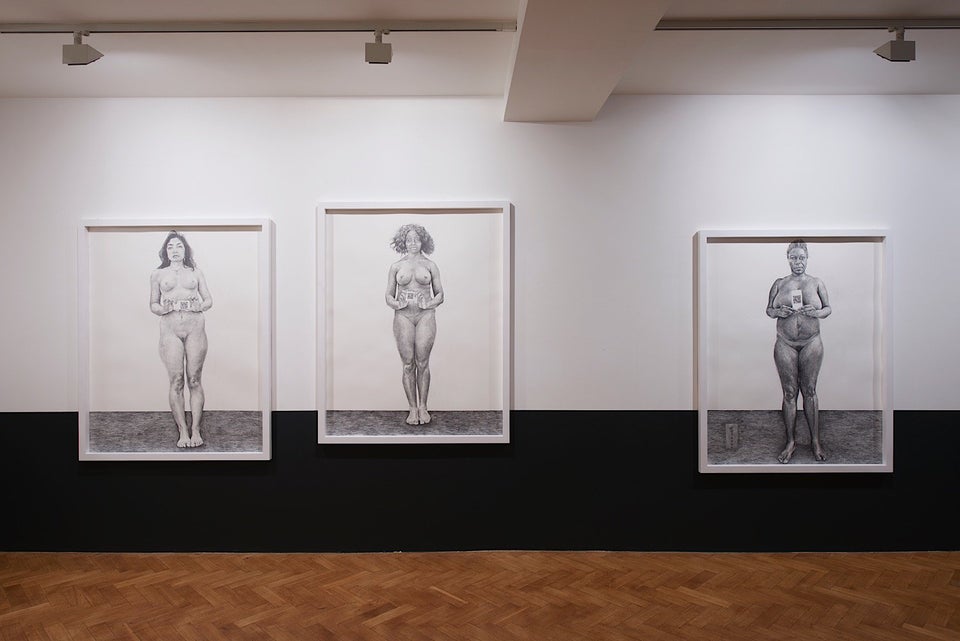 Phoebe Boswell courtesy Tiwani Contemporary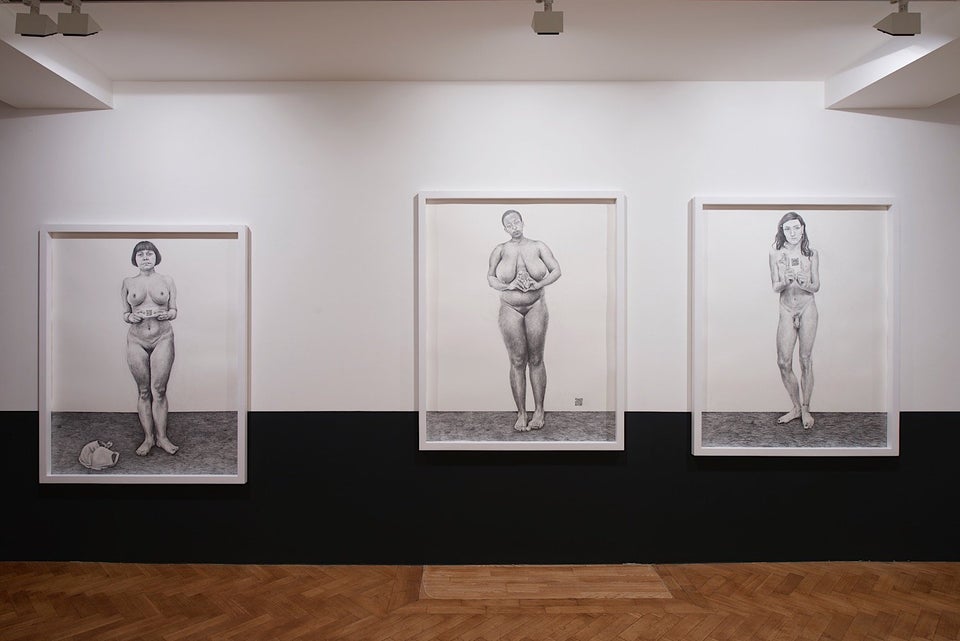 Phoebe Boswell courtesy Tiwani Contemporary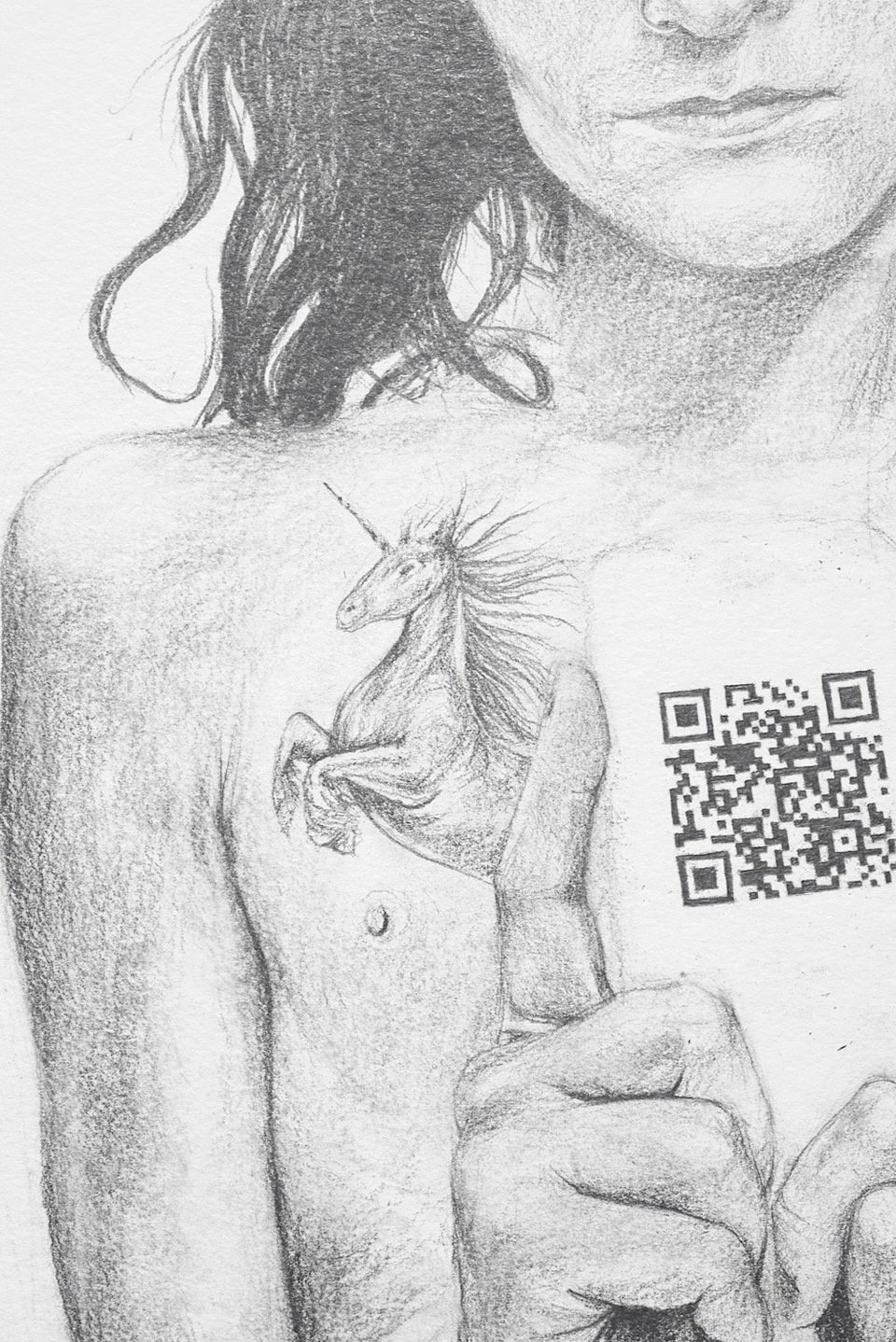 Phoebe Boswell courtesy Tiwani Contemporary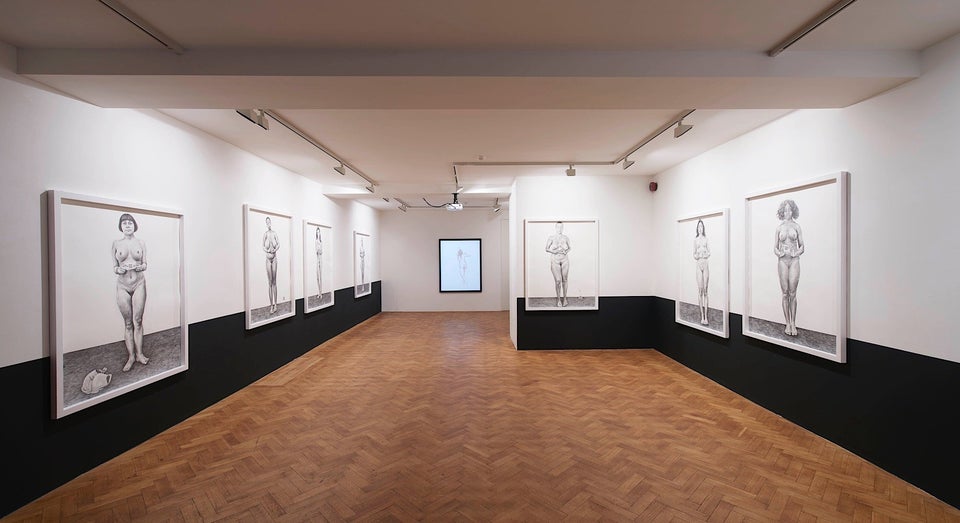 Phoebe Boswell courtesy Tiwani Contemporary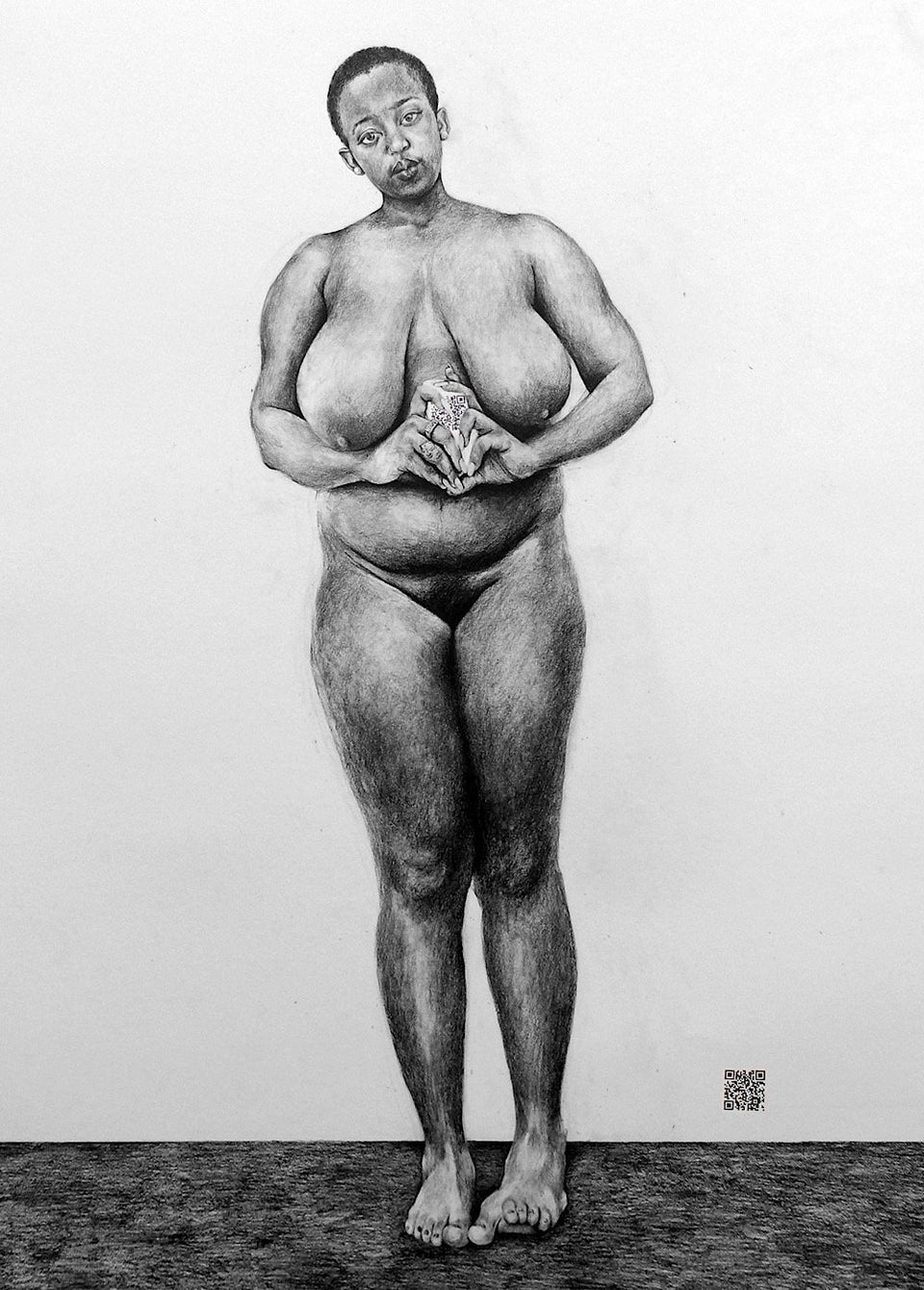 Phoebe Boswell courtesy Tiwani Contemporary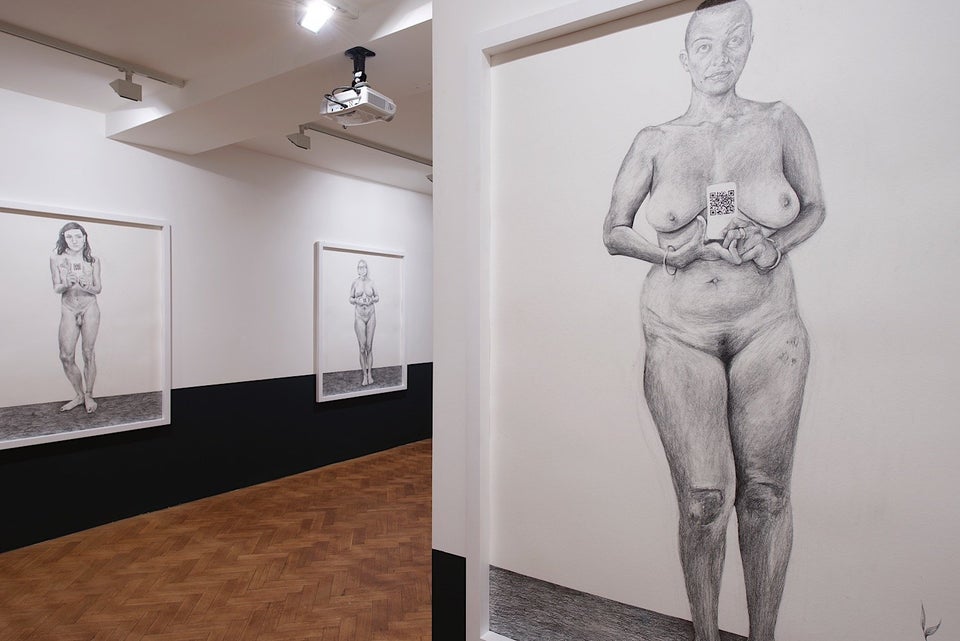 Phoebe Boswell courtesy Tiwani Contemporary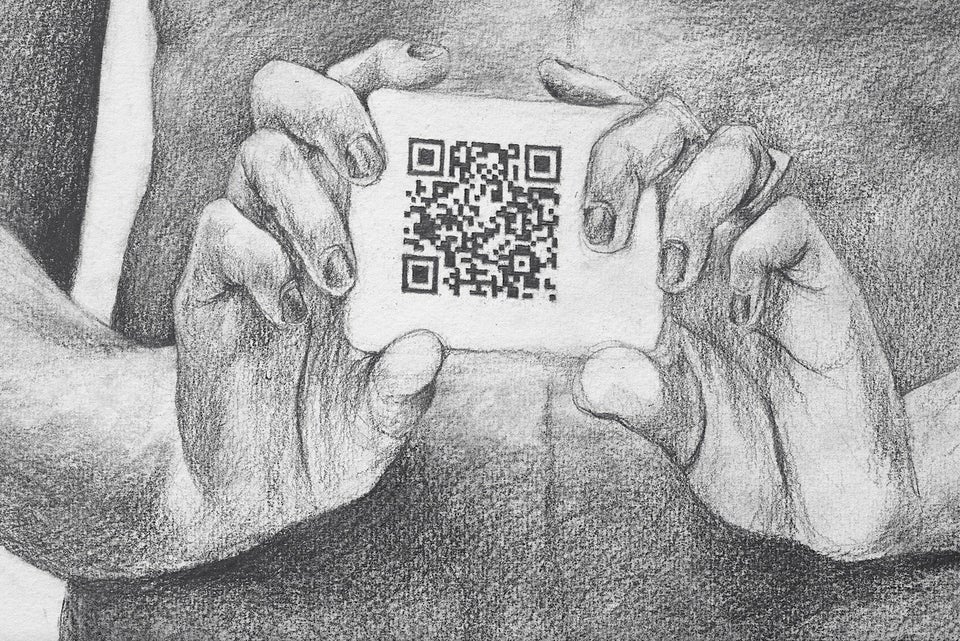 Phoebe Boswell courtesy Tiwani Contemporary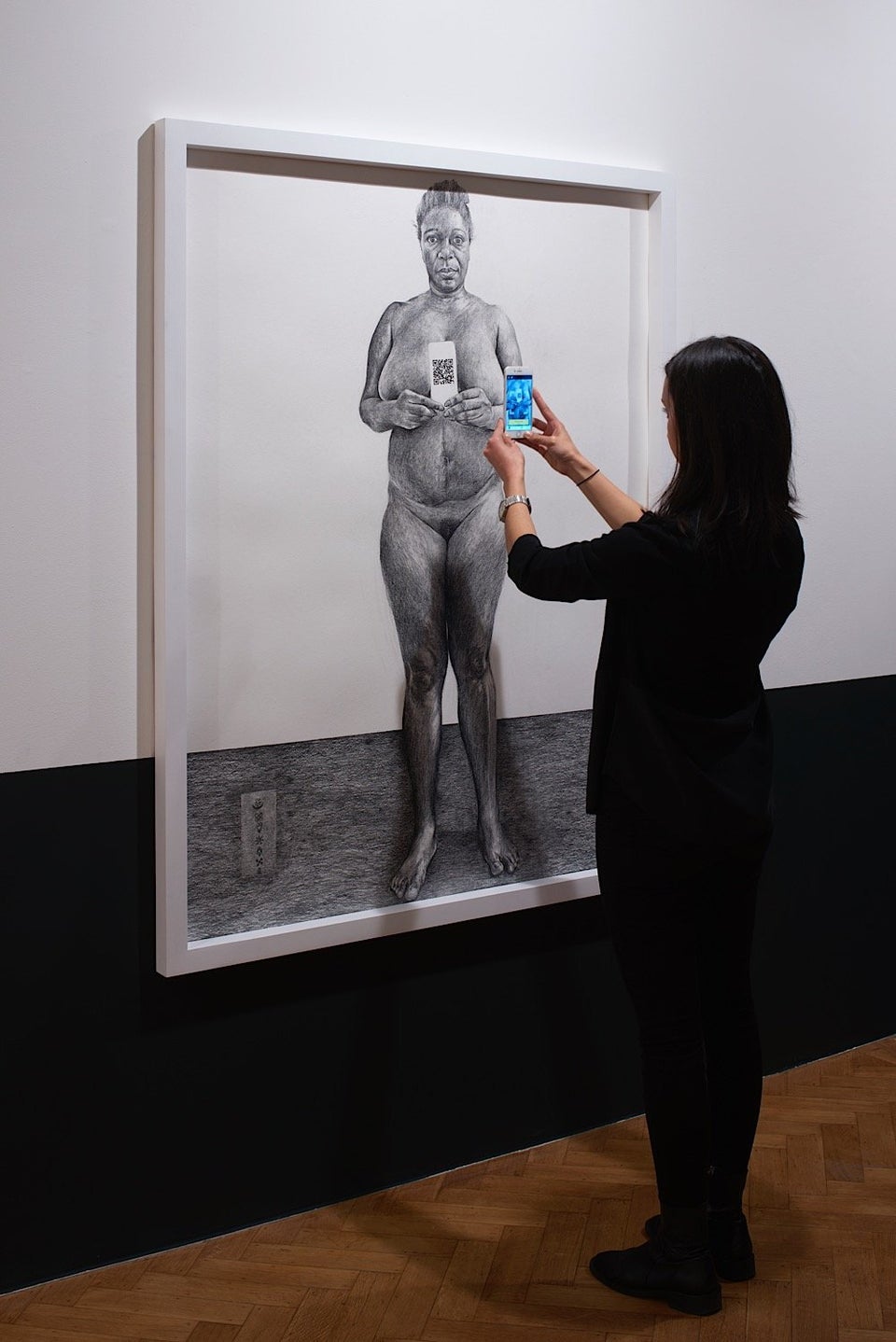 Phoebe Boswell courtesy Tiwani Contemporary
Popular in the Community