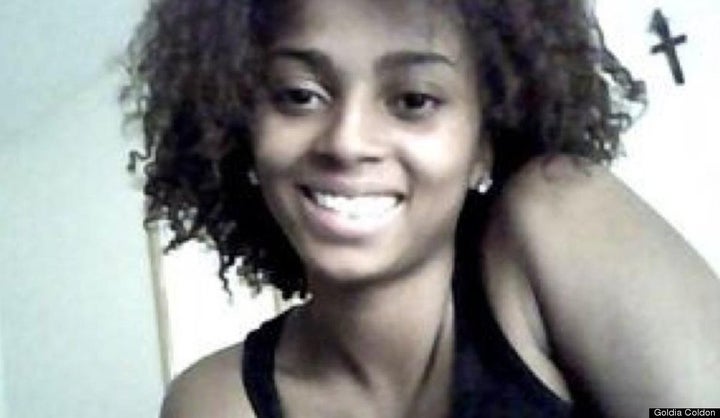 The holiday season for millions around the world is a time to celebrate with friends and loved ones, and it was once like that for the family of Phoenix Coldon, a missing Missouri college student who disappeared shortly before Christmas last year.
But time and circumstance have robbed the Coldon family of its joy and its desire to celebrate. Those feelings have been replaced by grief, sorrow and regret.
It was one year ago Thursday that Phoenix Coldon, then 23, vanished without a trace -- 12 months since the missing woman's mother, Goldia Coldon, has seen her young daughter's face, 365 days since she and her husband have been able to smile, laugh or hug their daughter.
"We had no idea that we would be at Dec. 18, 2012, and Phoenix would still be missing. If someone had told me that I would have said 'no, I don't think so. We'll be able to find her.' But here it is, Dec. 18, 2012, and we are still no closer to finding Phoenix than we were on Dec. 18, 2011," Goldia Coldon told The Huffington Post.
The past year, the Coldons said, has felt like a lifetime of fear and agony.
"This has been most stressful, awful thing my husband and I have gone through in our life," Goldia Coldon said. "I've cried every day -- every single day -- since our daughter disappeared. I did not know that a person could cry that much."
Phoenix Coldon was last seen at about 3 p.m. on Dec. 18, 2011, in the driveway of her family's St. Louis County, Mo., home. Roughly three hours later, Coldon's black 1998 Chevy Blazer was impounded by police after it was discovered about a 25-minute drive from her home, at Ninth Street and St. Clair Avenue in East St. Louis. The keys were in the ignition with the motor running and the driver's door open.
Coldon's vehicle was towed by the East St. Louis Police Department and entered into the agency's computer system as an abandoned vehicle. Her family did not discover it was in police custody until Jan. 1. It remains unclear why the family was not notified, and authorities have not returned multiple calls for comment from HuffPost.

Coldon's tears are not the tears of a mother mourning a death. Her tears are shed for the unknown -- the pain of not knowing where her daughter is or why she has vanished.
"I just cannot imagine what has happened to Phoenix," she said in a shaky voice. "I don't know the reason or the circumstances. We don't know if she is alive, we just believe that she is."
More than one holiday has passed since she disappeared. One of the more painful milestones for her family was her 24th birthday on May 23. There was no cake, no presents and no celebration, only a lonely reminder for friends and family that her disappearance remains a mystery.
"I often find myself going into her room and sitting," Goldia Coldon said. "Most times I kneel beside her bed. There's a cross above her bed and I just pray. I say, 'Lord, I know you can hear me. I know you're probably tired of me, but I have to do this and if you're tired of me there's only one way to get rid of me and that's to let Phoenix come home'."
The fear of the unknown has taken a toll on the family.
"We've been very depressed, her dad and I," the young woman's mother said. "This thing has taken its toll on me physically. I sit up all night thinking and looking online for answers. About a week and a half ago I had to have another procedure on my heart. I know it was stress. I was having really bad chest pains. My doctor said something about broken heart syndrome, but I don't really know if there's such a thing."
Goldia Coldon added, "My daughter's room sits still. Her piano and guitars are collecting dust. This place is not a home anymore. This is not a happy place anymore. It's not. I've lost interest in taking care of it."
PHOTOS OF PHOENIX COLDON (Article Continues Below)
PHOTO GALLERY
Phoenix Coldon
Coldon's dog also is not oblivious to his master's absence.
"Her toy poodle, Mocha, goes into her room and sniffs around. He'll stand there and look around, or go lay beside her bed," Goldia Coldon said. "He will be 14 in January. He has cataracts in his eyes and won't even be able to see her if she does not return soon because he's going blind."
The troubles for the Coldon family have been ongoing throughout Phoenix's disappearance.
In April, The Huffington Post reported the Coldons spent their entire life savings searching for their daughter. Some of the money went to investigate a promising lead about Coldon's whereabouts that turned out to be a hoax. As a result, her family was left penniless and their home went into foreclosure. However, donations sent in by HuffPost readers allowed the Coldon family to halt the foreclosure and rehire the private investigator who initially had looked into their daughter's disappearance.
Unfortunately, those funds are nearly exhausted and the Coldon family is once again left in a precarious situation.
"We have a lack of funds and only about one week of expenses left for the private investigator," Goldia Coldon said. "I'm not sure what we will do after that."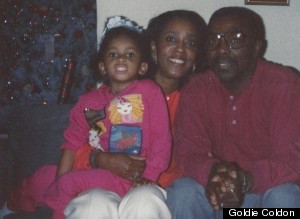 Phoenix, at about age 6, with her parents at Christmas.
As Christmas Day approaches, so does another painful milestone for the Coldon family. There will be no celebration and no solace in simpler acts, such as that of putting up a Christmas tree. There is no need. The tree from last year never came down.
"The Christmas tree from last year is still up," Goldia Coldon said. "One night I got real emotional, upset and angry and I knocked the tree over. I pushed it down. A lot of the ornaments broke. My husband said 'let me put it away' and I said 'no. Put it back up. It stays up until Phoenix comes home.'"
She said the Christmas tree is kept lit day and night, and the window blinds are left open so it can be seen from outside.
"It stays lit so when she comes home she will see the tree is up for her," Coldon said.
If the Coldons are any example, the true cursor of Christmas is not poverty or the lack of presents. It is being home for the holidays without your loved ones and without the knowledge of where they are.
"We need to see our daughter. We need to talk to her and find out what happened. If someone has her, please let her come home. If you're afraid, we're not going to do anything. Just let her come home. Please let her go. You do not want to kill her. You do not want to harm her," Coldon said.
"We're not going to give up until we find out what happened to Phoenix. If I die tomorrow, my family and friends will continue looking until they find her."
Phoenix Coldon is 5 foot 6 inches tall and weighs about 125 pounds. She has reddish-brown hair and pierced ears. She was last seen wearing gray sweatpants with "UMSL" printed vertically down one leg, a dark hoodie and tennis shoes. Anyone with information on the case is asked to call 305-482-3771. The family also has a group about Phoenix's case on Facebook.
REAL LIFE. REAL NEWS. REAL VOICES.
Help us tell more of the stories that matter from voices that too often remain unheard.
BEFORE YOU GO